Cheesy Southwest flavors fill this warm and toasty stuffed baguette appetizer, perfect for game day or any party!
A Toasty Stuffed Baguette
Between the toasty bread and oozing cheese, you'd never guess these Southwest Stuffed Baguettes were actually jam-packed with veggies, making for a perfect healthier appetizer option.
By hollowing out a demi-baguette, you create the perfect vehicle for stuffing. Many stuffed baguette recipes fall in the cold appetizer category, using cream cheese to hold the filling ingredients together. But, since it's winter, and we're craving warm and toasty bites, we decided to go oven-baked.
A Healthier Game Day Appetizer
We've put a healthy spin on this appetizer by creating a veggie-based filling. Minced cauliflower, along with corn, red onions, and diced peppers create a tasty and healthy filling. We've added just enough cheese to give a nice ooze, perfect cheesy flavor, and hold the filling in place.
Making a Stuffed Baguette
Hollowing out the baguette isn't as tricky as it would seem. Simply cut of both ends, so you have an even tube of baguette. Then, using a long, serrated bread knife, gently cut around the inside of the crust. You'll want to leave a little bread inside the crust, so be careful not to get too close to the crust. This will help you not to puncture the crust as well.
If your knife is like ours, it doesn't quite make it the whole length of the baguette. No problem. Cut one side first, then flip the baguette over and cut through the other side. After the cuts are made, it only takes a little convincing to get the innards out. (The handle of our wooden spoon helped with the convincing.)
You get bonus points if you can get the inside out all in one long string! (Seriously, if you can do that, you're pretty talented. Tweet us pictures @CCuisiniere, because that talent deserves to be recognized.)
Before you get too far, don't throw away those ends! (Who are we kidding, they're probably more likely to get eaten before seeing the inside of the trash can.) But, don't chow down on them, either. We'll use them to keep all that cheesy goodness from oozing out of the baguette while it bakes.
You can, however, go to town on those innards.
After stuffing the baguette as tight as you can with the filling, situate the ends back where they belong and wrap the whole thing as tight as you can in aluminum foil.
Warm and Toasty
It comes out of the oven super toasty and smelling delicious!
To serve your appetizer right out of the oven, we recommend waiting 10-15 minutes for the filling to cool slightly and set before attempting to cut the baguette into slices.
This is also great if baked ahead of time, let cool, and refrigerated until you are ready to serve it. The slices are still tasty if served cool, but we love warm and melt-y cheese, so we like to reheat the slices in a toaster oven, oven broiler on low, or even the microwave. (Be warned, you do lose a bit of the crispy baguette crust feel if you use the micro.)
Choosing a Cheese for Stuffed Baguettes
Last, but definitely not least, the cheese. Cheddar is the perfect cheese for this appetizer because its pronounced flavor complements the Southwest spices so well. Cabot Vermont Sharp adds a smooth and buttery flavor to the filling, but if you really like your cheese to have a punch, don't be afraid to go for the Extra Sharp.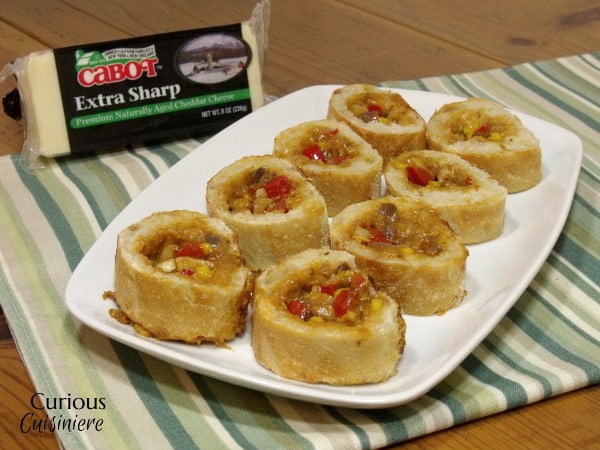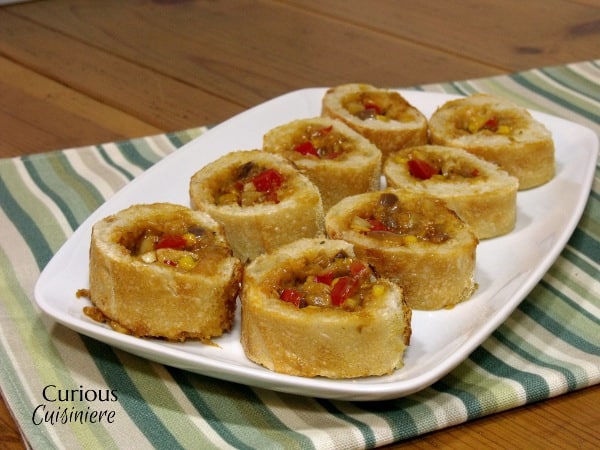 Southwest Stuffed Baguette
Cheesy Southwest flavors fill this warm and toasty stuffed baguette appetizer, perfect for game day or any party!
---
Ingredients
½

tsp

salted butter

½

red onion,

diced

1

garlic clove,

minced

½

red pepper,

diced

½

c

sweet corn

3

c

cauliflower,

minced

1 ½

tsp

chili powder

1 ½

tsp

paprika

1

tsp

oregano

½

tsp

cumin

½

tsp

salt

4

oz

Sharp Cheddar Cheese

shredded

1

baguette (2 feet long)
Instructions
Preheat your oven to 375F.

Heat butter in a large skillet. Add onion and garlic. Sauté over medium heat until soft, 3-5 minutes. Add red peppers, corn, cauliflower, and seasonings. Sauté until peppers have slightly softened, 3-5 minutes.

Remove the pan from the heat and let the mixture cool slightly.

While the mixture is cooling, prepare your baguettes. Slice both ends off of the baguette. Using a long, serrated bread knife cut the center out of the baguette, being careful not to puncture the crust. Pull out the center bread, creating a tube of crust that is lined with a slight layer of soft, inner bread.

Once the vegetable mixture is slightly cool, mix in the shredded cheese.

Using one of the ends you sliced off of the baguette as a stopper, stuff one baguette with half of the filling (roughly 2 cups). Pack the filling in tight with a spoon. Place the other end back in place so the filling doesn't spill out as the baguette cooks, and wrap the stuffed baguette tightly in aluminum foil.

Repeat the process with the second baguette and the remaining filling.

Place the two, wrapped, baguettes on a baking sheet and bake for 25 minutes.

When the baguettes are done, loosen the aluminum foil to let steam escape. Let the baguettes rest on a cooling rack for at least 15 minutes before slicing. (The longer you let them rest, up to 45 minutes, the more firm the filling will be when you slice the baguettes.)
---
DISCLOSURE: We samples of Cabot Cheese used in this recipe. We were not compensated for our time. All opinions are our own.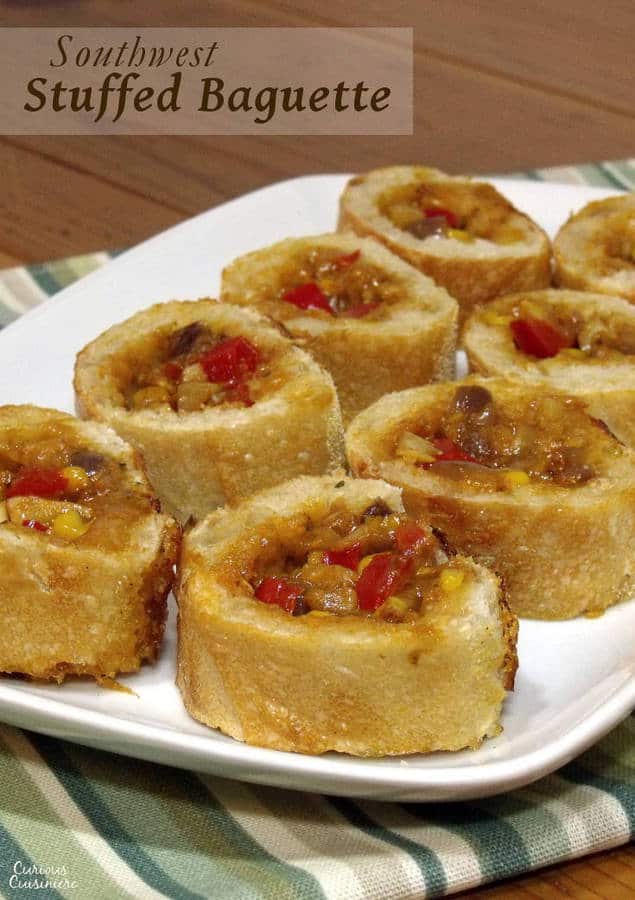 If you liked this recipe, here are some similar dishes you may enjoy!