Our Chocolate Raspberry Rugelach and Walnut Cinnamon Rugelach bring a simple pastry dough and crave-worthy fillings together to create irresistible cookies. 
A little Rugelach History
Rugelach originated as an Eastern European Jewish treat. The dough was traditionally made with sour cream. But, nowadays it is common to find Jewish-American rugelach recipes calling for cream cheese instead, which is what we use in our recipe.
The name for these crescent shaped cookies comes from Yiddish and means "little twists".
This traditional Jewish treat is eaten year round, but it is particularly traditional to be served on Hanukkah.
Our Easy Rugelach Dough
For such a flaky, croissant like pastry, you would think the dough for these cookies would be much more complicated. Rather, it is simply a combination of butter, cream cheese, and flour (with a little salt) that comes together to make these incredibly flaky treats.
The dough is soft after blending it, so we recommend refrigerating it for 1-2 hours before you try to roll it out. You could even refrigerate it overnight, but you will probably want to let the dough warm up just a little bit on your counter to make it easier to roll. (We're looking for a consistency that doesn't stick to a floured surface, but isn't too firm to roll out.)
Chocolate Raspberry Rugelach and Cinnamon Walnut Rugelach
There are SO MANY ways you can choose to fill your rugelach. Cinnamon, walnuts and raisins are most popular, but jam, chocolate, and really any sweet combo you can think of is fair game.
We love the nutty and caramely combo that our cinnamon walnut filling creates. (And it's great with pecans too!) But, it's hard to beat chocolate in anything, which is why we really fell for our chocolate raspberry rugelach.
Particularly if we're using a chunky filling, we like to cut the dough before we spread the filling onto it. This way, the cut lines are even, and we don't have to worry about running into nuts or chunks of chocolate as we cut. Sure, you'll lose a little filling as your roll, but just tuck it back in and you'll be ready to go.
Do you have a favorite rugelach filling? We'd love to hear how your family makes these!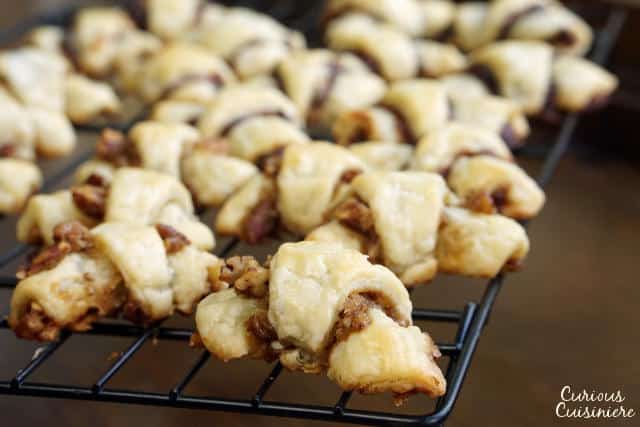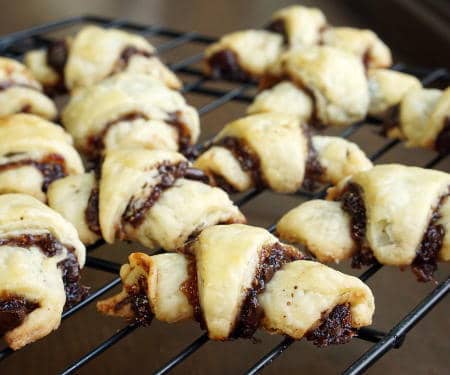 Rugelach with Two Fillings (Chocolate Raspberry and Cinnamon Walnut)
For best results, the dough should be refrigerated for 1-2 hours before rolling the cookies.
Yield: 2 dozen (2 inch) cookies
Cuisine:
Eastern European
---
Ingredients
For the Dough
4

oz

cream cheese

8

Tbsp

unsalted butter,

room temperature

⅛

tsp

salt
For the Cinnamon Walnut Filling (Enough to fill a dozen cookies)
½

c

walnuts

or pecans, finely chopped

¼

c

brown sugar

1

Tbsp

unsalted butter,

melted

½

tsp

cinnamon
For the Chocolate Raspberry Filling (Enough to fill a dozen cookies)
¼

c

raspberry preserves or jam

(spreadable)

⅓

c

chopped dark chocolate
For Finishing
1

egg beaten with 1 Tbsp milk

(for egg wash)

Sugar,

for dusting (optional)
Instructions
For the Dough
Cream the cheese and butter with an electric mixer until light. Add the flour and salt and mix until just combined.

Work the dough into a ball using your hands or a rubber spatula. Divide the ball in half and wrap each half in plastic wrap. Refrigerate the dough for 1-2 hours.
For the Cinnamon Walnut Filling
Mix the filling ingredients together in a small bowl, until they are well moistened. Set aside.

(No extra prep is needed for the Chocolate Raspberry Filling.)
Putting it All Together
When you are ready to make your cookies, preheat your oven to 350F.

On a well-floured surface, roll one chilled ball of dough into a 9-inch circle.

Cut the dough into 12 even pie wedges using a knife or pizza cutter.

Spread the the Cinnamon Walnut filling over the cut dough, gently pressing it into the dough.

Starting with the wide edge of each "slice", roll towards the middle, tucking the filling in as you go. Arrange the cookies, with the tip tucked underneath, on a baking sheet lined with parchment paper, roughly 1 inch apart.

Repeat steps 2& 3 with the second half of the dough. To make the Chocolate Raspberry Rugelach, spread the cut dough with the jam and sprinkle it with the chocolate pieces. Then, roll up the rugelach and place them on a baking sheet.

Brush each cookie lightly with the beaten egg and milk egg wash. Sprinkle with granulated sugar, if desired.

Bake the cookies until puffy and lightly golden, 20 minutes.

Remove the cookies from the oven and let them cool on the pan for 10 minutes before transferring them to a wire rack to cool completely.
---
Recipe Notes
This recipe was updated in December 2016, we made a few tweaks to make the cookie even better. Enjoy!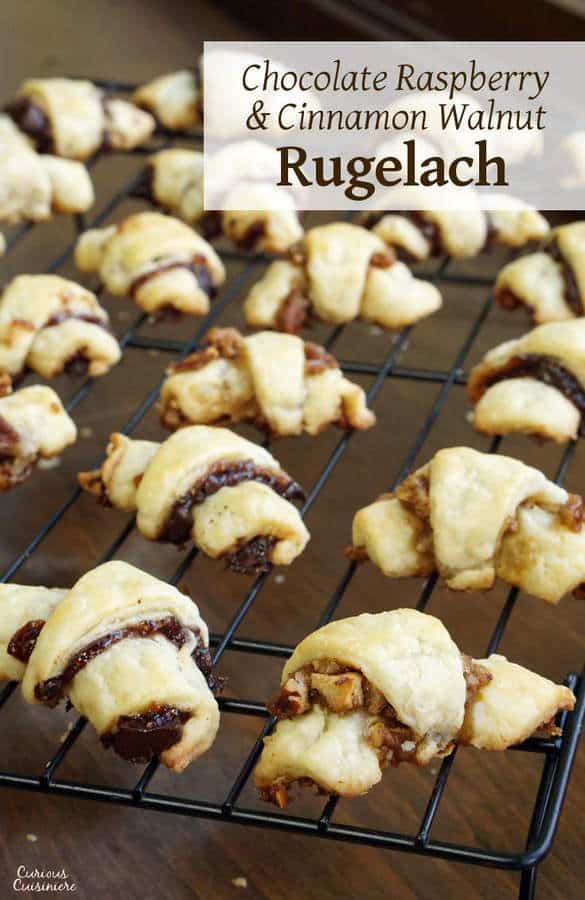 If you liked this recipe, here are some similar dishes you may enjoy!