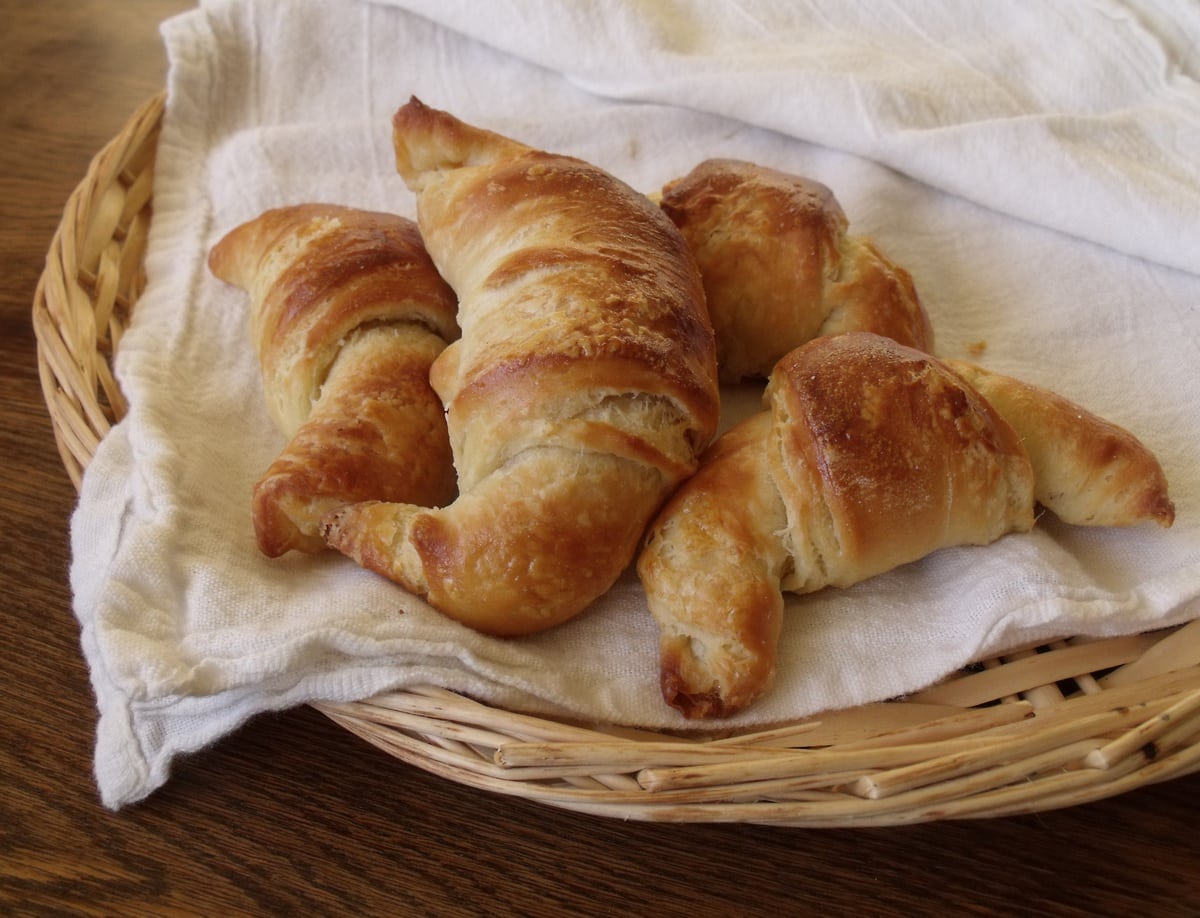 Crisp, quiet, nearly-spring mornings always take me back to my time in Paris, when breakfasts were a croissant and espresso before a brisk walk to the nearest metro stop.
As our unseasonably mild winter begins to flirt with the first signs of spring, I'm finding quite a few mornings that take me back and leave me craving a fresh croissant and espresso to greet the morning.
Nothing beats the flakiness of fresh croissants.
This was one of the reasons I was so excited for this month's Fresh From the oven challenge from Karen over at the lovely Lavender and Lovage blog.  Karen challenged us to croissants, and I finally had an excuse to tackle my French grandmother's recipe.
Croissants get their characteristic flakiness from rolling the dough with butter to create a series of thin layers that separate in baking, giving a crisp outside and soft, flaky inside.
This recipe makes 24 small, breakfast croissants.  I rolled all the croissants, but only baked 1/3 of them.  The rest went into the freezer for the next time I wanted fresh croissants.  This recipe freezes really well and a little extra effort on the front end means fresh croissants in pretty short notice.
Don't be intimidated by the number of steps in this recipe.  The method is not difficult.  And, if you can spare an hour to prep the dough and then another hour to roll the croissants, you will be well rewarded.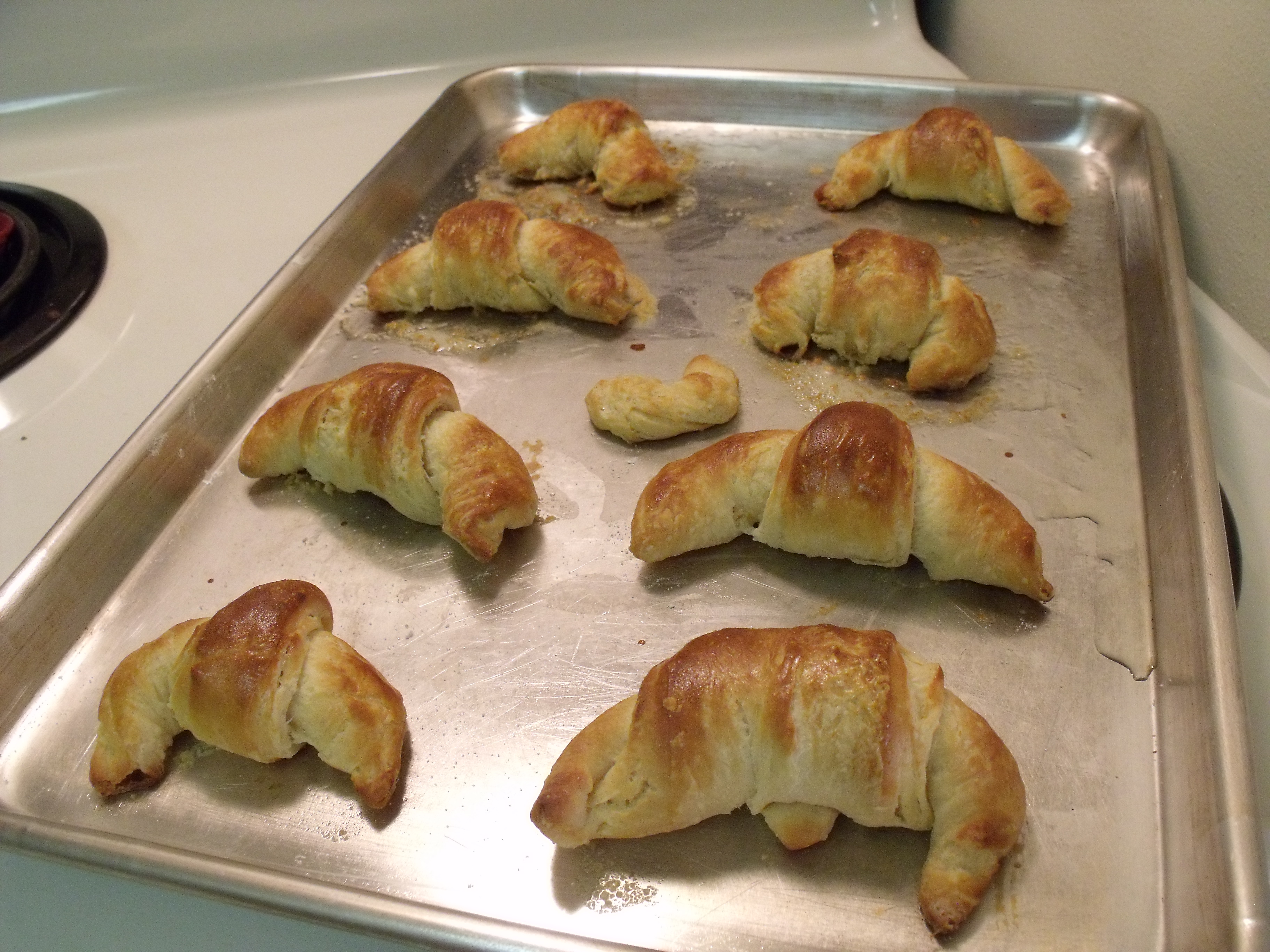 Croissants
Yield: 24 small breakfast croissants
Ingredients
¾ c (6 oz) butter, softened
¼ c (1.5 oz) flour
¼ c (2 fl oz) warm water
1 pkg (2 ¼ tsp) active dry yeast
3 Tbsp sugar
¾ c (6 fl oz) milk
1 tsp salt
1 egg, beaten
3c (18 oz) unsifted flour
1 tsp milk mixed with 1 beaten egg (for egg wash)
granulated sugar for sprinkling
Directions
1.  In a small saucepan, scald milk by warming it over medium heat until a film begins to form on top, just before it hits the boiling point.  Turn off the heat and cool until lukewarm.
2.  In a small bowl, work butter into ¼ c of flour until the mixture forms a smooth paste.  Place the butter mixture between two sheets of wax paper and roll into a 10×4 inch rectangle.  Chill until firm but pliable (20-30 min).
3.  While the butter is chilling, prepare your dough:  Measure warm water into a large bowl.  Sprinkle with yeast and stir until dissolved.  Stir in sugar, scalded milk (make sure it is not over 100F), salt, beaten egg, and 1 c (6 oz) of flour.  Mix until smooth.  Stir in the remaining flour until a soft dough forms.
4.  Turn dough out onto a WELL floured surface.  Knead a few times, before rolling into a 12 inch square.  Carefully pull the wax paper from the chilled butter.  Place the slab over the center 1/3 of the dough square.
5.  Fold the top 1/3 of the dough down over the butter block and bottom 1/3 of the dough up over the butter and dough.  Pinch the ends of the dough to seal in the butter.  Gently roll the folded dough to flatten slightly.
6.  Turn the dough a ¼ turn.  Fold the top third down over the center third and the bottom third up over the center.  Gently roll again.
7.  Repeat this folding and rolling 3 more times, turning a 1/4 turn each time.
8.  Wrap your dough in waxed paper and chill for 2 hours.
9.  Once chilled,  remove the dough from the refrigerator.  On a well floured surface, divide the dough into thirds.  Working with one third at a time, roll it out into a 12 inch diameter circle.  Cut the circle into 8 pie-shaped wedges.  Brush each wedge with your milk and egg mixture.  Make a 1/2 inch cut in the base of each wedge.  (This will allow your croissant to curve better.)  Place a pea-sized ball of dough at the tip of the cut.  (This will give your croissant a little extra doughy umph in the middle.)
10.  Taking each wedge, one at a time, gently stretch it from the tip to about 6-8 inches long.  Then, starting at the wide end, roll towards the tip, pulling gently on the sides to lengthen as you go.
11.  If you are freezing some of your batch, now is the time to place them on a cookie sheet in the freezer.  Once frozen solid, move crescents to a sealed container or plastic bag to store.
12.  The croissants you are cooking, place on a baking sheet with the point tucked underneath.  Curve to form a crescent shape.  Brush with milk and egg mixture and sprinkle with sugar.
13.  Repeat with remaining dough.
14.  Cover croissants loosely with plastic wrap and let rise in a warm place for 1 hour.
15.  Preheat oven to 375°F.  Bake risen croissants for 12-15 minutes, until a deep golden brown.
16.  Remove from cookie sheet to cool on a wire rack.
*If you freeze your croissants:  Remove them from the freezer the night before and place, covered, on a baking sheet in the refrigerator.  In the morning, one hour and a half before you would like to be eating, take the croissants out of the fridge and let rise, covered, on the counter for 1 hour.  Preheat oven to 375°F and bake for 12 minutes as stated above.  OR Croissants can be removed from the freezer, placed on cookie sheet, covered and immediately left to rise in a warm place for 2-3 hours before being baked.*
Check out the other croissants from the FFTO bakers on March 30 here and if you're feeling up to the challenge, join us in trying our hand at these lovely flaky pastries!
If you liked this recipe, here are some similar dishes you may enjoy!