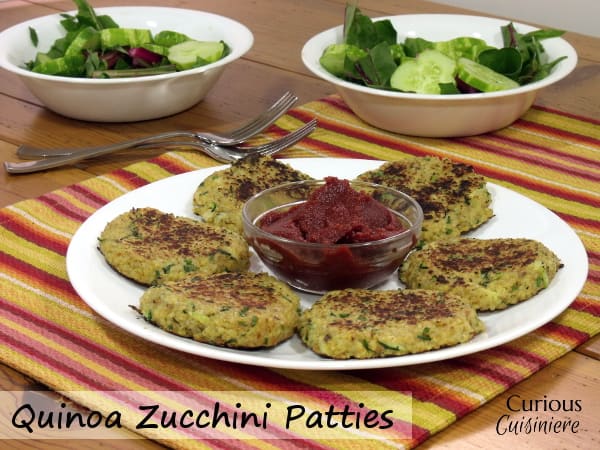 I don't know how else to describe quinoa other than "fun."
If you've even eaten it, you probably know why. There is something about these tiny seeds that magically turn into little squiggles as they cook.
When cooked, they are nutty with a soft crunch, adding a fun flavor and texture to whatever meal you are incorporating them into.
But, these seeds are far from just being fun to eat.
As you've probably heard (since they seem to be all the buzz right now), quinoa is a nutrition powerhouse.
It is one of the only plant foods that is a complete protein, meaning it offers all of the essential amino acids in a healthy balance. It also has the highest level of potassium when compared to other grains.
Particularly for people following a vegetarian diet, who may be at risk of getting too little protein, quinoa is a great option to finding balanced nutrition.
You might notice, that I have been referring to quinoa as a seed and not a grain. That's because quinoa isn't actually a member of the cereal family like wheat, barley, rice, oats, etc.
Quinoa is referred to as a "pseudo-cereal," since we cook and eat it like other grains. In reality it is the seed of a plant that is closely related to beets and chard.
When we received our blog assignment for this month's Secret Recipe Club, we were excited to see that the Mother and Daughter duo from K and K Test Kitchen are as crazy about quinoa as we are. Kelsey and Kim's Quinoa Zucchini Cakes seemed like the perfect combination of fresh garden herbs and summer zucchini.
The patties made for a great summer dinner. Light, but satisfying, they were full of flavor with a perfect cheesy undertone.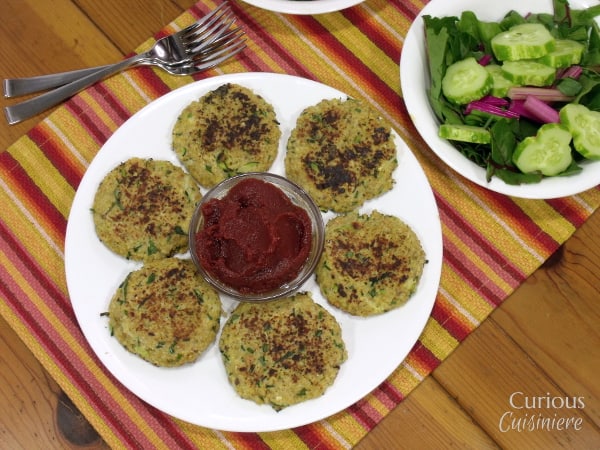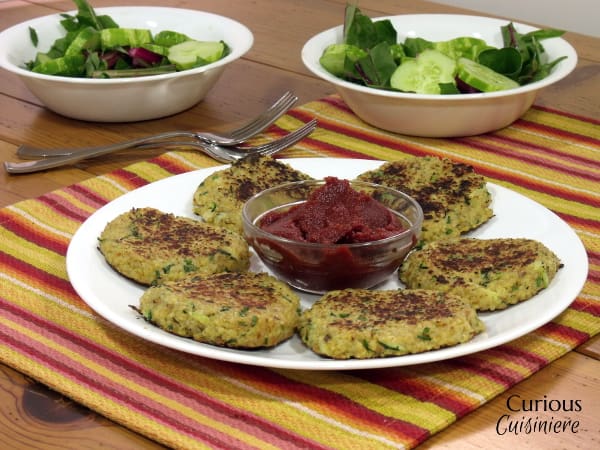 Quinoa Zucchini Patties
These herbed Zucchini Patties get a nutritional boost from nutty quinoa. Try them for a light but filling summer meal!
Yield: 8 patties
---
Ingredients
2/3

c

quinoa,

dry

1

cup

zucchini,

grated

1/3

cup

whole grain breadcrumbs

2

garlic cloves,

minced

2

Tbsp

Asiago cheese,

fresh grated

1

Tbsp

fresh basil,

chopped, or 1 tsp dry

1

Tbsp

fresh chives,

chopped, or 1 tsp dry

¼

tsp

salt

1/8

tsp

ground black pepper

2

eggs,

beaten slightly

1

- 2 Tbsp

butter
Instructions
Mix the quinoa with 1 1/3 c water in a medium saucepan and bring to a boil. Simmer, covered over low heat for 15 minutes, or until the water has been absorbed and the quinoa is fluffy. Uncover, and let the quinoa cool slightly.

Press the grated zucchini between two paper towels to remove some of the extra moisture.

In a large bowl, mix the quinoa, grated zucchini, breadcrumbs, garlic, cheese, basil, chives, salt and pepper. Taste the mixture and adjust the seasonings if desired.

Add the egg and mix until the mixture is moist.

Heat 1 Tbsp of butter in a large cast iron skillet over medium high heat. Shape the quinoa mixture into ¼ c patties. Place the patties on the skillet. Cook for 2-3 minutes, flip, and continue cooking for an additional 1-2 minutes, until the patties are golden.

Repeat with any additional mixture, adding butter if the skillet seems dry. Keep the finished patties warm in a low oven until everything has been cooked.

Serve with your favorite dipping sauce and a salad.
---
---
[inlinkz_linkup id=424875 mode=1]
If you liked this recipe, here are some similar dishes you may enjoy!