Onions and Swiss cheese bring lots of flavor to this easy Stuffed Mushrooms appetizer that is is tasty and quick to make.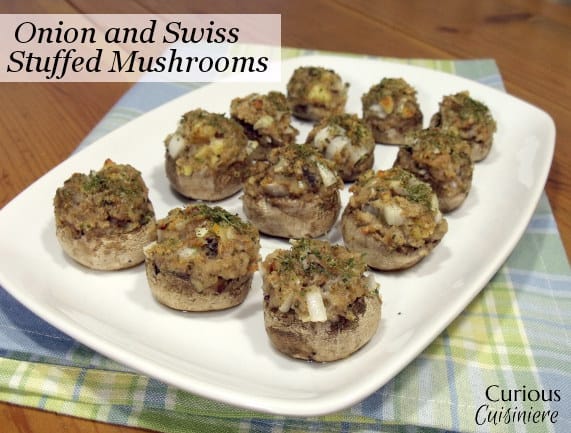 It's Christmas week!
Are you ready?
There are so many things running around our minds as we start this week. Do we have all our gifts? Are they wrapped? Is the house clean? Are all the groceries purchased? Is the proper meat thawing? Will it be thawed by the time the big meals arrive?
Take a breath.
Slow Down For The Holidays This Year
Who are you most excited to see this week?
What traditions are you most looking forward to?
What sounds, sights and smells make you smile this time of year?
Take another breath.
And remember that it is the who, the people around us, that is most important this week.
Not what is on the table, or if every last dust bunny has been chased from under the couch, or if the kids behave like angels.
It is about the time you spend.
That is the most important gift this week.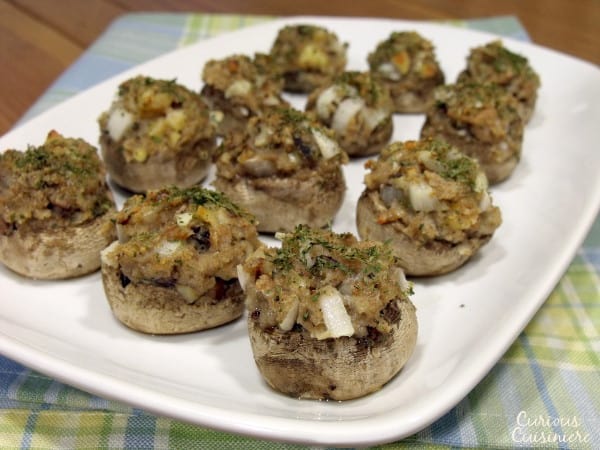 Our Easy Stuffed Mushrooms Appetizer Recipe
And, speaking of time, if you are looking for that last appetizer or side dish to complete your spread, today we have a quick, easy, and quite tasty one for you.
Breadcrumbs made from stale bread, diced onion, Swiss cheese and broth come together to create a flavorful filling for these cute stuffed mushrooms.
We used rye bread to make the crumbs for the stuffing, and the flavors of the rye mesh perfectly with the Swiss and mushrooms. But, any whole grain or whole wheat bread would do just as well.
Once stuffed, the caps are baked for 10 minutes, to let the cheese melt and work its magic.
You can serve them warm, but they're just as good once they've cooled to room temperature.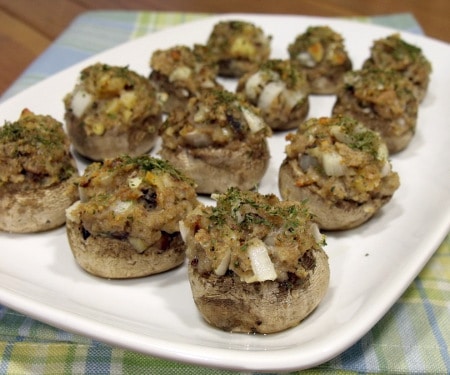 Onion and Swiss Stuffed Mushrooms
Onions and Swiss cheese bring lots of flavor to this easy Stuffed Mushrooms appetizer that is is tasty and quick to make.
Yield: 2 dozen stuffed mushrooms
---
Ingredients
1

lb (16 oz)

button mushrooms

2

slices

rye bread,

whole wheat or whole grain, left out to dry or dried in a low oven

½

onion,

minced

1

tsp

parsley

¼

tsp

garlic powder

¼

tsp

salt

½

c

Swiss cheese,

shredded

2/3

c

vegetable broth

(we prefer low sodium)

1

egg
Instructions
Move your oven rack to the top position. Preheat oven to 450F.

Wipe mushrooms of any dirt with a dry paper towel. Remove stems, so that the caps create a small bowl. Place the caps, upside down on an aluminum foil lined baking sheet. Dice the stems and set aside.
For the Filling
Place bread slices in a food processor and pulse until you get breadcrumbs.

Add the onions, parsley, garlic, and salt. Pulse to combine. Add cheese, and pulse again.

Add the egg. Pulse a few times. Then, add the vegetable broth, a little at a time, pulsing as you add, until the stuffing is moist and sticks together.
Putting It All Together
Fill each mushroom cap with ½ tsp of filling.

Bake caps 10 - 12 minutes, until stuffing begins to crisp and mushrooms begin to soften.

Cool slightly before serving.
---
If you liked this recipe, here are some similar dishes you may enjoy!