Soft and caramelized, liquor-infused Mango Flambe makes for a delicious summer ice cream topping or a fun breakfast treat with yogurt and granola.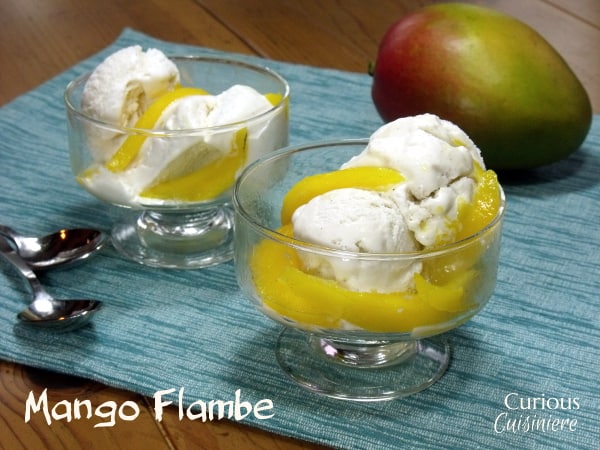 Brazilian Mango Flambe
This month we were incredibly excited to find the fun blog Bewitching Kitchen. Sally was born and riased in Sao Paulo, Brazil, so we were excited to check out some of her Brazilian recipes.
We were intrigued by the Fried Yucca Root, since the only familiarity I have with yucca is the plant in my mom's back yard that just won't die. Her recipes for cheesy buns, Pao de Queijo, and the cute hand pies, Pasteis, are definitely on our list to make this summer!
But, for today, we needed something to celebrate the unofficial start of summer, so we went with a tropical fruit preparation that looked delicious as an ice cream topping: Mango Flambé.
Cooking With Flambe
Flambé is the cooking method where alcohol is added to a hot pan and then ignited to create a wonderful display of blue-hot flames. The term comes from the French verb flamber, meaning to burn or flame. Flambéing burns off the alcohol, leaving the dish with the flavor of the spirit, but eliminating any harsh bite.
It is often used in restaurants to add table-side flair to dishes that are heavy on the liquor, like Bananas Foster. It is also one of the steps in making French dishes like coq au vin.
The Chemestry Behind Flambe
Alcohol boils at 172°F. While water boils at 212°F. And, sugar caramelizes at 338°F. When flambeing, you combine all three of these reactions at the same time, since the surface burning the alcohol can reach 500°F.
Some recipes recommend only flambéing with high proof liquors like Everclear. And, those high proof babies will light pretty well. But, you really only need liquors that are around 80 proof (40% alcohol).
It is important to make sure the alcohol is heated before igniting. You want to get it hot enough so that it reaches its flash point and releases some good alcoholic vapors which with catch fire from the igniting flame.

A Word of Caution Making Mango Flambe
Writing about flambé wouldn't be complete if we didn't add a small disclaimer.
We are working with fire here people, so do be careful.
Do not pour your alcohol straight from the bottle into the pan (particularly if you are using a gas burner and cooking over an open flame) since you hold in your hand a potential explosion of highly flammable alcohol fumes. Fire likes to chase the fuel, and you don't want to be holding the fuel if the fire finds it.
Do not attempt to tilt your pan like the fancy French restaurants do to catch the alcohol on fire by using the flame from your gas burner. Unless you have a bit of experience with flambé, it could end really, really badly.
So, take proper caution, gather your friends around (but not too close), and get ready for the fun show and delicious treat the results from these mangoes flambé!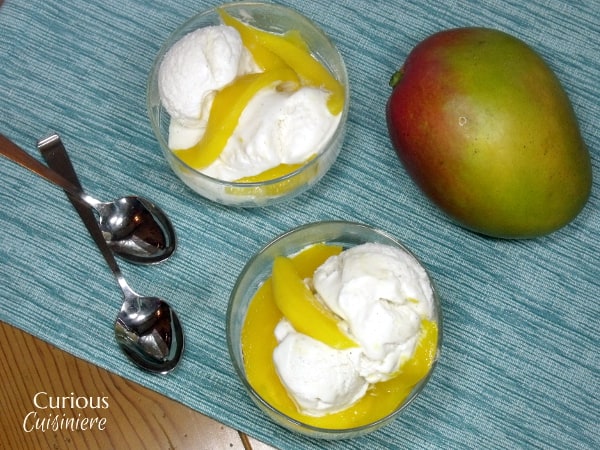 Mango Flambe (Mangas Flambada)
Soft and caramelized, liquor-infused Mango Flambe makes for a delicious summer ice cream topping or a fun breakfast treat with yogurt and granola.
Ingredients
½

tsp

salted butter

1

mango.

peeled, pitted and cut into slices

1 ½

tsp

sugar

Pinch

salt

¼

c

white rum

2

Tbsp

triple sec

or other orange-flavored liquor

1

tsp

lemon juice
Instructions
Heat butter in a large, oven-proof sauté pan. Add mango slices, sugar, and salt. Sauté until the sugars begin to caramelize and turn a light, golden brown, 5-7 minutes over medium heat.

In a small bowl or liquid measuring cup, mix rum and triple sec. Pour the liquor over the mangoes and let the liquor heat for 30-45 seconds.

Light the liquor with a match and watch the show as the flames dance around your sauté pan. Once all the alcohol has burned off, the flames will go out. Sprinkle the mangoes with 1 tsp lemon juice.

Serve mangoes over ice cream or yogurt. And, don't forget to ladle some of the sweet, rum-infused sauce over top too!
Nutrition
Serving:
1
g
|
Calories:
135
kcal
|
Carbohydrates:
13.8
g
|
Protein:
0.4
g
|
Fat:
0.8
g
|
Cholesterol:
2
mg
|
Sodium:
837
mg
|
Fiber:
1.2
g
|
Sugar:
20.4
g
If you liked this recipe, here are some similar dishes you may enjoy!