Mango paletas are delicious Mexican ice pops that are so easy to make. They're bright, fruity and perfect for summer!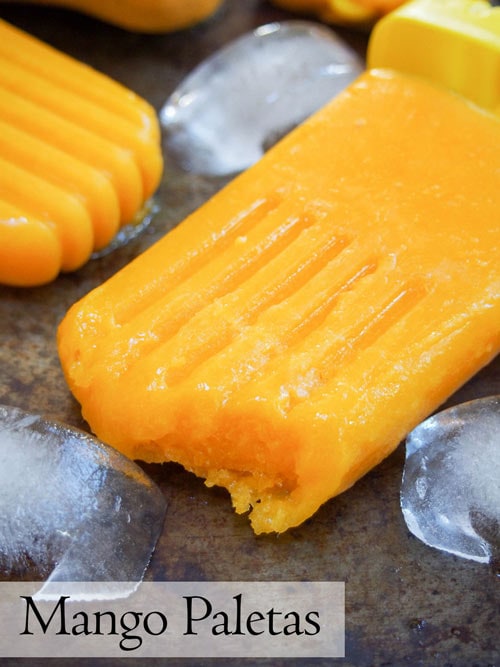 Many countries have tasty frozen treats to help everyone cool down on a warm day. You are in for a treat with these colorful, cooling ice pops that are just as easy for kids to make as enjoy.
What are paletas?
Paletas translate as ice pops in Spanish, but these are not quite the ice pops you may be used to. You won't find artificial colors and flavors in these, and you may be a little surprised by some of the flavors.
In Mexico, you'll find carts selling paletas on many street corners as well as small stores dedicated to them.
They are a firm favorite, as is ice cream, and it's easy to understand why. Not only are they great to cool you down, but the flavors are varied and in nearly all cases, all natural, meaning they are a relatively healthy treat.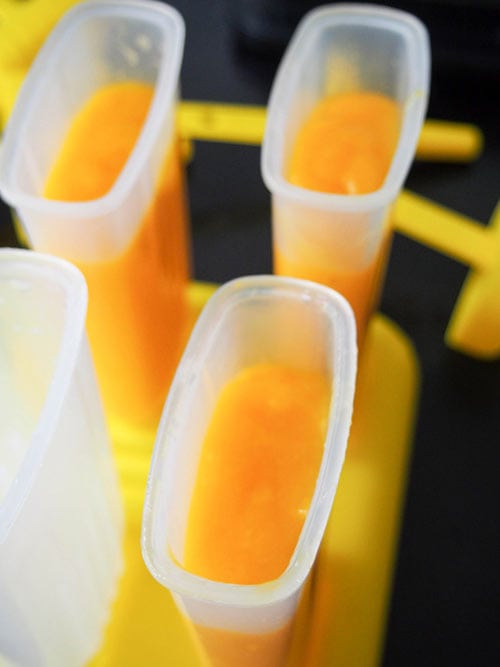 What are some popular flavors of paletas?
Some popular flavors include:
Strawberries and cream paletas
Tamarind paletas
Arroz con leche paletas (rice pudding, a popular dessert)
Jamaica paletas (made with agua de jamaica, hibiscus tea)
Watermelon paletas
Coconut paletas
And these mango paletas
Not only are some of these flavors unusual, unless you are familiar with popular flavors in Mexico, but some can be combined with chili. While this does give them a little heat, it's mainly used more as a flavor enhancer.
It's worth trying, whether you combine it in the mixture or dip it in after!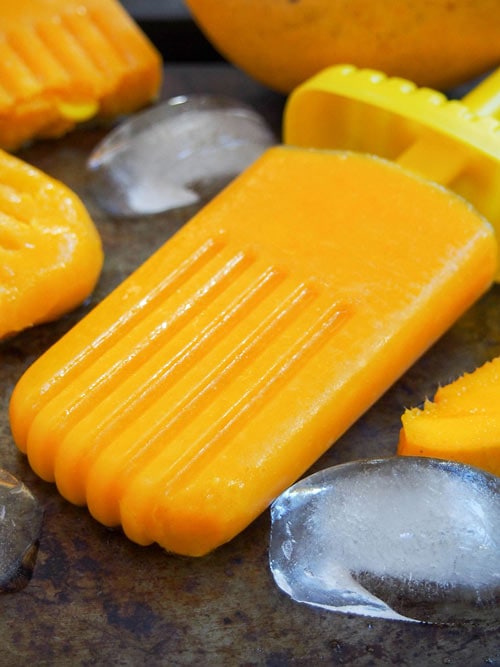 A popular way to add the chili is with tajin seasoning, which combines chili, salt, and lime. It's used in a range of dishes, mainly savory, but really has that great mix of flavors that it works just as well with sweet treats like these. You can find it in most Latin stores or online.
You'll find many other fruits used in paletas as well, or combinations used to make two- or three-colored, striped treats.
Some others have whole chunks of fruit in them for decoration. The majority are dairy free, but a few are made with milk as well.
Can you create your own paleta flavors?
Absolutely! The possibilities are about as endless as your imagination, so it's worth experimenting.
A good place to start is with your favorite smoothie and make it slightly sweeter than usual, since the freezing will reduce how sweet it seems.
Alternatively, simply start with a single fruit then add another that would go well with it. Lime, lemon or orange juice are great to add an extra freshness, and either a little sugar or honey to sweeten.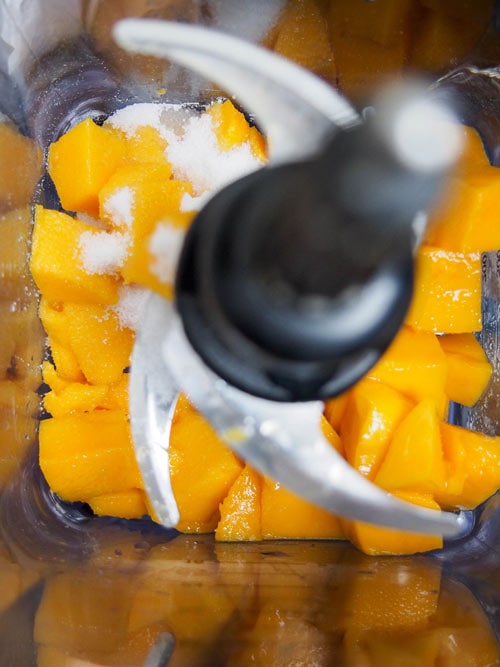 How do you make mango paletas?
Remove the stone and skin from the mango.
Put the mango chunks, lime juice, and sugar in a blender and blend to combine.
Pour the mixture into popsicle moulds.
Freeze until frozen solid.
In theory, you could use frozen mango chunks, but I have yet to find frozen mango that has as good a flavor as a truly ripe, fresh mango. You want to make sure the mango is very ripe to be as sweet and flavorful as possible.
You can cut the mango from the stone as you prefer, but what's generally considered the 'proper' way is to cut top to bottom near the stone so you cut most of the flesh off in a big chunk, then do the same on the other side.
Score the mango halves in squares then pop open and cut the cubes off at the base. Peel the skin from the flesh left by the stone and cut off any additional mango flesh.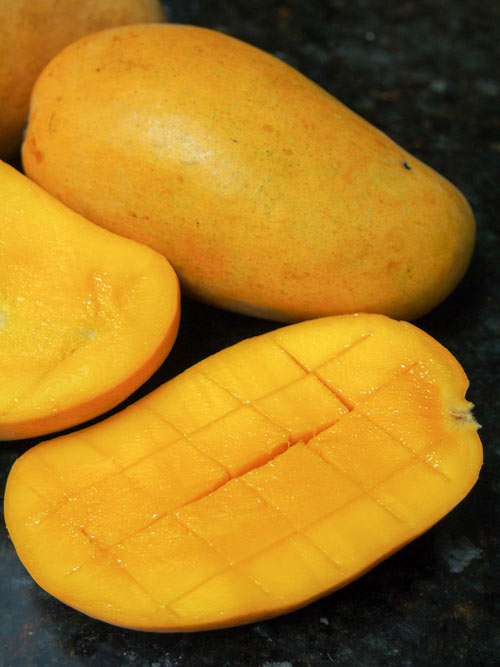 How can kids help to make mango paletas?
These are so easy to make and great to get kids involved in helping.
Any kids can help to turn the blender on and off.
Even younger kids can help measure ingredients.
Older kids can help to cut the mango. There are stages in skills within this, starting with scoring the cubes on the half mango, then cutting the cubes off. Only those more experienced with using knives should cut the sides off the mango, as this is where it is most likely to slip.
Most kids can help pour the mixture into the moulds and put in the sticks.
Most kids can help take the mould off the frozen paletas.
These mango paletas are fresh, fruity and flavorful. They're the perfect way to cool down on a warm day, and great to make, and enjoy, with kids as well. So get making your own paletas!
Mango Paletas
Mango paletas are delicious Mexican ice pops that are so easy to make. They're bright, fruity and perfect for summer!
Ingredients
3

cups

diced mango,

from approx 3 yellow mangoes

3

tbsp

lime juice

4

tbsp

sugar
Instructions
Assuming you are using fresh mango, remove the mango flesh from the stone by cutting through the mango near the stone, on both sides, then scoring the mango halves. Pop open the mango and remove the cubes from the skin. Trim remaining mango from around the stone.

Put the mango flesh, lime juice and sugar in a blender and blend until smooth. Pour into popsicle moulds, leaving a slight gap at the top. Put in the sticks and carefully transfer to freezer, keeping upright. Allow to freeze - at least four hours.

Remove from moulds - put the mould under warm water if they don't come out easily.
Notes
You can optionally either add a little chili powder (or tajin seasoning) into the mixture or sprinkle a little on after removing from the mould. Around 1 tsp should be fine, or to taste.
If you liked this recipe, here are some similar dishes you may enjoy!