We're lightening up the American version of pasta Alfredo with a healthy swap to make your creamy sauce!
Italian Fettuccine Alfredo vs American Alfredo Sauce
It might blow your mind to find out that the jars of "Alfredo sauce" we find on supermarket shelves in the States are nothing like the sauce (if you can call it that) that makes up a true, Italian, Fettuccine Alfredo.
That creamy sauce we find in stores is a spin off of the true Italian recipe. As Alfredo's pasta became a huge hit in the States, people began looking for a way to make the sauce quicker and easier (and with a longer shelf-life.
Because, you see, Alfredo's pasta was simply noodles tossed with butter and Parmesan cheese. If you tried to mass produce a dish like that or make it using sub-par ingredients, it wouldn't be a very stellar dish at all.
People began to add cream and starches to the classic Fettuccine Alfredo preparation in order to come up with something that resembled a "sauce" that could be made ahead to prepare for the dinner rush.
And, even better, marketed and sold wholesale!
What a sad history for a tasty sauce.
Even though the creamy Alfredo sauce we find in stores isn't authentic, we have a weak spot for it, so we we decided to try our hand at making a healthier version of this Italian-American, creamy sauce.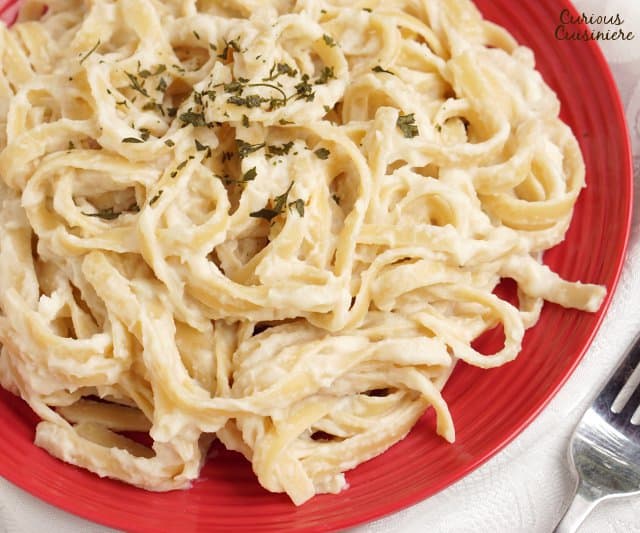 Homemade Healthy Pasta Alfredo
Would you believe that this Alfredo isn't made with butter and cream?
Even if you grabbed a fork-full of pasta, you probably wouldn't know that it wasn't your standard Alfredo.
If you've seen our Healthy Penne alla Vodka, you can probably guess where we're going here.
Veggies!
Roasted cauliflower, to be exact.
The Key To Our Healthy Alfredo Sauce Recipe
A little 1/3 fat cream cheese brings a beautiful creaminess to this sauce, just like a regular, store-bought Alfredo sauce. And a handful of fresh grated Parmesan cheese gives you the salty cheese kick you crave.
With a cauliflower puree as the base to this creamy sauce, you get a thick and flavorful sauce that has a fraction of the calories and fat of a normal butter and cream thickened Alfredo sauce.
You're welcome!
Healthy Pasta Alfredo with Sun Dried Tomatoes
We're lightening up the American version of pasta Alfredo with a healthy swap to make your creamy sauce!
Yield: roughly 2 c of sauce
Ingredients
1

lb

cauliflower,

chopped

3/4

lb

pasta,

dry

2

tsp

salt,

divided

4

Tbsp (2 oz)

1/3 fat cream cheese

1/2

c (2 oz)

fresh Parmesan or Asiago cheese,

grated

2

oz

sun dried tomatoes,

drained, if canned (optional)
Instructions
Place the chopped cauliflower in a steam basket in a medium saucepan. (If you don't have a steam basket, just put the cauliflower straight into the pan.) Add 2 c of water. Cover and steam the cauliflower 10-15 minutes, until VERY soft.

While the cauliflower is cooking, bring a large saucepan of water to a boil. Add pasta and 1 tsp of salt. Simmer, uncovered, for 7-9 minutes, until the pasta is al dente. Drain and set aside.

Once the cauliflower is soft, place the cauliflower, cream cheese, grated Parmesan cheese, and 1 tsp salt into the bowl of your blender. Process until smooth, adding liquid from the steamed cauliflower (or pasta water) as needed to create a silky smooth and creamy sauce. (We used 1/2 - 3/4 c of liquid.)

Add the cauliflower alfredo sauce to your drained pasta. Mix in the sun-dried tomatoes. Taste and adjust the salt as desired.
Notes
This recipe from 2014 was updated in May 2017. We made this sauce even closer to your classic Italian-American Alfredo sauce! Enjoy!
---
This is one of the recipes from the early days of Curious Cuisiniere. We've updated our pictures since we first shared the recipe, but we've left the original images here as a fun throwback and shout out to how far we've come. Enjoy!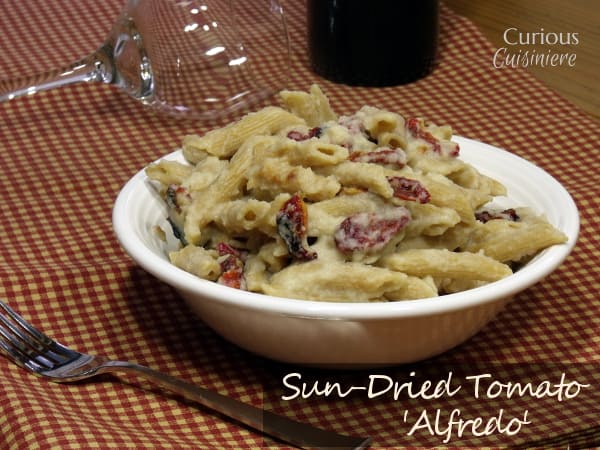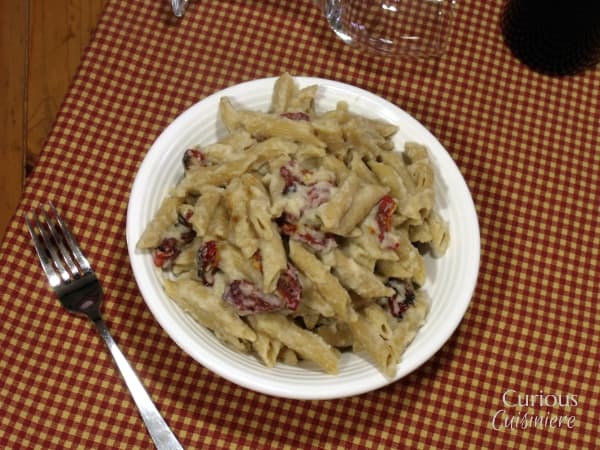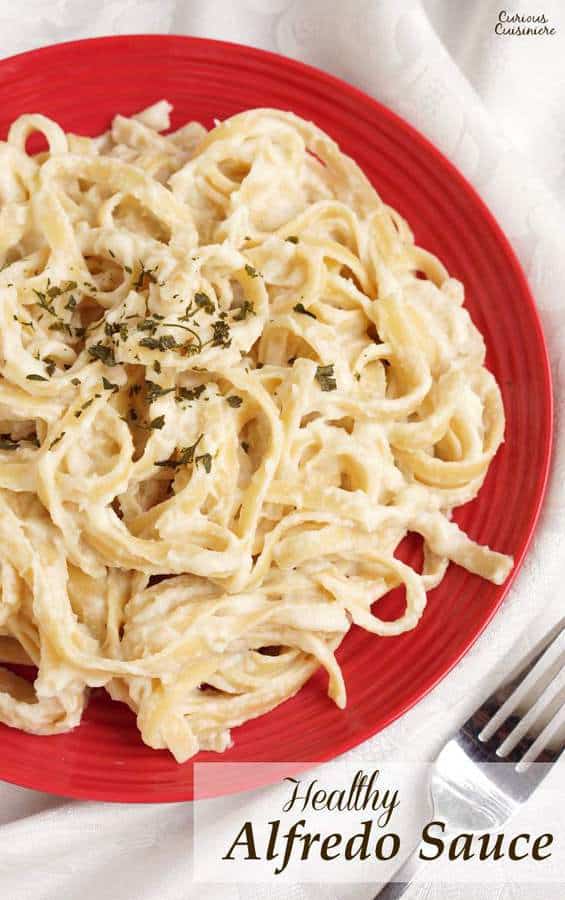 If you liked this recipe, here are some similar dishes you may enjoy!