Confused by all the different terms used to label grocery store chicken? We're breaking down chicken labeling terms and sharing an easy Greek chicken dish.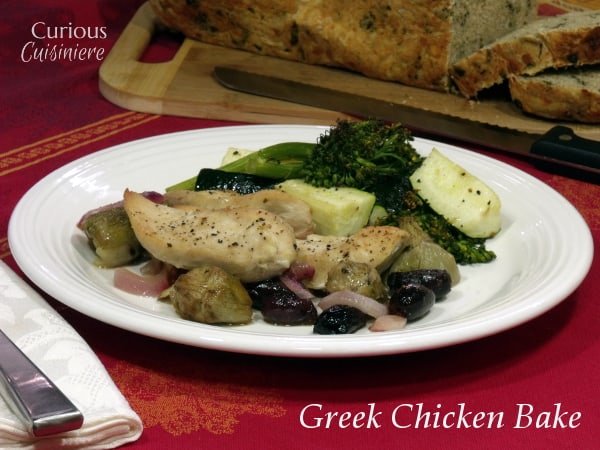 We're taking a break from the seasonal onslaught of zucchini and tomatoes today with an easy baked chicken dish, infused with Greek flavors of artichokes and Kalamata olives.
But, before we talk Greek flavors, we wanted to touch a minute on chicken.
Understanding Chicken Package Labels
We've recently started noticing stark differences in flavors and textures of the chicken we have been purchasing. The difference drove us to do some research about how you can tell the quality of chicken you are getting at the store. Like beef grades, the chicken label has terms that can tell you a bit about the contents before you find out on your plate.
But, those labels aren't always easy for well-intention-ed consumers to make sense of, and many of the terms often promote mis-information about the chicken industry as a whole.
Let's break them down.
Free Range – There is no official, government definition of "free range," so the USDA approves these claims on a case-by-case basis. It typically means that the chicken have access to the outdoors for at least some part of the day (regardless of whether or not the chicken actually do go outdoors).
Farm Raised – Where else would you raise a chicken? Certainly not in the suburbs! Many times this term is used to mean locally 'farm raised.' But, you would need to ask about the farm to be sure.
Natural – USDA regulations mandate that a "natural" product has no artificial ingredients, colors, or chemical preservatives and is minimally processed. This is a fairly easy label for manufacturers to get.
Organic – Is a more difficult USDA label to achieve. Organic chickens must be allowed year-round access to the outdoors, be raised on organic land according to animal health standards, using organic feed and without the use of any antibiotics. Among other restrictions.
No Hormones Added – The regulations of the FDA have prohibited the use of artificial or added hormones since the 1950s. So, this statement is true for all chicken raised in the US.
Antibiotic-Free – All chicken is "antibiotic-free", since the withdraw period mandated by the government results in no antibiotic residue present in chicken at the time of slaughtering. "Raised Without Antibiotics" means that no antibiotics were used during the chicken's life.
Enhanced – Some chicken products are enhanced with chicken broth or sodium. Any additives and 'enhancements' must be noted on the label.
The Bottom Line?
Find a brand of chicken that gives you the best quality to cost ratio, taking into consideration the labeling factors that concern you and your family. Once you find a good supplier (or two) stick with them, and you will be sure of the quality of the meat you are providing your family.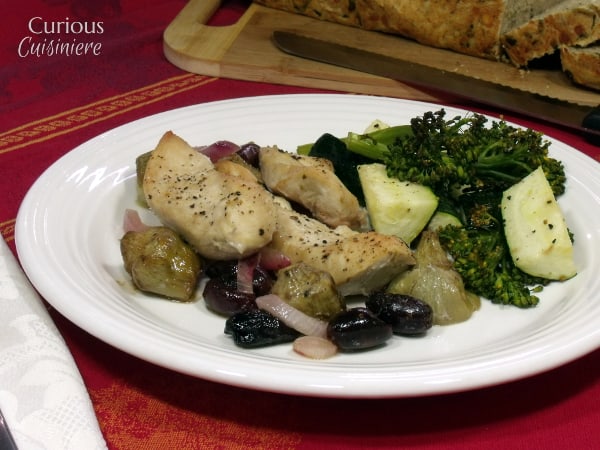 Our Easy And Flavorful Greek Chicken Bake
On to this tasty Greek-inspired dish.
When I think of Greek style food, I think of Mediterranean dishes with bright and light flavors of lemon, oregano, and olives.
Those are the flavors we infused into this baked chicken, and, as always, we were overwhelmed by the results that a few flavorful ingredients could produce.
Some bright and lemony marinated artichokes, a handful of salty Kalamata olives, robust red onions, and fresh sprigs of oregano infuse this chicken with intense flavors.
We served the chicken with oven-roasted broccoli and zucchini for a veggie-laden summer meal.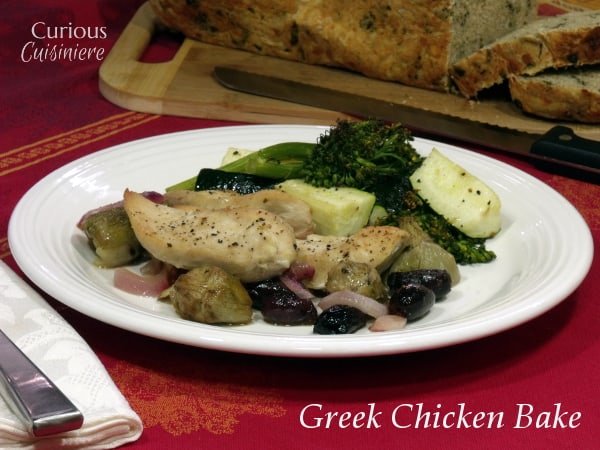 Greek Chicken Bake
This chicken brings the flavors of the Mediterranean, with lemon, marinated artichokes, olives, and oregano.
---
Ingredients
1

red onion,

sliced

4

oz

Kalamata olives,

pitted

8

oz

marinated artichoke hearts

1

lb

chicken breast,

cut into ½" strips

2

Tbsp

lemon juice

4

- 5 springs

fresh oregano,

or 2 tsp dry oregano

1

garlic clove,

minced, or ¼ tsp garlic powder

¼

tsp

salt

1/8

tsp

ground black pepper
Instructions
Preheat your oven to 450F.

Place the sliced onion, artichokes and olives in a 9x13 baking dish, and toss with enough of the artichoke marinating oil to coat the bottom of the dish (roughly 1-2 Tbsp).

Layer the chicken strips over the veggies.

Pour the lemon juice over the chicken. Top the chicken with the oregano, garlic, salt and pepper.

Roast, uncovered for 15 minutes. Check the chicken and cover the dish with aluminum foil if it is browning too fast. Continue to cook for an additional 15 minutes, or until the chicken is firm.

Serve with a side of roasted veggies (you can roast them on the lower rack during the second half of the chicken's cooking time), a salad, or pita bread.
---
If you liked this recipe, here are some similar dishes you may enjoy!