Pan de Muerto is a light and sweet Mexican Day of the Dead bread, traditionally spiced with ground anise and brushed with an orange glaze.

Pan de Muerto: Bread of the Dead
Pan de Muerto, or "Bread of the Dead", is a sweet bread that is baked during the Dia de los Muertos, or Day of the Dead, celebrated in Mexico on November 1st and 2nd.
It is a light and egg-y sweet bread that is shaped as a round loaf or smaller round rolls.
Both loaves and rolls are decorated with bone-shaped strips of dough to honor the celebration of those gone before.
Dia de los Muertos: A Celebration of the Dead
The most prominent symbol of Dia de los Muertos is the calacas and calaveras, or skeletons and skulls. From parades to decorations, even to foods, images of bones are everywhere.
Sugar skulls and chocolate skulls are often given as gifts.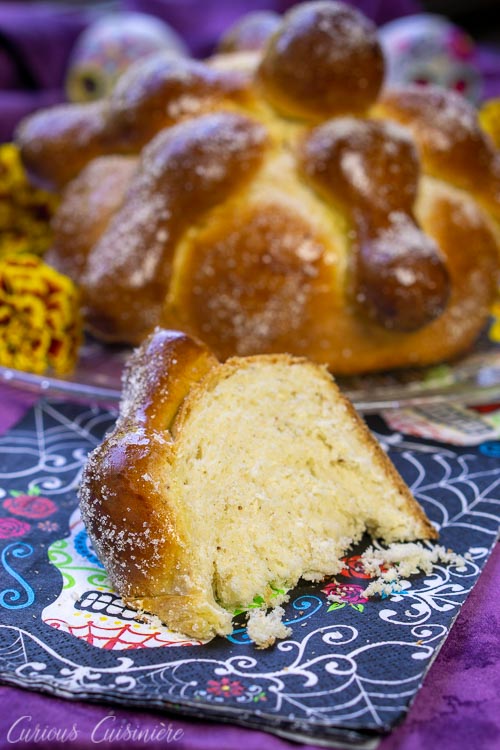 In larger cities, you will find parades filled with dancers, musicians, and many people dressed up like skeletons.
One of the most popular figures to dress up as is La Calavera Catrina (The Elegant Skull), a skeleton who resembles an upper class female, showing that, in death, rich and poor are the same.
Despite the multitude of skeletons prancing through the streets and the belief that spirits return to be with their families, the festival is not scary, somber, or macabre. Rather, it is a joyous event, full of parties, good memories, and good food.
The festival celebrates death as a natural part of the human experience: as natural to celebrate as a newborn baby, a coming of age, or any birthday.
Through the celebrations and decorations of graves and home altars, the dead are remembered and honored.
Dia De Los Muertos Bread
During Dia de los Muertos, it is common to eat Pan de Muerto as well as other foods that were loved by those loved ones who have died.
The skeleton and bones that are found throughout the celebration of Dia de los Muertos are also found atop Pan de Muerto, giving this bread a very unique appearance.
The idea is to create the look of a pile of bones atop your bread (or roll).
Our Day of the Dead Bread Recipe
Like many other sweet breads (such as challah of Finnish pulla), the dough for this bread is a "rich dough" that consists of milk, eggs, and butter.
Pan de Muerto is commonly lightly flavored with anise and given an orange glaze after baking.
The warm spice and orange combo is one that is familiar in the fall. And it is common in other Day of the Dead foods, like calabaza en tacha (Mexican candied pumpkin).
To create the topping of 'bones,' for our Day of the Dead bread, divide the dough into a larger portion and a few smaller portions.
If you roll the small portions into a rope, keeping your fingers roughly in the same place, you will create 4 little nobbies on the rope. When arranged on the bread, these look remarkably like a pile of bones.
It is most common to arrange the bones in a circle pattern, representing the circle of life.
As the dough rises and bakes, the circle of 'bones' may shift a bit, but that's more than ok. It adds to the rustic appeal of the bread!

Even if you're not celebrating the Day of the Dead, this bread is a tasty, sweet and eggy bread that would make a delicious addition to a Halloween party spread as well.
Pan de Muerto (Mexican Day of the Dead Bread)
Pan de Muerto is a light and sweet Mexican Day of the Dead bread, traditionally spiced with ground anise and brushed with an orange glaze.
Yield: 1 (7 inch) round loaf 
Ingredients
¼

c

milk

¼

c

water

2

Tbsp

unsalted butter,

room temperature

3

c

unbleached all purpose flour,

divided

¼

c

sugar

2 ¼

tsp

active dry yeast

(one packet)

1 ½

tsp

ground anise

1

tsp

salt

2

eggs,

at room temperature

1

egg,

lightly beaten (for egg wash)
For the Glaze and Topping
1

small

orange,

zested and juiced (roughly 1/4 c orange juice)

¼

c + 1 Tbsp

sugar,

divided
Instructions
In a small saucepan heat the milk, water, and butter together until the butter has melted. Remove the pan from the heat and transfer the mixture to a shallow, wide bowl to cool to 80-90F.

In a large bowl, mix together 1 c flour, sugar, yeast, salt, and anise. Add the cooled milk mixture and whisk until smooth. Add the eggs and whisk until combined.

Add the remaining 2 c flour, ½ c at a time, stirring well with a spoon after each addition, until a soft dough forms.

Turn the dough out onto a lightly floured surface and knead it for 5-7 minutes, adding flour as needed to keep the dough from sticking to your hands or the counter, until the dough is smooth, soft, and only slightly tacky.

Transfer the dough to a lightly greased bowl. Cover it with a damp tea towel and let is rise in a warm, draft free place until doubled in bulk, roughly 1 hour.

Cut 3 small portions (roughly 1.5 ounces each) and 1 smaller portion (roughly .5 oz) from your dough. Shape the 3 smaller portions into a rope that is roughly 6-7 inches long and has 4 bulges. (These are your 'bones'.) Shape the smallest portion into a small ball (for the top).

Shape the remaining larger portion of dough into a large ball and place it on a flour-dusted baking sheet.  Brush it with the egg wash and layer the three "bones" across the top. Brush again with egg wash and press the smallest ball into the top where the bones meet. Brush the top ball with egg wash.

Let the dough rise in a warm and draft-free place until puffy and nearly doubled, roughly 35-45 minutes. Near the end of the rising time, move your
oven rack to the lowest position (this bread gets tall and having extra space
over top of the bread in the oven will help it not to darken so quickly) and
preheat your oven to 350F.

Bake the bread for 25-30 minutes, until it sounds hollow when tapped. (The internal temperature taken with an instant read thermometer should read 180F.) If the crust looks like it is getting too brown for your liking towards the end of baking, you can tent it loosely with a piece of aluminum foil. 

While the bread is baking, make the glaze: Heat ¼ c sugar together with the zest and juice of one small orange. Bring the mixture to a simmer and simmer for 2-3 minutes. If necessary, strain the glaze of any orange pulp and set the strained glaze aside.

When the bread is done, brush the warm loaf with the glaze and sprinkle with granulated sugar.

Let the bread cool slightly before slicing.
Notes
NOTE: This recipe from 2015 was updated in September 2019. We made a few tweaks to make the bread even better. Enjoy!
---
We've updated our pictures since we first shared this bread on Curious Cuisiniere. Subsequent times we've made it, we've decorated it following a bit more closely the traditional technique. We've left our original images here, in case you've found us in the past and are looking for that old, familiar image.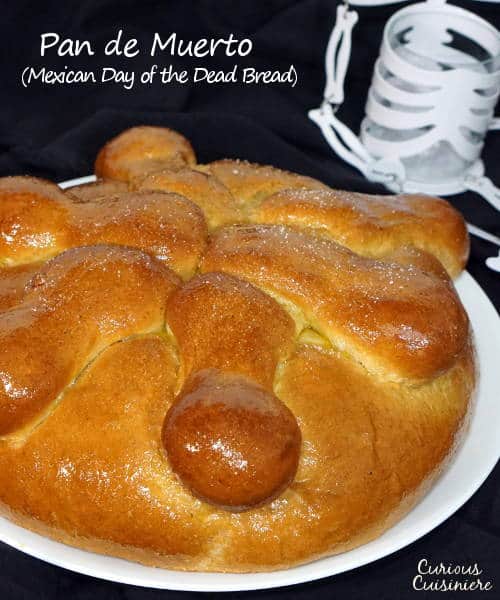 If you liked this recipe, here are some similar dishes you may enjoy!