Pulla is a traditional Finnish sweet bread that is flavored with the unique scent of cardamom. It makes a stunning loaf, or can be baked into individual rolls for easy eating. 
Finnish Pulla
A traditional Scandanivan bread, this soft and rich treat is called 'pulla' in Finland and 'bulle' in Sweden.
It is traditionally eaten with coffee and tea, the perfect bread for nibbling while sitting around chatting with friends over a warm cup.
The bread is lightly sweetened, incredibly soft and fluffy, and wonderfully unique in its flavor.
Cardamom Bread
At first glance, this loaf might look like an almond-studded challah or brioche, but Finnish pulla has something extra that makes it stand out from these two rich breads.
Cardamom.
We were a bit surprised to find cardamom used in a traditional Scandanivan bread, but it turns out that cardamom is actually quite a common spice in Scandanivan baking.
These guys are definitely on to something.
The subtle flavor and warm spice notes from the cardamom really are present in each bite of this tender bread. If you're not used to eating cardamom, you might not be able to pick out the flavor, but you will definitely notice that there is something very tasty and slightly different about the flavor of each bite.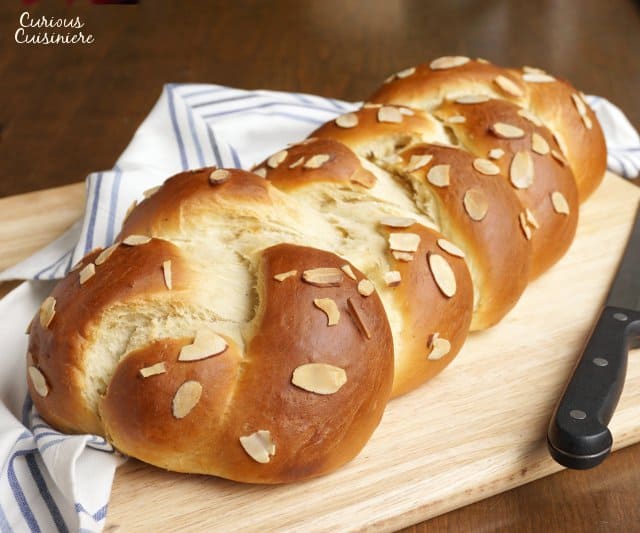 Making Our Finnish Pulla Bread Recipe
After the flavor and soft texture of this bread, we also love how versatile the dough is.
It can be made into a braided loaf, like we did, if you're looking for a wonderful table centerpiece. These loaves could also be braided with a filling, like cinnamon sugar or jam, for something extra special.
It can also be made into individual rolls, which can either be left as just the bread, or can be filled with jam or custard, making for a delicious breakfast treat.
Finally, and this one we REALLY loved, the dough can be packed up in an air-tight container and brought along with you on your next camping trip. To bake the bread, wrap snakes of dough around a stripped piece of wood. Then bake your pulla over the fire.
Seriously. We're trying that one the next time we go camping!
Pulla (Finnish Cardamom Bread)
Pulla is a traditional Finnish sweet bread that is flavored with the unique scent of cardamom.
Yield: 1 (15x6 inch) loaf
Ingredients
¾

c

milk,

warmed to 110F

¼

c

water,

warmed to 110F

⅓

c

sugar

2 ¼

tsp

active dry yeast

(1 package)

2

eggs,

room temperature

2

tsp

ground cardamom

¾

tsp

salt

4

Tbsp

unsalted butter,

melted and cooled

1

egg beaten with 1 Tbsp of water

(for egg wash)

Coarse sugar and sliced almonds

(for topping)
Instructions
In a large bowl (or the bowl of your stand mixer), combine milk, water and sugar. Sprinkle the yeast over top and let stand for 5 minutes, until foamy.

Add 2 cups of flour, eggs, cardamom, and salt. Mix until smooth.

Add the butter and mix until combined.

Knead the dough in the bowl, adding enough of the remaining flour to keep it from sticking, until the dough comes clean from the sides of the bowl and doesn't stick to your hands.

Shape the dough into a ball in the bowl and cover it with a damp tea towel. Let the dough rise in a warm, draft free place for 1 - 1 ½ hours, or until doubled.

Once risen, knock back the dough and divide it into 3 strands for a braid.* Roll each strand into a 20 inch snake. Braid the strands and place the braided loaf on a parchment lined baking sheet. Brush the top of the loaf with the egg wash and sprinkle it with sugar and almonds, if desired. Let the loaf rise for 30-40 minutes, or until doubled in bulk.

Near the end of rising time, preheat your oven to 375F.

Bake the bred for 25-30 minutes, until golden and hollow sounding when tapped.

Remove the loaf from the oven and let it cool slightly on a wire rack before cutting.

Bread will keep for 1 week on the counter in an air-tight container.
Notes
*For Rolls: Divide the dough into 12 portions. Roll each portion of dough into a round ball and place them on a parchment-lined baking sheet. Brush the rolls with egg wash and sprinkle with sugar and almonds. Let rise for 20-30 minutes, until doubled. Bake the rolls for 10-15 minutes, until golden.
For Campfire Pulla: Place the dough in a greased, airtight container. The dough can then be portioned out and wrapped around a stick and baked over a warm fire.
If you liked this recipe, here are some similar dishes you may enjoy!