Similar to the American candied yams, Calabaza En Tacha or Mexican Candied Pumpkin is a wonderfully warming fall treat.
What is a Calabaza?
Calabaza, or West Indian Pumpkin, is a type of winter squash, with a sweet flavor and very firm texture. It looks similar to an American pumpkin, but the flavor more closely resembles butternut or acorn squash. The skin of a Calabaza can be green, orange, even red or tan, and they are incredibly popular in the Caribbean and Central and South America.
Making Candied Pumpkin
To make Calabaza en Tacha (pronounced KA-la-BA-sa en TCHA-cha), the pumpkin flesh is simmered in a brown sugar cane syrup. As the pumpkin cooks, it becomes soft and tender, taking on the deep color and sweet, spiced flavor of the syrup.
Calabaza en Tacha: A Dish for Celebrations
This dish is often served during Dia de los Muertos, or Day of the Dead. This Mexican celebration on November 1st and 2nd is a holiday that honors and celebrates those who have gone before. In addition to bones and the idea of the circle of life being central elements to the celebration, the color orange is also a color that is widely associated with the holiday.
It is common for family members to visit the graves of loved ones and decorate them with lots of flowers, particularly orange mums, and mementos of things they loved in life. At home, it is common to build altars for the deceased. These altars are laden with flowers and the foods that the person loved while they were alive. It is believed that during the celebration of the Day of the Dead, the spirits of those who have passed return to the earth. Building altars and decorating graves is a way to show your loved ones that you have not forgotten about them and a way to welcome them back for the party.
Long Simmering Candied Pumpkin
To make Calabaza en Tacha, pumpkin pieces are simmered in a syrup that is traditionally sweetened with piloncillo (pronounced PIL-on-SE-yo), unrefined cane sugar that has been pressed into a cone shape. You can find piloncillo at any Mexican grocery store, or you can mimic the flavor by using brown sugar with just a little extra molasses. This gives that just-sweet-enough characteristic to the pumpkin and infuses it with a dark molasses depth.
Orange and cinnamon also add to the flavor of the candied pumpkin, giving depth and brightness. As it cooks, a wonderfully sweet and spicy aroma fills the house.
Serving Calabaza en Tacha
Mexican candied pumpkin can be served plain or with ice cream or cream. We found the dish to remind us a lot of pumpkin pie, and adding ice cream rounded out the sweet and spicy flavors, making it taste even more like the custard of a pumpkin pie.
If you have some leftover pumpkin after Halloween, or if you are looking for a sweet pumpkin, other than a traditional pumpkin pie, consider giving this easy recipe a try. This cultural dish just might ending up replacing the candied sweet potatoes on your Thanksgiving table!
As you eat it, remember to give thanks for the memory of those loved ones who have gone before you.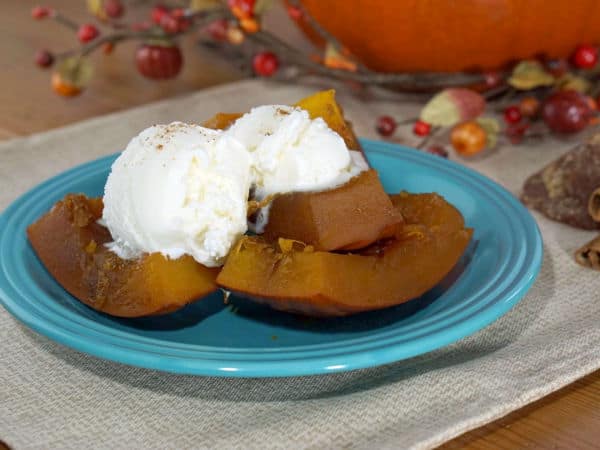 Calabaza En Tacha (Mexican Candied Pumpkin)
Similar to the American candied yams, Calabaza En Tacha or Mexican Candied Pumpkin is a wonderfully warming fall treat.
---
Ingredients
2 ½

lb

pumpkin,

seeded only and cut into 2-3 inch chunks

2

c

water

½

lb

piloncillo

or 1 c brown sugar + 2 Tbsp molasses

1

orange,

zested and juiced

2

cinnamon sticks
Instructions
In a medium saucepan simmer water, piloncillo, orange zest and juice, and cinnamon until the piloncillo is dissolved.

Add the pumpkin pieces and bring the mixture to a boil.

Reduce the heat to low and simmer, covered for a half hour.

Remove the lid and simmer for an additional hour to hour and a half, until the pumpkin is incredibly tender and the sauce is reduced to a glaze.

Serve warm with ice cream or whipped cream, if desired.
---
If you liked this recipe, here are some similar dishes you may enjoy!