Chocolate peppermint biscotti is dipped in white chocolate and peppermint bark for a festive treat perfect with your morning coffee or cocoa.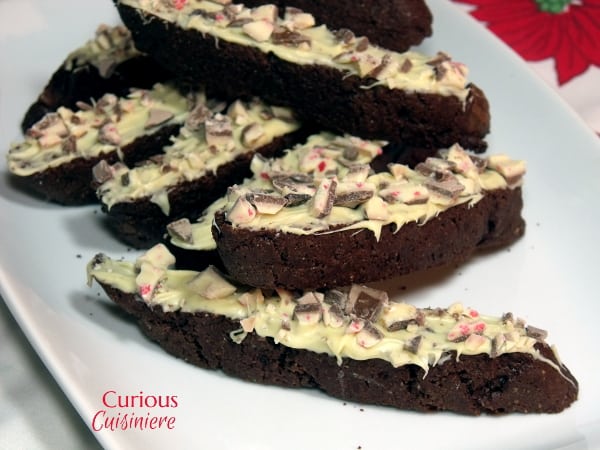 Chocolate Peppermint Biscotti
While the most classic Italian biscotti is a light colored, almond biscotti, we're changing things up for this Christmas season.
These crunchy chocolate biscotti have a dark chocolate flavor that is laced with peppermint.
We can't get enough of that chocolate and peppermint combo this time of year!
After baking, the chocolate peppermint biscotti are dipped in white chocolate and topped off with pieces of crushed peppermint bark for a festive finish. (And extra peppermint flare!)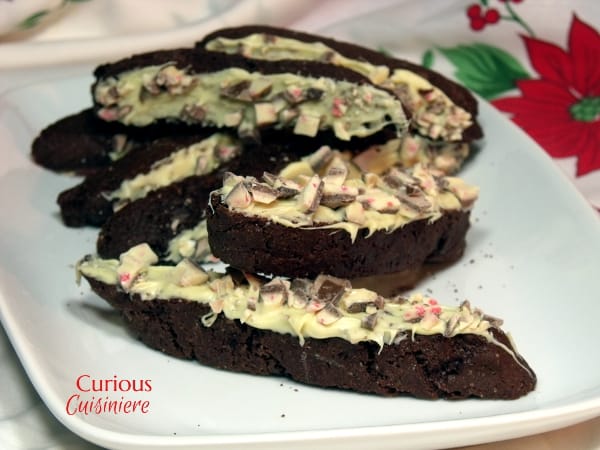 They may be classified as a cookie, but we think they're the perfect accompaniment to a morning cup of coffee.
Chocolate in the morning… YUM!
How To Make Biscotti
The Italian word biscotti comes from the Latin word meaning "twice-cooked".
If you ever wondered how biscotti got their super crispy crunch, that's it. They're baked twice.
First, you bake the cookie dough in the shape of a long, flat log.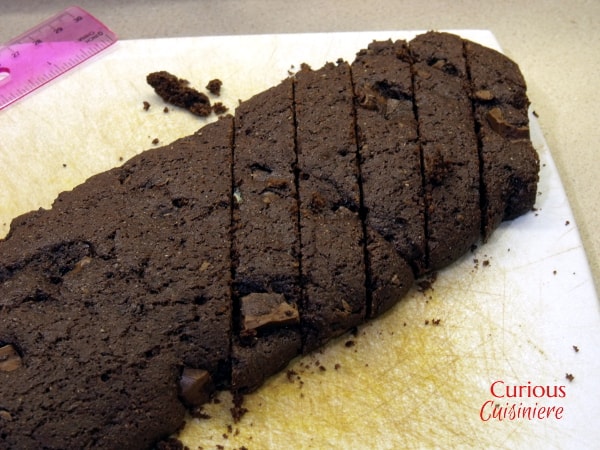 Then, once the cookies are initially baked and set, you slice the log and bake the cookies again, in their sliced (and final) form.
This double baking gives the cookies their perfect, dunking crispness.
The nice thing about making your own biscotti is that you can make your second bake as long or as short as you like.
If you want a softer biscotti, shorten the second bake time.
If you love a super crunchy biscotti that needs a long steep in your coffee to soften it, then go ahead and let them bake for a little longer.
It's all up to you!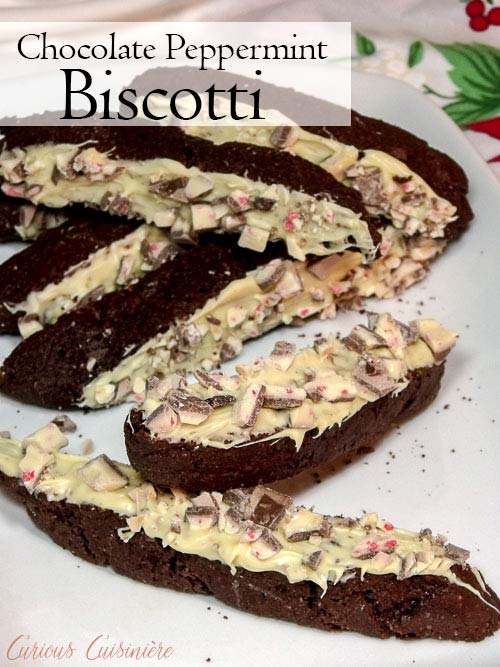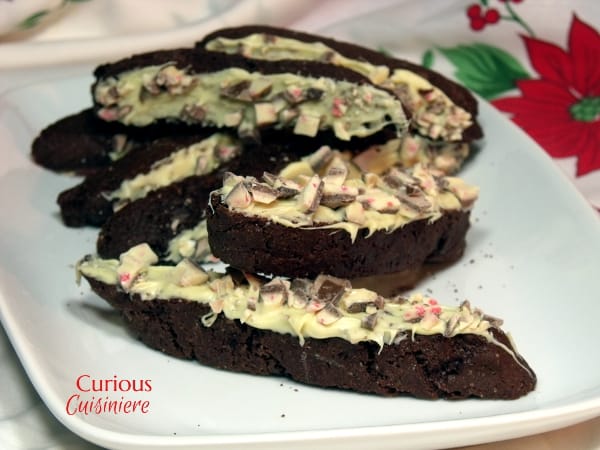 Chocolate Peppermint Biscotti
Chocolate peppermint biscotti is dipped in white chocolate and peppermint bark for a festive treat perfect with your morning coffee or cocoa.
Yield: 3 dozen (5 x ¾ inch) biscotti
---
Ingredients
1 ½

c

whole wheat flour

1 1/3

c

cocoa powder

4

tsp

baking powder

1 ½

c

sugar

½

tsp

salt

1 ½

c

milk chocolate chips

4

eggs

½

c

unsalted butter,

softened

2

tsp

pure peppermint extract

1 ½

c

white chocolate chips

1 ½

c

peppermint bark,

crushed
Instructions
In a large bowl, mix together flours, cocoa powder, baking powder, sugar, and salt. Add chocolate chips and mix to distribute.

In a small bowl, beat eggs with the butter and extract. Add egg mixture to the dry ingredients and stir until the dough comes together.

Divide dough into 4 even pieces and shape each piece into a 12" x 3" x ¾" high log. Place logs on baking sheets covered with parchment paper.

Bake for 25 minutes.

Remove biscotti logs from the oven and let cook 5-10 minutes, until they can be handled.

On a cutting board, with a serrated knife, cut the biscotti at a 45 degree angle into 5" long pieces, roughly ¾" wide.

Lay the biscotti back on to the baking sheets, on their cut side. Return to the oven and bake for 25-30 minutes, until dry. (You may need to remove some of the smaller pieces at the 25 minute mark, while the larger pieces may take longer.)

Allow biscotti to cool completely (30 min to an hour).

In a microwave safe bowl, heat white chocolate chips, 5 seconds at a time, stirring after each warming, until they melt completely.

Place peppermint bark pieces on a plate for dipping.

Spread white chocolate over one side of the biscotti and dip the still wet chocolate into the peppermint bark pieces. Place, dipped side up, on parchment paper, and let the chocolate harden 30 min to 1 hour before storing the biscotti in an air-tight container for up to two weeks.
---
If you liked this recipe, here are some similar dishes you may enjoy!