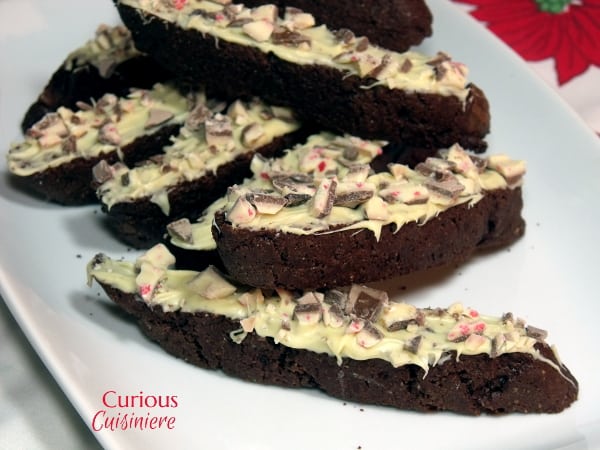 This is year two that we have participated in the Great Food Blogger Cookie Swap. What's the swap? Food bloggers from around the world come together to raise money for Cookies for Kid's Cancer, a "national non-profit organization committed to funding new therapies used in the fight against pediatric cancer, which claims the lives of more children in the US than any other disease".
In partnership with our great sponsors, Oxo, Dixie Crystals, Gold Medal Flour, and Grandma's Molasses, we raised over $13,000.00 this year!
The idea of the swap is that each blogger who signs up receives the names of three other bloggers to whom they are to send a gift of a dozen Christmas cookies.
We received delicious Coconut Chunky Monkey Cookies from Christie at A Slice of Ccakes, and heavenly smelling Peppermint Hot Cocoa Cookies from our friend Karen over at In the The Kitchen with KP.
Last year we made these Peanut Butter Stuffed Peanut Butter Cookies.
So what did we send around this year?
Biscotti!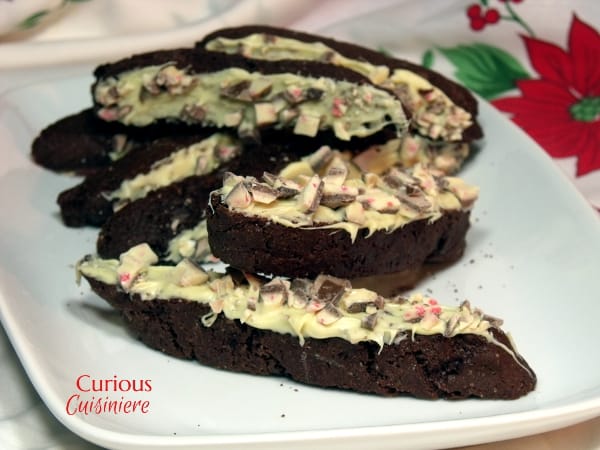 Chocolate Peppermint Biscotti to be exact.
These crunchy cookies have a dark chocolate flavor that is laced with peppermint. After baking they are dipped in white chocolate and pieces of peppermint bark for a festive finish.
They may be classified as a cookie, but we think they're the perfect accompaniment to a morning cup of coffee.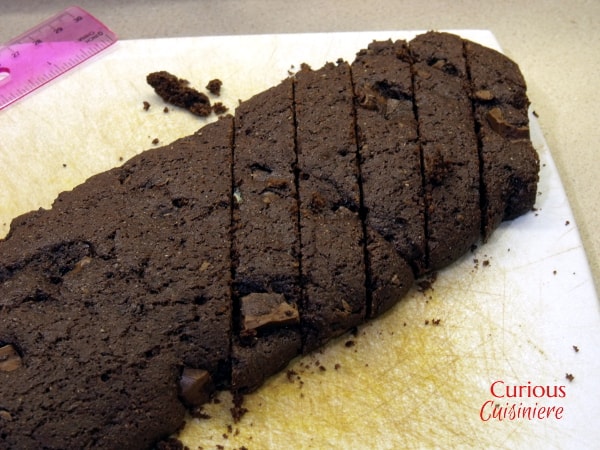 Chocolate Peppermint Biscotti
Yield: 3 dozen 5" x ¾" biscotti
Author:
Sarah | Curious Cuisiniere
Ingredients
2 c flour
1 ½ c whole wheat flour
1⅓ c cocoa powder
4 tsp baking powder
1 ½ c sugar
½ tsp salt
1 ½ c milk chocolate chips
4 eggs
½ c canola oil
2 tsp peppermint extract
1 ½ c white chocolate chips
1 ½ c crushed peppermint bark
Instructions
Preheat oven to 325?F.
In a large bowl, mix together flours, cocoa powder, baking powder, sugar, and salt. Add chocolate chips and mix to distribute.
In a small bowl, beat eggs with oil and extract. Add egg mixture to the dry ingredients and stir until the dough comes together.
Divide dough into 4 even pieces and shape each piece into a 12" x 3" x ¾" high log. Place logs on baking sheets covered with parchment paper.
Bake for 25 minutes.
Remove biscotti logs from the oven and let cook 5-10 minutes, until they can be handled.
On a cutting board, with a serrated knife, cut the biscotti at a 45? angle into 5" long pieces, roughly ¾" wide.
Lay the biscotti back on the baking sheets, on their cut side. Return to the oven and bake for 25-30 minutes, until dry. (You may need to remove some of the smaller pieces at the 25 minute mark, while the larger pieces may take longer.)
Allow biscotti to cool completely (30 min to an hour).
In a microwave safe bowl, heat white chocolate chips, 5 seconds at a time, stirring after each warming, until they melt completely.
Place peppermint bark pieces on a plate for dipping.
Spread white chocolate over one side of the biscotti and dip the still wet chocolate into the peppermint bark pieces. Place, dipped side up, on parchment paper, and let the chocolate harden 30 min to 1 hour before storing the biscotti in an air-tight container for up to two weeks
Nutrition Information
Serving size:
(1) biscotti
Calories:
232
Fat:
10.7g
Saturated fat:
4.8g
Carbohydrates:
32.2g
Sugar:
20.4g
Sodium:
58mg
Fiber:
1.6g
Protein:
3.8g
Cholesterol:
23mg
If you liked this recipe, here are some similar dishes you may enjoy!