It may surprise you how easy it is to make Homemade Nutella. It's so quick and simple, we bet you'll be adding this Chocolate Hazelnut Spread to everything!
What Is Nutella?
I was introduced to Nutella in grade-school French classes. It was a favorite snack spread on torn-off bits of crusty baguettes. It's probably because this is where I first encountered the spread that I always assumed it was a French invention.
This assumption was furthered when I went to Paris and discovered the Nutella banana crepes sold by street vendors.
Let's just say I ate enough Nutella while in Paris to back up my belief in its French origins.
Imagine my surprise when I discovered that Nutella didn't originate in France, but rather, a little further south.
The History of Nutella
According to Nutella's official website, the history of Nutella starts in 1946 with Italian pastry maker Pietro Ferrero. Pietro made a paste from hazelnuts, sugar and cocoa. This paste was shaped into a loaf and sliced to serve on bread. The recipe went through a couple of revisions, and by 1964, the creamy, chocolate and hazelnut spread that we know and love today was born.
In 1965 and 1966, Nutella spread from Italy into Germany and France, and from there continued to rapidly gain popularity a become a world-wide phenomenon.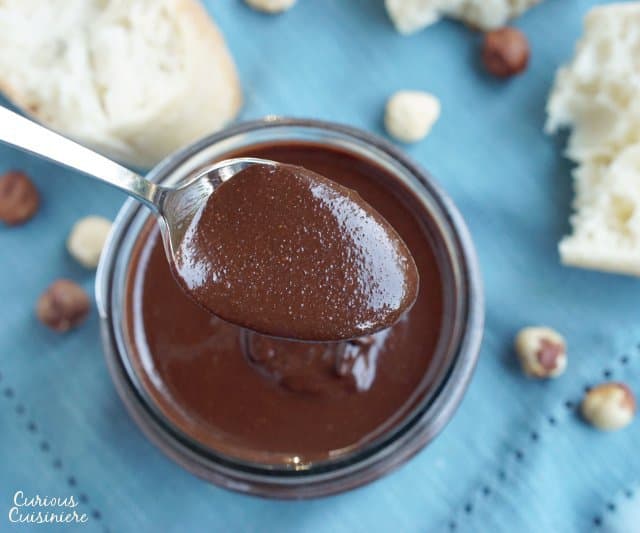 So, although many people thinks of Nutella as a French invention, actually it's the Italians that we have to thank for the chocolat-y goodness.
What is Nutella made of?
Not just a creamy chocolate spread, Nutella is made even more addicting by the nutty combination of hazelnuts and chocolate.
If you've never had it, it's lightly nutty, super chocolaty, and creamy smooth.
I mean, really, how can you go wrong with spreadable chocolate anyway?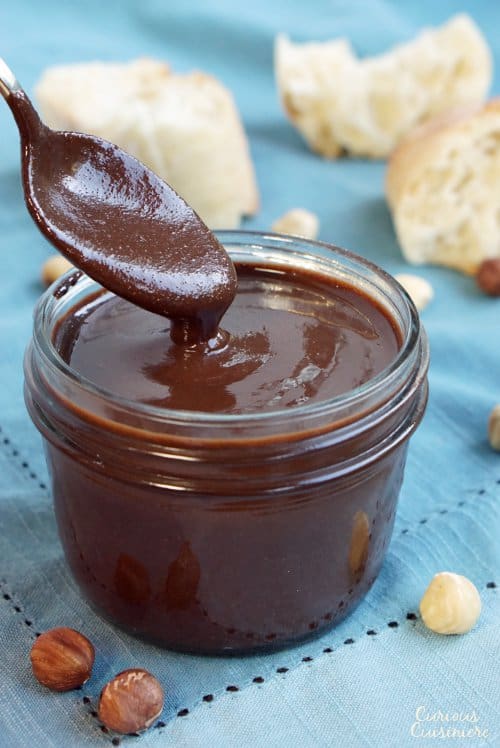 Our Nutella Chocolate Hazelnut Spread recipe
As it is, Nutella is made from pretty basic ingredients. The company prides itself on sourcing sustainable, quality ingredients. (Which we love.) Cocoa, hazelnuts, sugar, milk, vanilla, and a few others. There's not a lot of fake stuff in there that would make you want to run away if you looked at the ingredients list. (Thank goodness! A popular product that is still quality!)
But, that didn't stop us from wanting to try to make our own.
And, you know what?
There's something about freshly made chocolate hazelnut spread that the store bought version (that sat on the store shelves for who knows how long) can't beat.
Plus, you get the ability to adjust the recipe to your sweetness preferences. And then, there's the satisfaction of knowing you made it yourself!
Homemade Chocolate Hazelnut Spread
It may surprise you how easy it is to make Homemade Nutella. It's so quick and simple, we bet you'll be adding this Chocolate Hazelnut Spread to everything!
Yield: 1 c

Servings:
8
(2 Tbsp) servings
Ingredients
8

oz

hazelnuts

¼

c

cocoa powder

4

oz

semi-sweet chocolate,

melted

¼

c

powdered sugar

1 ½

Tbsp

vegetable oil

or light tasting olive oil

½

tsp

pure vanilla extract

¼

tsp

salt
Instructions
Preheat your oven to 350F.

Place the hazelnuts in a single layer on a baking tray and roast for 8-12 minutes, until fragrant. Remove the nuts from the oven and let them cool slightly. Dump the warm nuts into a towel and use the towel to rub them together so that the skins come off. (If not all the skins come off, that is ok and won't affect the flavor of your nutella too much.)

Place the de-skinned, roasted hazelnuts into the bowl of your food processor. Process until the nuts are fine. Then continue processing until they form a paste.

Add the remaining ingredients to the bowl of your food processor and process until smooth. Add a little more oil if you like your spread a bit thinner. (The spread will thicken slightly as it cools.)

Store your homemade nutella in a sealed container at room temp for 2 weeks - 1 month.
Save
Save
Save
Save
Save
Save
Save
Save
If you liked this recipe, here are some similar dishes you may enjoy!