Chivito, the national dish of Uruguay, is a steak and egg sandwich unlike any other. Tender grilled steak, bacon, eggs, cheese, ham, and fresh tomatoes and lettuce create a recipe for ultimate steak sandwich that is perfect for a summer lunch or dinner!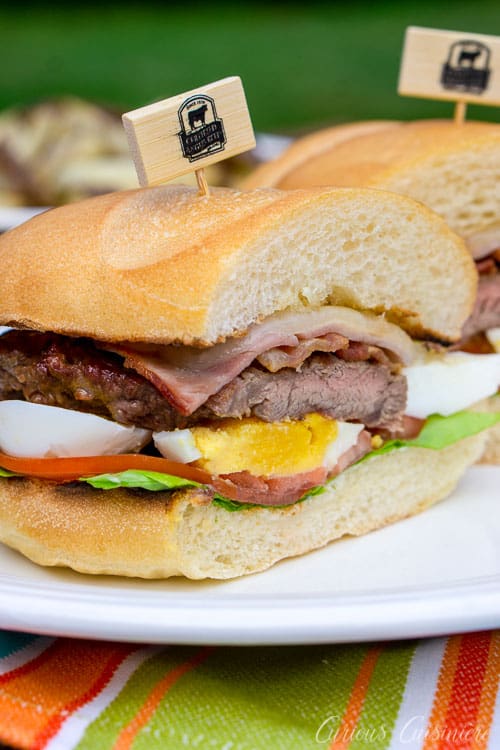 (DISCLOSURE: This​ ​post​ ​is​ ​sponsored​ ​by​ ​the​ ​Certified​ ​Angus​ ​Beef​ ​®​ ​brand​ ​in​ ​conjunction with​ ​a​ ​social​ ​media​ ​campaign​ ​through​ ​Sunday​ ​Supper​ ​LLC.​ ​All​ ​opinions​ ​are our​ ​own.)
If there ever was a steak sandwich to end all steak sandwiches, the chivito is it.
It's no wonder it's considered the national dish of Uruguay.
If I were a country, this is just the type of national dish I'd want to be known for.
The History Of The Chivito Sandwich
The word "chivito" literally translates to "young goat meat".
But, before you get a little worried, there's no goat meat in this sandwich.
How did that happen?
Chivito (goat's meat) is commonly eaten in Argentina. (Where this sandwich is called lomito, to avoid any confusion. ) Legend has it that a woman from Argentina was traveling in Uruguay and ordered a sandwich of chivito, expecting a goat meat sandwich.
The restaurant owner didn't have any goat on hand, so he used some incredibly tender beef steak and dressed up his sandwich nice and fancy, in hopes that she didn't notice she actually wasn't eating goat.
I guess she liked it, because the name stuck and the sandwich exploded in popularity.
In fact, you'll find a similar sandwich all the way up in Canada.  Everything is the same, except they use Canadian bacon instead of ham.
It's called a Canadian Chivito.
Of course.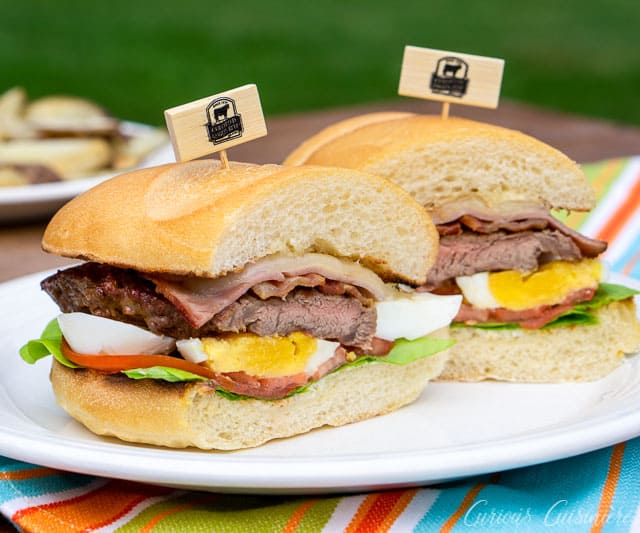 What Are The Ingredients In Chivito?
As would be expected with a dish of such popularity, there have been many takes on the chivito sandwich.
But, the core remains the same.
a thinly sliced steak
mozzarella cheese
bacon
eggs
mayonnaise
toasted bun
You might see the eggs hard boiled or fried. Either is perfectly acceptable, as long as you put an egg on it!
After the essential ingredients, that's when things can start to get crazy. It's not uncommon to see a chivito that is piled so high it's hard to wrap your hands, let alone your mouth, around it.
Other ingredients you may find:
ham
lettuce
tomato
black or green olives
beets
grilled red peppers
cucumber

What Steak Is Used For This Steak And Egg Sandwich?
There are many different types of steak you could use for this steak and egg sandwich, but there are two main things to keep in mind.
First, it should be a tender steak, because we are cooking it very quickly on the grill.
Second, it should be sliced (or pounded) very thin. Again, because it's supposed to cook quite quickly.
Tenderloin steak, pounded ribeye steak, or flat iron steak all are great options.
The steak is the main event of this sandwich, so it's important that you start with a good foundation.
The amount of marbling in a steak tells you just how much flavor your're going to get, and since marbling is one of the 10 quality standards beef must meet to be labeled as Certified Angus Beef ® brand, we always know we're getting an incredibly flavorful steak when we choose Certified Angus Beef ® brand.
We chose a Certified Angus Beef ® brand flat iron steak because it is incredibly tender. (Nearly as tender as the tenderloin!)
Flat iron steak is an easy steak to find, and tends to be a more economical choice than a tenderloin. (Honestly, if we're grilling up a tenderloin, we don't want to bother putting it in a sandwich!)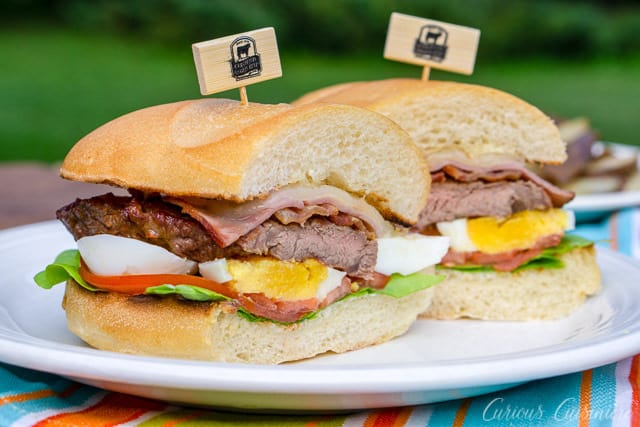 Our Chivito Recipe
For our chivito recipe, we decided to stick with the classic ingredients and add just a few other accents.
Ham complemented the crispy bacon and added another layer of flavor.
Crisp lettuce and fresh tomato were the perfect balance to the pile of protein we were stacking onto our grill-toasted bun.
Most of the time it takes to make this sandwich goes into prepping the ingredients. It's important to have everything staged and ready to go before you start grilling your steak, because once your steak hits the grill, things go fast!
We layer the bacon, ham, and cheese on our steak after it has been flipped once. That way the pork heats up and the cheese melts while the steak finishes cooking.
The lettuce, tomato, and egg goes onto the bottom bun, and the meat piles goes straight from the grill onto the eggs.
(Always keep your lettuce as far away from your meat as possible if you like it to stay crisp. The heat from the meat will make it wilt. And wilted lettuce can ruin an otherwise fantastic sandwich.)
How To Serve A Chivito Steak Sandwich
We're pretty sure it's mandatory to slice your chivito sandwich in two to serve it. Half the fun of this sandwich is seeing all the fun (and tasty) layers as you dig in!
Traditionally the chivito is served with French fries or Russian salad (Oliver Salad).
Hamburgers might be the grilled sandwich of summer in the States, but if you're in Uruguay, it's all about chivito!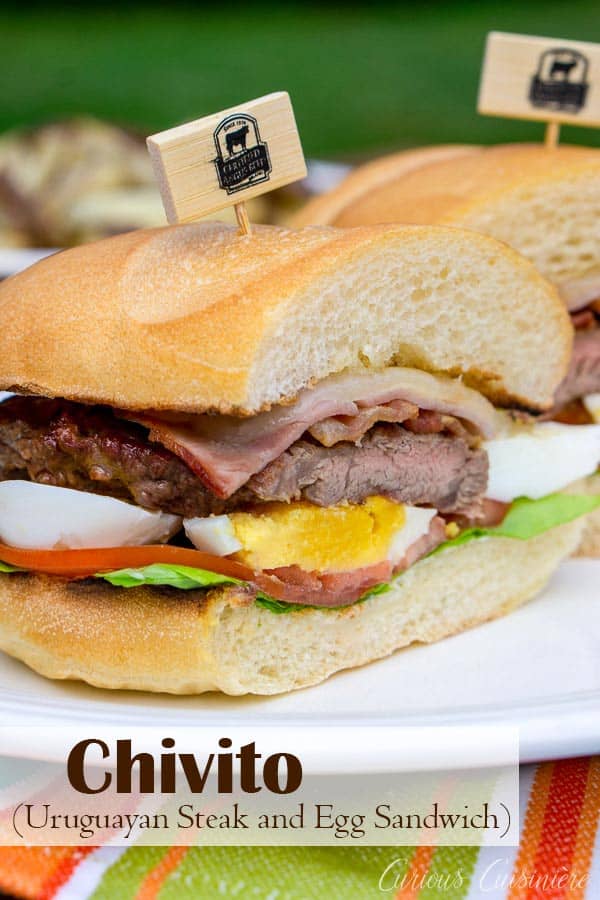 Chivito (Uruguayan Steak and Egg Sandwich)
Chivito, the national dish of Uruguay, is a steak and egg sandwich unlike any other. This ultimate steak sandwich is perfect for a summer lunch or dinner!
Yield: 4 sandwiches
Ingredients
1

lb Certified Angus Beef® brand

flat iron steak

Salt and pepper

4

buns

(kaiser rolls or hoagie rolls)

4

strips cooked bacon

4

slices deli

ham

4

slices

mozzarella cheese

(we like deli sliced)

Mayonnaise

4

leaves

lettuce

1

large

tomato,

sliced for sandwiches

4

eggs,

hard boiled, peeled, and sliced
Instructions
Preheat your grill to medium high heat. (Or heat your cast iron skillet or griddle, if cooking inside.)

While your grill is preheating, cut your flat iron steak into 4 (roughly ¼ lb) sections. With a meat mallet, pound each section to roughly ¼ inch thick. Season the steaks lightly with salt and pepper.

Make sure all of your other sandwich ingredients are prepped and easily accessible; cooking the steak goes incredibly fast.

Place your buns, cut side down on the coolest section of your grill. Remove the buns when they are lightly toasted.

Place your steaks on the hot grill and sear on the first side, roughly 2 minutes.

Flip your steaks and layer the seared side of each steak with 1 strip of bacon, 1 slice of ham, and 1 slice of mozzarella cheese. Close your grill and cook for 1-2 minutes, depending how done you like your steak. (If you like your steak closer to medium and your cheese hasn't melted, you can always place the steak stack under your oven's broiler to melt the cheese further.)

Spread your toasted buns with mayonnaise. Stack the lettuce, tomato, and sliced egg on the bottom bun. Top with the steak stack from the grill. And finish it off with the top bun.

Slice the sandwich in half to serve.
If you liked this recipe, here are some similar dishes you may enjoy!