Often found in Chinese restaurants, Mapo Tofu is a quick Chinese Sichuan dinner recipe to make at home. This is an easy and flavorful way to prepare tofu, with minced meat and an aromatic red sauce.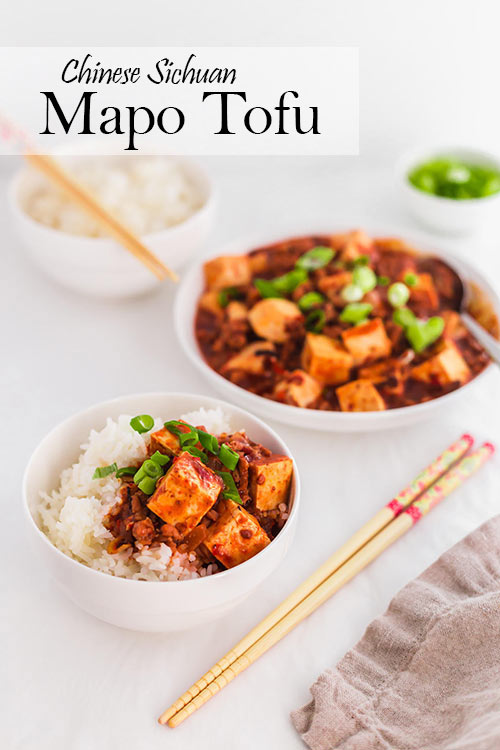 DISCLOSURE: This article contains Amazon affiliate links. These links are provided to help you find some of the more specialty products we mention in the recipe. If you make any purchase after clicking through one of our links, we receive a small commission from Amazon, at no extra cost to you. Thank you for supporting Curious Cuisiniere!
Life as a Mom can get really hectic really fast. And sometimes, I need to get dinner on the table quickly.
My favourite way to get something tasty, hearty, and comforting is the classic Chinese Sichuan dish Mapo Tofu.
The first time I experienced this dish was when I was dining out with a friend whose Aunt owned the restaurant we were eating at that evening. She expertly ordered the dish "mapo tofu" and told me that I had to try it.
It came piping hot in a mini cauldron of sorts. It was a luscious, red, saucy dish filled with tofu that we ladled onto our steamed white rice.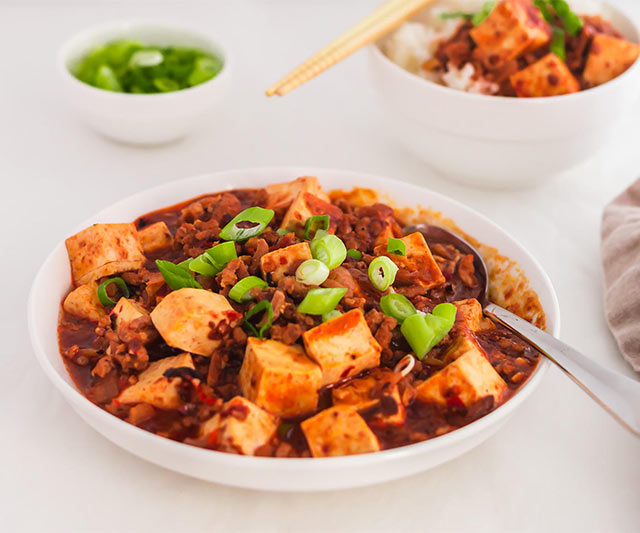 Taking that first bite, I was in heaven. I couldn't believe that I had never tried it before.
Well that wouldn't be the last time I'd have mapo tofu. Ever since, it's become a staple in our house.
Quick to prepare in under 30 minutes, it's a saucy, meaty dish that is full of umami flavour.
Make a pot of steamed white rice to go with it and you've got a wholesome dinner to feed your entire family.
WHAT IS MAPO TOFU?
Mapo tofu is a bright red, savoury, spicy and saucy dish.
As the name indicates, tofu is one of the main ingredients in the dish, along with fermented broad bean paste (dou ban jiang), fermented black beans (douchi), and ground meat, such as pork.
Traditionally, mapo tofu is very spicy due to the use of Sichuan peppercorns, which give it a numbing, aromatic heat.
Its name "ma po tofu" literally translates to "pockmarked grandma beancurd."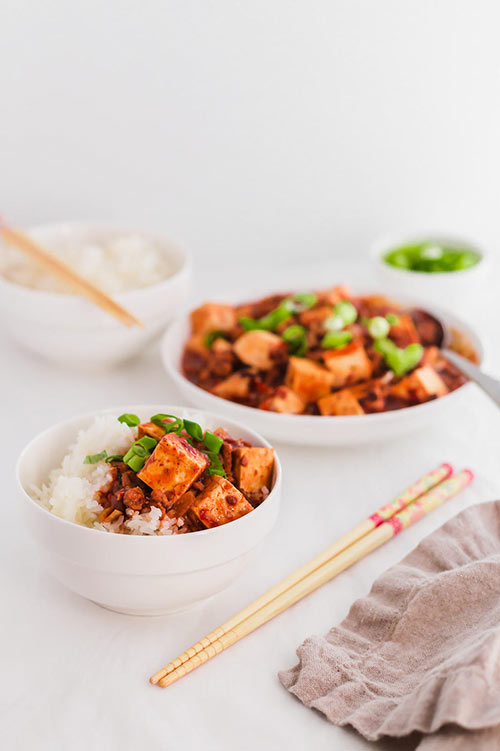 VARIATIONS OF MAPO TOFU
Mapo tofu is found in restaurants outside of Sichuan, and even in places like Korea and Japan.
Despite its bright red colour, mapo tofu found in non-Sichuan restaurants is not very spicy, as it has been toned down to suit local tastes, especially in the west.
For a vegetarian spin on mapo tofu, shiitake mushrooms are usually added to replace the ground meat.
Other alternatives include using wood ear fungus or water chestnuts.
HOW TO PREPARE MAPO TOFU
Mapo tofu is a simple, comforting, peasant dish. I almost think of it as a tofu stew of sorts.
As long as you've got the base ingredients of tofu and ground meat, it's really simple to whip up as you're just mixing the sauce to go with the tofu.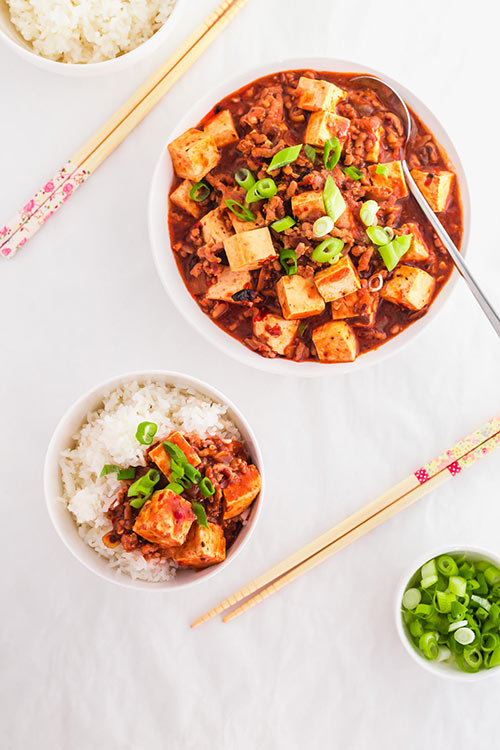 KEY INGREDIENTS IN MAPO TOFU
Tofu, which is also known as bean curd, is the star of this dish. It's made from soybeans that have been coagulated with a coagulating agent, such as calcium chloride.
There are different varieties of tofu you can find ranging from: silken to extra firm. These indicate the tofu's texture. Silken or soft, as you can imagine, is a very smooth, soft, high-moisture tofu that would not be suitable for this dish as it would disintegrate into pieces easily.
I would choose a tofu that is firm to medium-firm.
Dou ban jiang is chili bean paste, also known as "fermented broad bean paste". This is the ingredient that gives mapo tofu its base spiciness. It's a thick, red paste that is spicy, and salty, made of broad beans, soybeans, and spices.
You can find dou ban jiang in specialty Asian grocery stores, usually by the chili oil section.
Douchi is fermented black beans, also known as "salty black beans", which are black soybeans fermented with salt. It has a deep, salty taste, and is usually made into a savoury black bean paste for flavouring foods such as pork spare ribs and fish.
Douchi is found in packaged form as dry, salted black beans, or more commonly as a black bean paste in a jar in your local Asian grocery store. If you can't find douchi, you can omit it.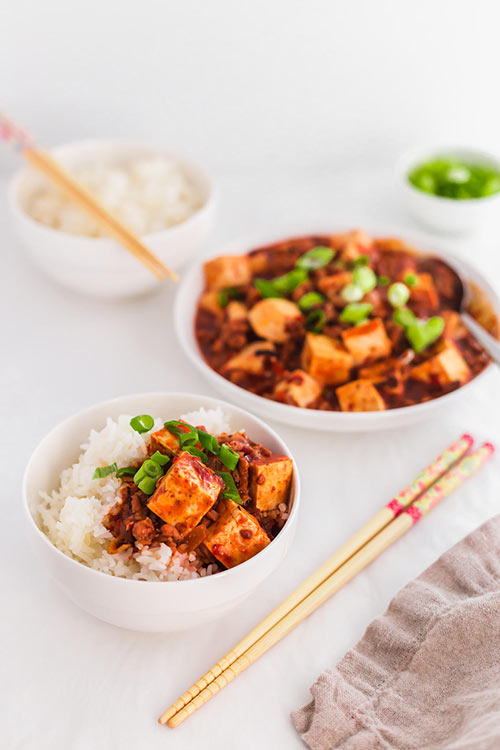 MAPO TOFU: SICHUAN COMFORT FOOD
Mapo tofu is delicious, flavourful, and great for long cold winters when you don't want to slave in the kitchen for too long.
If you end up with leftovers, they will taste even better the next day. The tofu will have a chance to absorb the flavours from the sauce and make it that much more tastier.
Try out this warm, comforting Sichuan Chinese dish that will be sure to be a staple in your dinner routine.
And if you're a fan of spicy Sichuan food, try my Guo Kui which is a Sichuan Spicy Meat-Filled Crispy Flatbread or Xi'an-Style Cumin Lamb Noodles.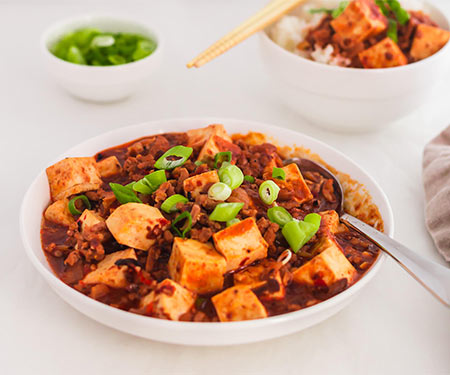 Chinese Sichuan Mapo Tofu
Mapo Tofu is a quick Chinese Sichuan dinner recipe to make at home. This is an easy and flavorful way to prepare tofu, with minced meat and an aromatic red sauce.
---
Ingredients
For the sauce:
3

Tbsp

dou ban jiang

(red fermented broad bean paste)*

1

Tbsp

sugar

1

Tbsp

douchi

(salted black bean)**

1

Tbsp

cornstarch

1 1/2

C

water or chicken broth,

divided
For the dish:
1

Tbsp

vegetable oil

150

g (1/3 lb)

lean ground pork

1

large

white onion,

diced

1

package

medium firm tofu,

cut into cubes

1

tsp

chili oil

(optional, if you like more spice, add more, if not, omit)

¼

tsp ground

Sichuan peppercorn

(optional)

chopped green onions

(for garnish)
Instructions
For the sauce:
In a small bowl, mix together the dou ban jiang (red broad bean paste), sugar, and douchi (salted black bean). Set aside.

In another small bowl, mix together 1 Tbsp cornstarch and 1/2 C water or chicken broth. Mix until the cornstarch is dissolved.
For the dish:
Heat a large wok over high heat. Add in 1 Tbsp oil. Add in the ground pork and using a spatula, break it up into small pieces. Fry for about 2 minutes. Add in the diced onion and fry with the pork until fragrant, about another 3-4 minutes.

Next, add the cubed tofu to the pork mixture and stir gently to mix.

Add the remaining 1 C of water/chicken broth, along with the dou ban jiang sauce mixture and stir to coat the pork and tofu.

Bring the mixture up to a boil, and then add in the cornstarch slurry. The sauce will thicken and coat all of the pork, tofu and onion.

Add in chili oil and ground Sichuan peppercorn, if you wish.

When the mapo tofu comes to a simmer, remove it from heat and garnish with chopped green onions.

Serve hot over steamed rice.
---
Recipe Notes
* Chili paste or chili oil can be substituted for dou ban jiang in a pinch.
** Douchi is optional, omit if can't be found.
If you liked this recipe, here are some similar dishes you may enjoy!