This recipe for slightly sweet, spiced and orange-flavored, Southern Candied Yams is a wonderful alternative to traditional sweet potato casserole on your holiday table. 
Candied Yams: A family tradition
This is my Mom's recipe for Southern Candied Yams or Candied Sweet Potatoes. It is a dish that reminds me of the Holiday Season.
She traditionally makes these candied yams for Thanksgiving, but, to me, it's the perfect fall or winter dish, not just for the holidays. The orange and spice sauce compliment the yams and the dish is just sweet enough to still be considered a vegetable side and not a dessert.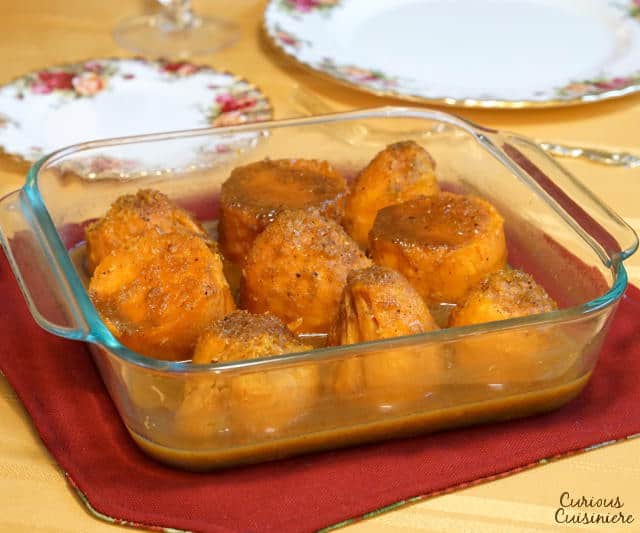 Candied Yams
Serves 6-8
Author:
Sarah | Curious Cuisiniere
Ingredients
3 large sweet potatoes or yams
4 oranges zested and juiced (roughly 1 c juice)
⅓ cup brown sugar
½ tsp cinnamon
¼ tsp ginger
¼ tsp nutmeg
¼ tsp allspice
⅛ tsp cloves
⅓ cup brandy or spiced rum
Instructions
Preheat oven to 350° F.
Boil unpeeled yams or potatoes in water for 20 minutes or until almost tender.
While the yams are cooking, combine remaining ingredients and bring to a boil, stirring; simmer 5 minutes. Remove the sauce from the heat.
Transfer the cooked potatoes to a bowl of cold water to stop the cooking and to loosen the skins. Once they are cool enough to handle, peel them, and cut them in thirds. Place the potatoes in a shallow 8x8 baking dish that has been rubbed with butter.
Pour warm sauce over potatoes in the baking dish.
Bake in preheated 350° F oven 45 min -1 hour, basting often to glaze well; (approximately every 15 minutes).
Potatoes are done when very tender and the sauce is bubbly and has reduced slightly.
Notes
To make ahead bake for 45 minutes and then let cool. Store in the refrigerator. When needed bake 20-30 minutes at 350° F, basting often, until sauce is bubbly and yams are soft and heated through.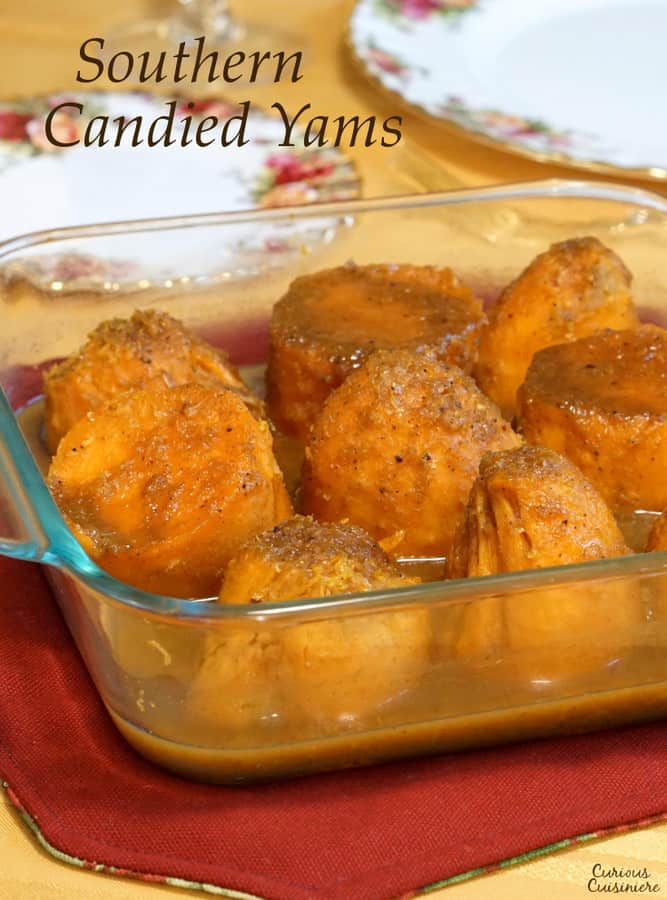 If you liked this recipe, here are some similar dishes you may enjoy!