This hearty Butternut Squash Wild Rice Pilaf with Cranberries makes a delicious fall side dish or Thanksgiving stuffing!
Canadian Thanksgiving
Happy Thanksgiving!
No, we're not a month early.
On the second Monday in October, Canadians have their Thanksgiving, celebrating the harvest and all the year's blessings.
It makes sense, really.
The harvest's work is just wrapping up as frost conditions start to become a danger up here in the north. And, they get to spread the eating celebrations out, while our American holiday season means that we're stuffing ourselves silly from mid-November through early January.
While the dates differ, the celebration is quite similar in both the States and Canada.
Foods for a Canadian Thanksgiving
In both countries, families gather for a large Thanksgiving meal. And, Canadian Thanksgiving does often feature turkey, even though it might not be a mandatory as here in the States.
While the main meat might be the same, you'd be hard pressed to find the sticky-sweet and marshmallow-studded sweet potato casserole on a Canadian table. They favor their sweet potatoes in a more natural form: baked or mashed.
Rice stuffing is also more common on the Canadian Thanksgiving table than the bread-based stuffing which is often seen over here.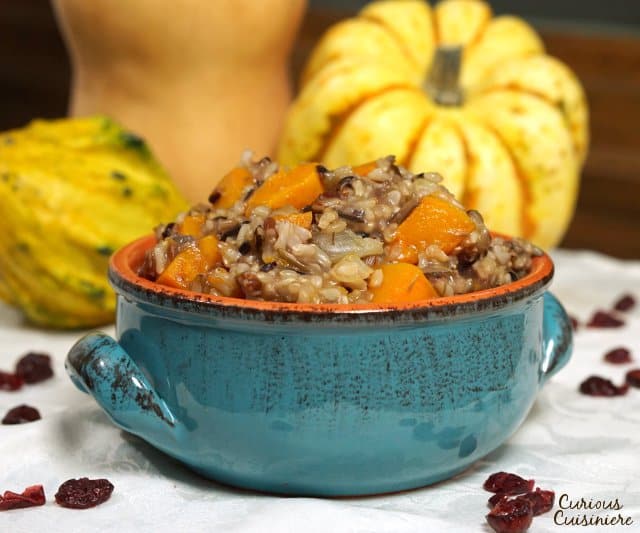 Our Butternut Squash Wild Rice Pilaf recipe
This Butternut Squash Wild Rice Pilaf brings fall flavors together in a tasty rice dish that could quite easily be used as a side for the Thanksgiving table or stuffing for the Thanksgiving bird. Cranberries add a light tartness and sweetness to the butternut squash, making this a serious melding of fall flavor!
To our Canadian readers: What do you think are the biggest differences in the way you celebrate Thanksgiving?
To our American readers: Have you started thinking about your Thanksgiving table yet?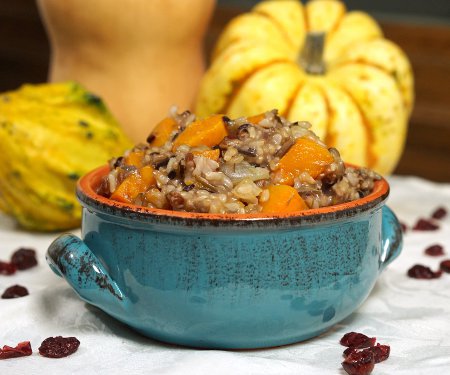 Butternut Squash Wild Rice Pilaf
This hearty Butternut Squash Wild Rice Pilaf makes a delicious fall side dish or Thanksgiving stuffing!
---
Ingredients
4

c

butternut squash,

peeled and cut into 1" chunks

1

onion,

diced

2 ½

c

water

1

c

wild rice blend,

dry

¼

c

orzo,

dry

¼

c

cranberries,

dry

1/2

tsp

thyme

1/8

ground white pepper
Instructions
Preheat oven to 375F.

Place squash cubes and onions on a greased baking pan. Roast for 40-50 min, stirring every 10-15 min, until soft. (This can be done ahead of time.)

In a medium saucepan, mix together water, rice, orzo, cranberries, thyme, and white pepper. Bring to a boil and simmer, covered, for 40 minutes, until the wild rice splits open and is tender.

Remove from heat and mix in the roasted squash and onions.
---
Recipe Notes
This recipe from 2013 was updated in February 2017. We made the fall pilaf even better!
---
This is one of the recipes from the early days of Curious Cuisiniere. We've updated our pictures since we first made it, but we've left the original images here as a fun throwback and shout out to how far we've come. Enjoy!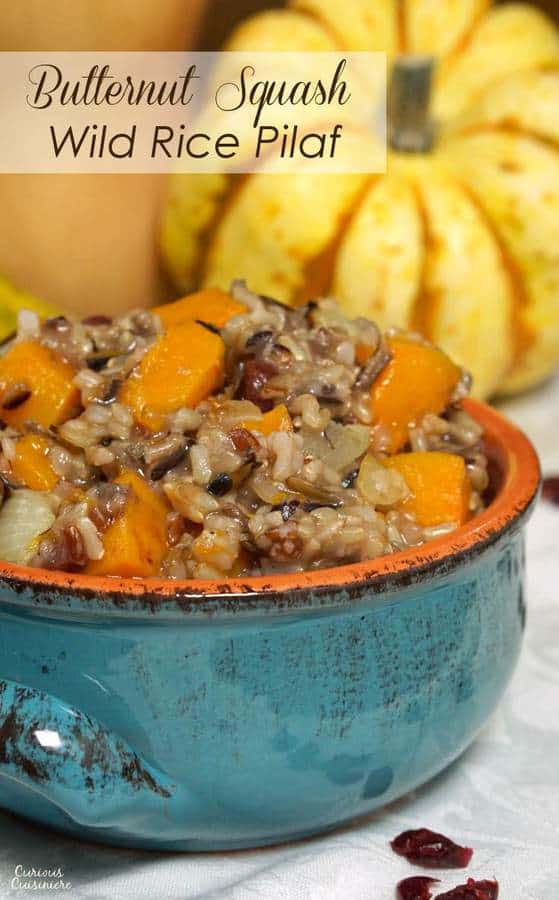 If you liked this recipe, here are some similar dishes you may enjoy!