A soy-free alternative to traditional tofu, this Chickpea Tofu brings the classic tofu texture together with a nutty chickpea flavor.
Burmese Tofu: Soy-Free
Tofu.. that's soy-free?
Burmese tofu is made from chickpea flour, meaning it still packs a hefty dose of protein, but without soy.
It holds its shape well and has a creamy and silky texture, similar to silken tofu.
Making Chickpea Tofu
The process of making chickpea tofu couldn't be easier. Actually, it is incredibly similar to the process for making polenta.
You start by mixing chickpea flour with water, salt, and turmeric (which is optional because it just adds a nice color). Your mixture is then cooked in a saucepan until it reaches a thick and glossy state.
After reaching a nice consistency, the mixture is poured into a pan and left on the counter to set. You will notice it start to firm up slightly after cooling, but giving it at least an hour in the refrigerator will ensure the tofu slides nicely from your pan in one, firm chunk.
Now it's ready to be sliced and used as you please.
Where Can I Buy Chickpea Flour?
Chickpea flour, also called garbanzo flour or gram flour, is typically available in your grocery store with the other alternative flours.
If you live near an Indian grocer, you can find it there too, look for it to be called besan.
And, of course, you can also buy chickpea flour online.
How To Use Chickpea Tofu
This tofu can be used any way you would use soy tofu: dredged in flour and pan fried, used in place of scrambled eggs, in sir-fries, or in soup. (As of yet, we haven't tried any of these, so let us know if you try them out.)
But, the traditional way to eat it is tossed in a salad.
Our Chickpea Tofu Salad Recipe
In a salad, you really get the full features of this chickpea tofu's texture and flavor as it contrasts nicely with the crisp veggies.
The smoothness of the tofu pairs wonderful with acid, like a vinegar or citrus dressing, creating a dish that is incredibly well balanced in both texture and flavor.
For how light the tofu is, we found it to be surprisingly filling, making this salad more of a lunch or light summer main dish, rather than a side.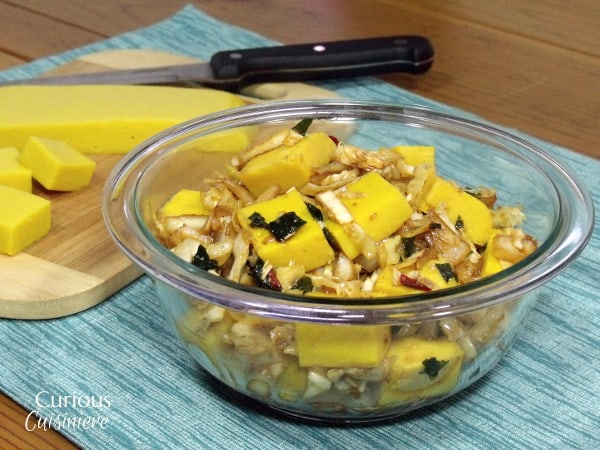 What Else Can I Make With Chickpea Flour?
We love having a back of chickpea flour on hand because it means that we can make the  smoky French flat-bread, socca, or Italian chickpea fries, called panise, any time we want!
Burmese Tofu (Soy-Free Chickpea Tofu)
A soy-free alternative to traditional tofu, this Chickpea Tofu brings the classic tofu texture together with a nutty chickpea flavor.
Yield: 1 lb of Burmese tofu (fills an 8x8 pan)
Instructions
Grease an 8x8 baking dish.

In a medium bowl, mix together chickpea flour, salt, and turmeric. Add 1 c water and whisk until smooth.

Bring 2 c of water to a boil over medium heat. Add the chickpea mixture and whisk, heating, until the mixture is thick and glossy, 5-7 min.

Pour the smooth, thick mixture into the greased baking dish and cool to room temperature. Once the mixture is cool, refrigerate it, uncovered 1 hour (up to overnight).

To serve the tofu, upturn the baking dish and let the mixture slide out. Cut it into the desired shapes for your recipe.
Nutrition
Serving:
1
g
|
Calories:
183
kcal
|
Carbohydrates:
30.4
g
|
Protein:
9.7
g
|
Fat:
3
g
|
Sodium:
599
mg
|
Fiber:
8.7
g
|
Sugar:
5.3
g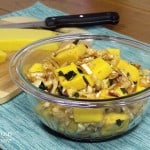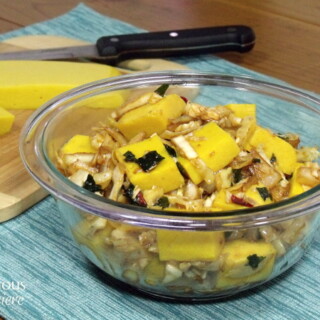 Print Recipe
Asian Style Tofu Slaw
Crisp veggies contrast with creamy chickpea tofu in this Burmese Chickpea Tofu Slaw.
Ingredients
½

onion,

slivered

1

c

cabbage,

shredded

1

garlic clove,

minced

1

Tbsp

rice vinegar

or white wine vinegar

1 ½

tsp

peanut oil

1 ½

tsp

soy sauce

¼

tsp

dried red chilies

¼

tsp

ground coriander seeds

(optional)

½

lb

Burmese tofu

(Half of the above recipe)

1

Tbsp

fresh cilantro
Instructions
In a medium bowl, mix together all ingredients except cilantro and tofu. Let stand, covered for 1 hour to marinade.

Toss the cubed tofu with the cabbage mixture.

Top with cilantro to serve.
Nutrition
Calories:
161
kcal
|
Carbohydrates:
23.9
g
|
Protein:
7.2
g
|
Fat:
4.3
g
|
Saturated Fat:
0.6
g
|
Sodium:
554
mg
|
Fiber:
6.8
g
|
Sugar:
5.2
g
---
DISCLOSURE: This post contains Amazon affiliate links. These links are provided to help you find some of the more specialty products we mention in the recipe. If you make any purchase after clicking through one of our links, we receive a small commission from Amazon, at no extra cost to you. Thank you for supporting Curious Cuisiniere!
If you liked this recipe, here are some similar dishes you may enjoy!