Three herbs give this Braided Italian Herb Bread a multi-toned appearance and classic Italian flavor.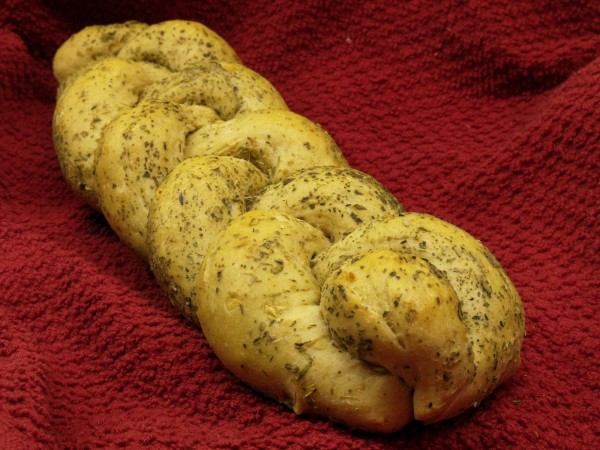 It has been quite a while since I've participated in a Fresh From the Oven Challenge.  I've been meaning to try all the challenges I have missed, (like this Caramel Salted Focaccia, which is still on my to-bake list) but time has just gotten away from me.  I'm glad I was able to squeak through this month though.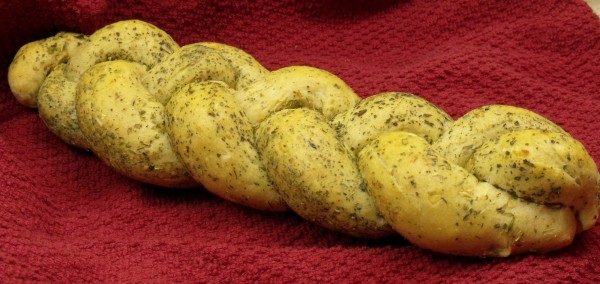 This months challenge was to make a braided loaf.  I love working with dough, but being so busy have taken to bread machine recipes to still have fresh bread.  This was the perfect excuse to step away from the bread machine and get my hands on some dough.
Braided breads used to scare me, and if the dough is too sticky, they can get a bit messy to work with.  However, this dough comes together nicely, and once each strand is rolled in herbs it makes for easy braiding.  And, the finished product has a nice multi-toned effect.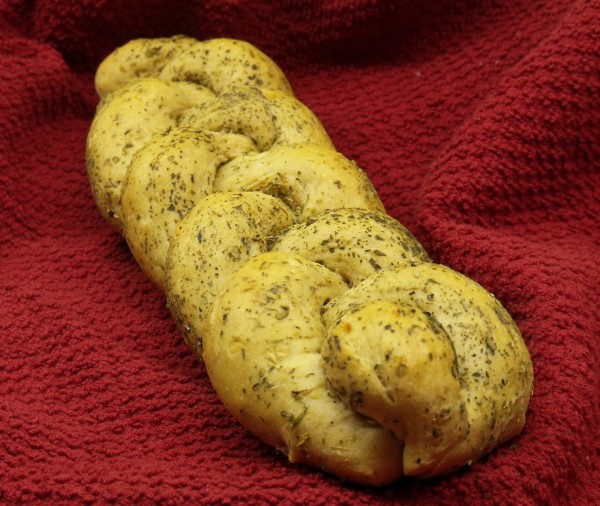 Braided Italian Herb Bread
Recipe adapted from The Doubleday Cookbook
Yield: 1 18″ loaf
Ingredients
1/3 c warm water (100-110F)
1 Tbsp sugar
2 1/4 tsp yeast (1 pkg)
2 c all purpose flour
1 c white whole wheat flour
1 tsp salt
1/4 tsp baking soda
1 Tbsp onion flakes
2 Tbsp shortening
2/3 c buttermilk (or tsp vinegar mixed with nearly  c milk)
1 tsp oregano
1 tsp basil
1 tsp marjoram
egg whites for egg wash
Directions
1.  Mix warm water, sugar, and yeast.  Stir until dissolved and let set until yeast begins to froth.
2.  While you are waiting for the yeast, mix flours, salt, baking soda, and onion flakes in a large bowl.  Add shortening and blend with a fork until combined.
3.  Add buttermilk to the yeast mixture. Pour into a well in the flour mixture.  Stir until the dough begins to come together.
4.  Turn dough onto a flat surface and knead until smooth, about 10 minutes.  (The dough will have the consistency of biscuit dough at first, but keep kneading and it will develop a smooth texture.)
5.  Place dough in a lightly oiled bowl, cover, and let rise in a warm place until doubled (roughly an hour).
6.  Knock back your dough and divide into 3 equal parts.  Sprinkle your kneading surface with oregano.  Take one part of the dough and roll into an 18 inch long rope over the oregano, so that the dough becomes encrusted in the herb.  Do the same with the other two pieces, one with the basil and one with marjoram.
7.  Braid the three strands.  When the braid is complete, pinch the ends together and tuck them under the loaf slightly.
8.  Let the braid rise, covered, on your baking sheet. until it has doubled in size (roughly 45 minutes).
9.  When the loaf has nearly doubled, preheat the oven to 350F.  Bake the bread for 25-30 minutes, until golden and hollow sounding when tapped.  Remove from pan and cool on a wire rack.
If you liked this recipe, here are some similar dishes you may enjoy!