West African Peanut Stew brings tender chicken and earthy, nutty peanuts together in one flavorful and comforting dinner recipe.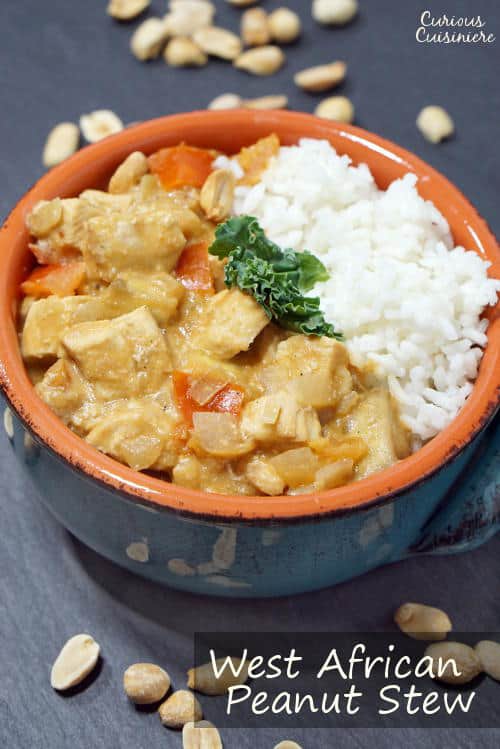 Groundnut vs Peanut
You will find a tradition of peanut stew all across West Africa. Before peanuts were introduced to Africa by the Europeans in the 1500s, Africans were making similar stews with native groundnuts.
Peanuts are a type of groundnut, a plant whose pods (the nut) develop underground. (As opposed to tree nuts, like almonds or walnuts.) Because they were so similar to native plants, peanuts caught on quickly in Africa.
West African Peanut Stew
With peanut (or groundnut) stews so incredibly common across West Africa, you will find many variations depending on the region and the cook. Some versions are thin and soupy, other versions are thick and meant to be served over rice, like the version we are sharing today.
No matter the consistency if the African peanut stew or the variation of ingredients (okra, chili peppers, tomatoes, sweet potatoes, are all common), the peanut base is the vein the runs common among them all.
Many versions of African peanut stew pack a lot of heat as well. Ours gets a little warmth from cayenne powder and red pepper flakes, but not enough to make you sweat. Feel free to adjust the cayenne and red pepper to suit your heat preference.
If you love this African peanut stew, consider trying our vegetarian African peanut stew variation. It gets a wonderful sweetness from sweet potatoes!
African Peanut Stew for a Crowd
West African peanut stew stew is traditionally made using a whole, 3 pound, chicken to serve 8 people. We used boneless chicken breast to make the dish a bit leaner and to serve fewer people. Using boneless meat also makes the soup easier to prepare and eat, since you don't have to de-bone the meat before serving or in your bowl. But, if you want to try it with a whole chicken, be our guest. (You will want to double the recipe as listed to scale it properly. Add the eggplant and okra once the meat is so tender it falls off the bones.)
Be sure to come back and let us know how it turned out for you!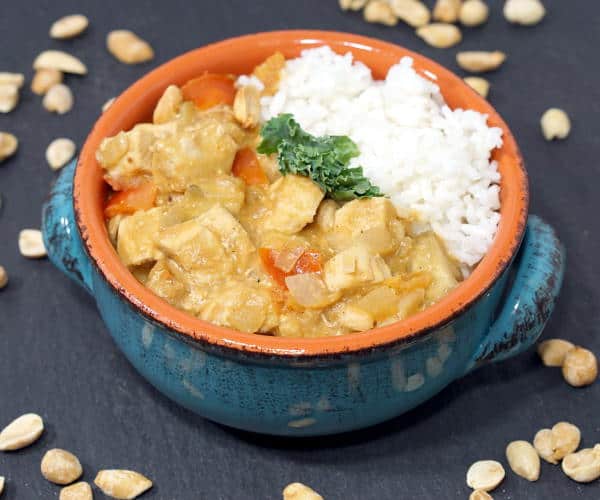 West African Peanut Stew
---
Ingredients
1 ½

lbs

chicken breast,

cut into bite-size chunks

1

onion,

diced, divided

1

inch

fresh ginger,

peeled and diced

1 ½

tsp

peanut oil

1

Tbsp

tomato paste

1

tomato,

diced (roughly ½ c)

½

c

peanut butter

1

tsp

salt

½

tsp

red pepper flakes

¼ - ½

tsp

cayenne pepper

¼

tsp

black pepper

1

small eggplant,

peeled and diced

1

c

frozen okra

(optional)
Instructions
Place 2 c water, chicken breast pieces, half of the diced onion, and the ginger in a medium pot. Bring to a boil and simmer.

In a heavy bottomed soup pot, heat the peanut oil. Add the tomato paste and sauté over low heat, 3-4 minutes.

Increase the heat to medium. Add the other half of the diced onion and all of the diced tomatoes. Sauté until the onions begin to soften, 2-3 min.

Carefully transfer everything from the simmering pot with the chicken into the pot with the sautéed onions and tomatoes. Add the peanut butter, salt, red pepper flakes, cayenne pepper, and black pepper. Bring the mixture to a simmer and cook, uncovered, 10 minutes.

Add the eggplant and okra (if using). Simmer the stew for an additional 10 - 15 minutes, covered, until the vegetables are tender. The stew should be nice and thick. (If it is too thin, simmer it uncovered to reduce some of the moisture.)

Season with salt to taste. Serve over rice.
---
If you liked this recipe, here are some similar dishes you may enjoy!