This Vegetarian African Peanut Stew with Sweet Potatoes is a perfect, comforting fall recipe, full of sweet and nutty flavors.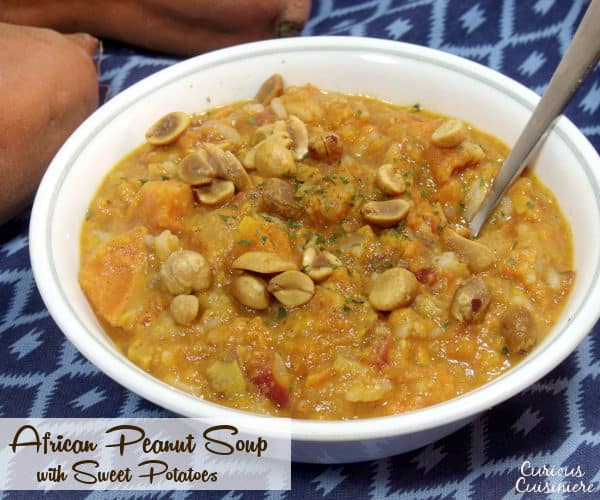 An unlikely combination
If we had told you that you would be combining tomatoes, peanuts and sweet potatoes together into one hearty and protein-packed dish, would you run the other way?
Please. For the sake of your taste-buds. Don't!
What are groundnuts?
Groundnuts, or peanuts, are not actually native to Africa. Rather, they are native to South America and were brought to Africa by Spanish and Portuguese colonists in the mid 1500's. Since that time, Maafe, also known as Groundnut Stew, has been enjoyed throughout West (and Central) Africa. With origins in Mali, this stew or soup has as many variations as there are regions where it is made. And while the proper name means "peanut butter sauce," we think this stew is so much more than just a peanut butter sauce.
African Peanut Stew or African Peanut Soup?
We keep using the words soup and stew interchangeably here, because this is a dish than can be made as either, depending on your preference and the amount of broth you add. We could also add the term sauce to the mix, (as its proper name suggests) because at its most basic version, it is a sauce of peanuts, tomatoes, vegetables, and sometimes meat that is served over a starch, like rice.
If you love the nutty combination of African peanut stew, try our version with chicken!
Our Vegetarian African Peanut Stew
For today's vegetarian take on African peanut stew, we have chosen to mix the rice into the soup, for the simplicity of serving, but if you like, feel free to keep the rice separate and serve the soup as a sauce for your rice.
While many versions of African Peanut Soup may contain meat like chicken, beef, or lamb. We are sharing a vegetarian version today that features a lightly sweet twist from added sweet potatoes. This is a version that would be more likely to be seen in the Côte d'Ivoire, or Ivory Coast, along the western coast of Africa.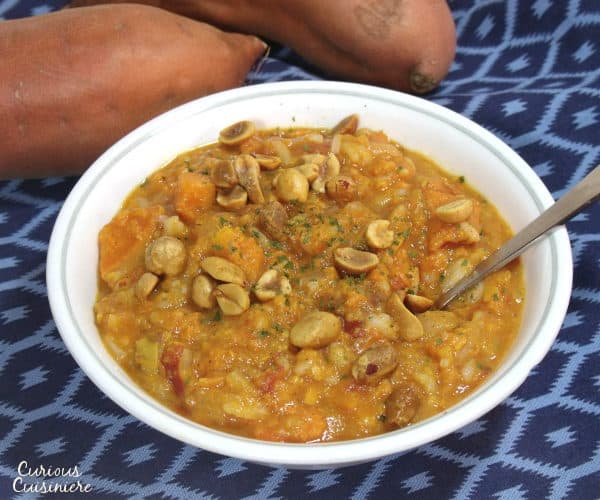 Sweet potato or yam?
The sweet potatoes that we add to this stew bring a wonderful warm sweetness to the dish. But, first, let's make sure we know what we're adding.
Like many people, for the longest time, we thought sweet potatoes and yams were one in the same.
Sweet potatoes and yams are actually two distinct vegetables, but here in the States, the words can be used interchangeably. So, why the confusion?
The confusion comes in because there are really TWO basic types of sweet potatoes. The paler version has a crumbly texture when cooked, similar to a white potato. The red/orange skinned variety has a sweet, soft flesh that has made it the popular choice in the US.
The paler version was the first to be introduced in the US, so when the sweet version was introduced and started to become popular, growers began using the word 'yam' to distinguish the two.
This created a very unfortunate confusion, because real yams are native to Africa and other tropical regions. A real yam has bark-like skin and sweet flesh. And, they can grow up to 5-7 feet in length.
So, if you're in the States and you see something labeled as a "yam," unless it has bark-like skin and is the largest "yam" you've ever seen, you're probably just seeing one of the two varieties of sweet potatoes.
So, now you know! Go ahead and grab some sweet potatoes, tomatoes, and peanut butter and make up some of this delicious and hearty soup!

Vegetarian African Peanut Stew with Sweet Potatoes
Serves 4-6
Author:
Sarah | Curious Cuisiniere
Ingredients
1 tsp peanut oil
1 medium onion, diced
2 garlic cloves, minced
1 tsp cinnamon
½ tsp ginger, ground
½ tsp cumin
¼ tsp cloves, ground
¼ tsp cayenne (more if you like heat, or less if you would rather your soup mild)
¼ tsp salt
2 lbs sweet potatoes, peeled and cut into 1" chunks (2 large potatoes or roughly 7 c diced)
2 c chicken broth (or vegetable broth if you would like to keep the dish vegetarian)
14 oz can diced tomatoes, un-drained
2 Tbsp peanut butter (preferably chunky, but creamy works too)
2 c cooked white rice
Toasted peanuts to top*
Instructions
In a 4 qt soup pot, heat oil. Add onions and sauté over medium heat until soft, 5-7 min.
Add garlic and spices, mix to combine.
Add sweet potatoes, broth, and tomatoes with juice. Stir to combine and bring the mixture to a simmer.
Add the peanut butter, mixing until it has melted.
Simmer soup over medium-low heat 15-20 min, or until the potatoes are soft.
Using a potato masher, roughly mash the soup to break up the potatoes. (You are still looking to have some chunks, so a coarse mash is all you need.)
Stir in cooked white rice and simmer an additional 3-5 min, until rice is heated through. (Alternately, keep the rice separate and let your guests ladle their soup over the cooked rice.)
Serve topped with toasted peanuts.
Notes
*To toast peanuts, spread nuts in an even layer on a baking sheet. Roast in a 350?F oven for 10-15 minutes, checking and stirring every 5 minutes, until nuts are fragrant and lightly golden.
Nutrition Information
Serving size:
1½ c
Calories:
406
Fat:
4.1g
Saturated fat:
.8g
Carbohydrates:
83.2g
Sugar:
3.1g
Sodium:
338mg
Fiber:
7.4g
Protein:
9g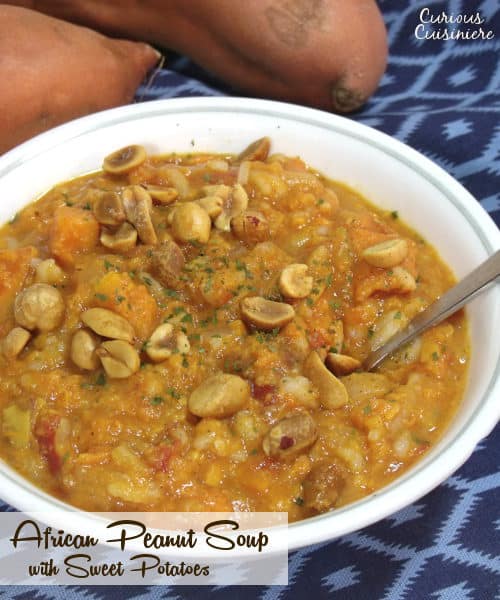 If you liked this recipe, here are some similar dishes you may enjoy!