A holiday roasted turkey seasoned with French herbs pairs perfectly with a deep and flavorful Languedoc wine.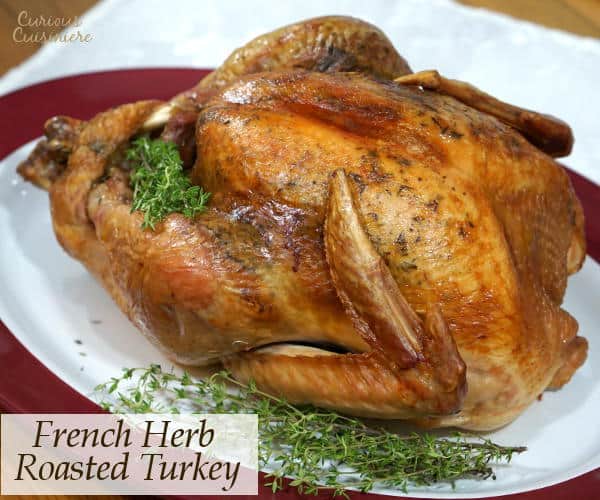 Languedoc is a wine region in the south of France. A portion of this region borders the Mediterranean sea, and here you will find vineyards bursting with juicy grapes as well as the wonderfully fragrant garrigue.
What is Garrigue? It is a term used to refer to the low shrubland in the Mediterranean forest. And, what makes this land so spectacular is the vast abundance of herbs that grow wild in the garrigue. Wander a path and you will find yourself crushing these herbs underfoot: releasing the wonderful fragrance of juniper, rosemary, thyme, sage, and lavender. Just imagine that heavenly aroma.
Believe it or not, many wines from the Languedoc region have the unique ability to capture this aroma of the land. This hint of herbs in the wine's fragrance makes them perfectly suited to pairing with the herbs that are traditionally a big part of Thanksgiving celebrations in the States.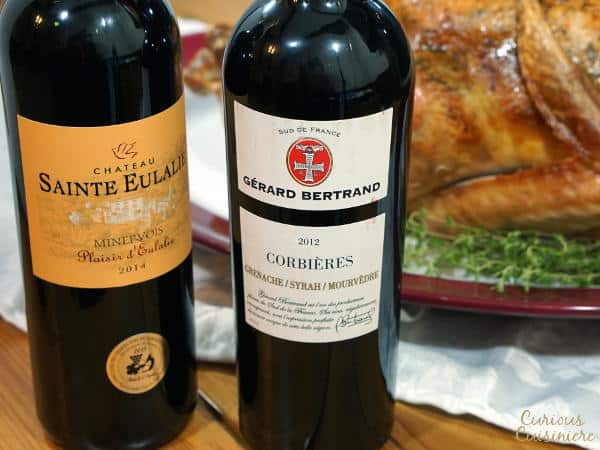 For our Thanksgiving pairing, we had the opportunity to try two wines from the Languedoc region: a 2012 Gérard Bertrand Corbières and a 2014 Château Sainte Eulalie Plaisir d'Eulalie.
The 2012 Gérard Bertrand Corbières is a wine that was made with intense attention to terroir, or the land that the grapes come from. Paying attention for the garrigue, we caught hints of rosemary and lavendar on the nose of this wine. In the glass, we found this blend of Grenache, Syrah, and Mourvedre to be dry but bursting with juicy raspberry notes and an acidity that gave it a beautiful, smooth finish with hints of dark chocolate.
The Château Sainte Eulalie Plaisir d'Eulalie is also a blend made up of nearly equal parts Syrah, Grenache, and Carignan. We found this wine to be a bit more fruity with a robust aroma of berries and a hint of thyme and juniper. In the glass, the wine was full bodied and smooth, with deep flavors of blackberry, cherry, and oak.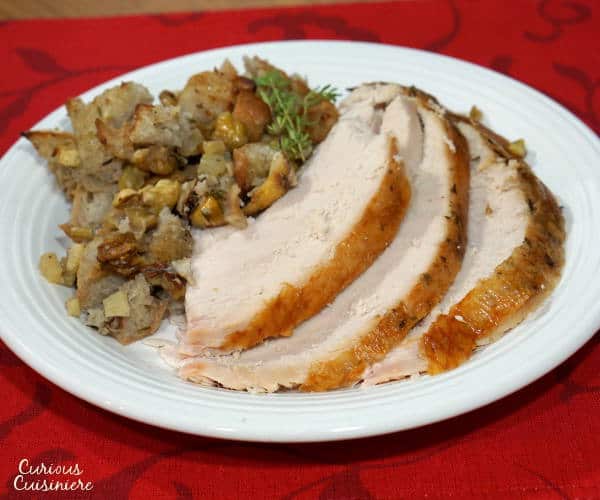 The same aroma that would grace a stroll through the garrigue will fill your kitchen as this French herb infused roasted turkey cooks. We distribute the herb rub under the skin of the turkey to make sure all the flavor is locked in to the juicy meat. (Be sure to check out our detailed description on How to Roast the Perfect Turkey, for instructions on our under-skin seasoning technique.)
We loved the way the deep and herby turkey paired with the wines. The earthy herbs paired extremely well with the woody and deep cherry flavors of the Château Sainte Eulalie Plaisir d'Eulalie for a great complementing wine. And the Gérard Bertrand Corbières brought out an unexpected depth to the turkey, while turning brighter and taking on a slight sweetness when paired with a bite of the roasted meat.
All in all this was a wonderful pairing and definitely has us thinking that wines of the Languedoc region are the perfect ones to reach for with our holiday turkey!

French Herb Roasted Turkey
For a turkey under 16 lbs, estimate 1 lb per serving.
Author:
Sarah | Curious Cuisiniere
Ingredients
1 12-16 lbs turkey
1 onion, quartered
2 stalks celery, halved
10 fresh sage leaves (or 1 tsp dry ground)
4 fresh thyme sprigs (or 2 tsp dry)
2 fresh rosemary sprigs (or 2 tsp dry, chopped)
½ tsp salt
¼ tsp pepper
Instructions
Preheat your oven to 325?F.
Remove the giblets and neck from the turkey and reserve for making gravy. (Check both the body and neck cavities to be sure you have removed everything.)
Place the onion, celery, 5 sage leaves, 2 thyme sprigs, and 1 rosemary sprig in the body cavity. (If using dried herbs, sprinkle half of the herbs in the body cavity.)
Chop the remaining 5 sage leaves and place them in a small bowl. Strip the remaining 2 thyme sprigs of their leaves, adding them to the sage. Strip the remaining rosemary sprig and chop the rosemary fine. Add the chopped rosemary to the other herbs along with the salt and pepper.
Starting at the bottom of the breast, gently separate the skin from the meat. Work your hands under the skin, until it is loosened from the breasts and thighs. (Take a look at our Guide to Roasting the Perfect Turkeyfor more detailed instructions.)
Distribute the herb mixture as evenly as possible under the skin. *
Roast the turkey at 325?F, roughly 13-15 minutes for every pound of bird you are cooking (So a 12 lb bird will roast for 2 ½ - 3 hours.) (Double check the cooking time with the instructions that came with your bird to ensure proper cooking.)
Your bird it done when a thermometer inserted into the thickest part of the breast or thigh (not near a bone) reads 165?F and the leg meat is peeling away from the bone. Start checking your turkey for doneness after 2 hours of cooking and every half hour after that. If your turkey seems to be darkening too fast, loosely tent it with aluminum foil and continue roasting.
When the turkey is done, remove it from the oven and let it rest for 10-15 minutes before carving and serving.
Notes
*The turkey can be prepared up to this point a day ahead of time. Cover the turkey and refrigerate it over night. An hour before you are ready to roast it, remove it from the refrigerator and let it come to room temperature. Bake as directed.
This month's Wine Pairing Weekend is hosted by David from Cooking Chat. Take a look at all the Thanksgiving wine pairing inspiration!
Culinary Adventures with Camilla will share Simple Elegance: Beurre Noisette-Braised Radishes + Sips from Languedoc
Rockin' Red Blog will Celebrate Thanksgiving Lodi Style
Cooking Chat will share Garrigue Roasted Turkey Breast with Wine from Languedoc #winePW
A Day in the Life on the Farm will pair Turkey Tetrazzini with a Michigan Wine
Curious Cuisiniere will share French Herb Roasted Turkey with Languedoc Wine
Confessions of a Culinary Diva is planning A Sud Ouest Thanksgiving
Pull That Cork will post #winePW Thanksgiving for Two: Storm Pinot Noir and Seared Duck Breast
Tasting Pour will Pick Picpoul, Choose Corbieres: Languedoc Wines and Thanksgiving
ENOFYLZ Wine Blog shared Pumpkin Gooey Butter Cake Paired With An Aussie Sticky
Grape Experiences posted Wine and Dine: Chateau Paul Mas Belluguette and Mediterranean Fish Stew
Dracaena Wines discusses How to Be Creative with Your Thanksgiving Table
Join our live Twitter chat on Saturday, November 14, from 11 a.m. to noon, Eastern Time. Just tune into the hashtag #winePW. This will be a great chance to ask your Thanksgiving wine pairing questions, and share what you know! If you've come to us after November 14, consider joining us for #winePW on December 12, focused on "Sparkling Wine and Festive Holiday Dishes", hosted by Cindy at Grape Experiences. You can get a full listing of past and upcoming Wine Pairing Weekend events here.
Disclosure: We received the bottles of wine mentioned in this post. As always, all thoughts and comments are our own.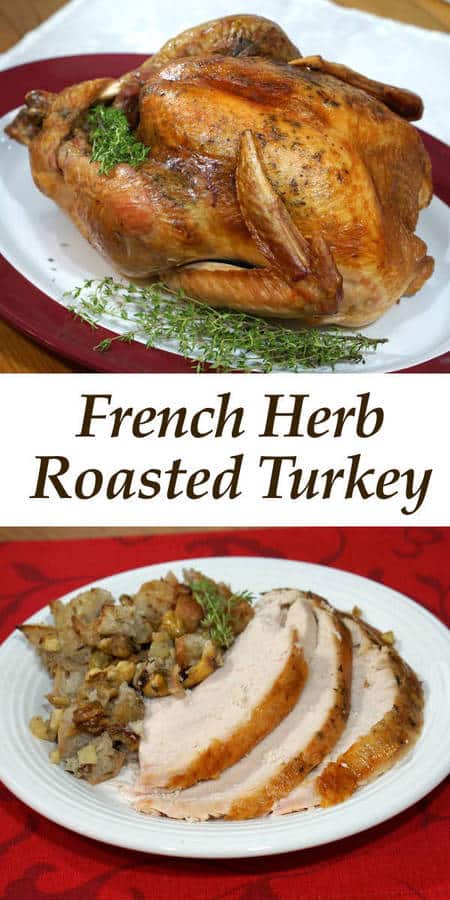 If you liked this recipe, here are some similar dishes you may enjoy!