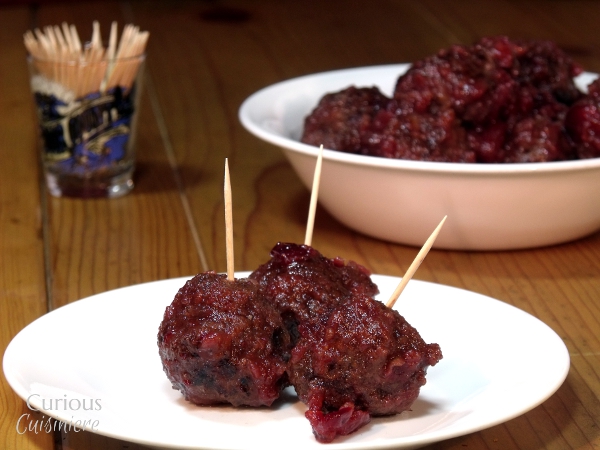 This week's #SundaySupper is all about the game day food!  We've been prepping this week to have people over, even though the Packers didn't make it, there's still an excuse to party!
We LOVE meatballs as a party food.  Put out some toothpicks, turn on the crock pot to keep them warm, and people can snack all afternoon long.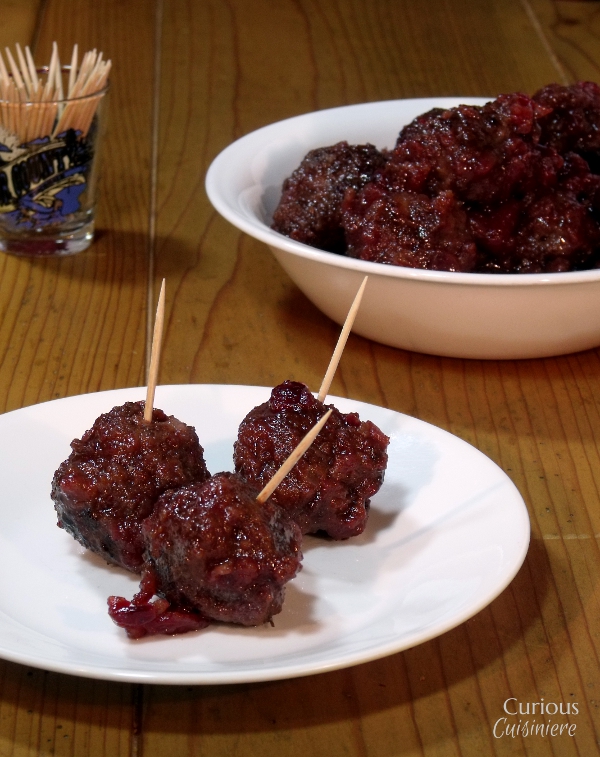 These Cranberry Glazed Meatballs have a deep sweetness from brown sugar, the bright and slightly tart flavor of juicy cranberries, and just a hint of a kick from some cayenne.
You could easily use frozen meatballs with this sauce recipe (just skip straight to the instructions for making the sauce).  However, we decided to make our own meatballs out of the last of some ground venison we had in the freezer.  Making meatballs from scratch isn't difficult (think meatloaf or burgers, but mini).  And, it allows you to do fun things like add nutmeg and a bit of black pepper, making these meatballs the perfect complement to the cranberry glaze.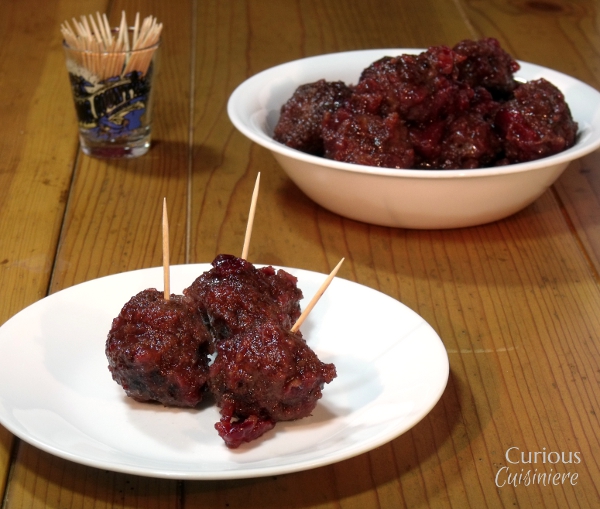 Cranberry Glazed Meatballs
Sweet and tangy meatballs, perfect for a party appetizer.
Author:
Sarah | Curious Cuisiniere
Ingredients
Meatballs (Yield: 24 – 1" meatballs)
1 tsp butter
½ onion, minced
½ lb ground beef (or venison)
½ tsp salt
¼ tsp pepper
¼ tsp nutmeg
½ c breadcrumbs
2 Tbsp milk
1 egg
Cranberry Sauce
1 c water
½ c white sugar
½ c brown sugar
8 oz cranberries (fresh or frozen, thawed)
1 cinnamon stick
1 tsp prepared, yellow mustard
¼ tsp salt
¼ tsp cayenne
⅛ tsp cloves
Instructions
Meatballs
Heat butter in a medium, non-stick frying pan. Add onions and saute until golden. Remove from heat.
Mix onions with remaining ingredients in a large bowl. Mix to thoroughly incorporate, but do not over mix.
Return the non-stick frying pan to medium heat.
Shape 1 Tbsp of meat mixture in a ball, roughly 1" in diameter. As meatballs are shaped, add to hot pan. Heat meatballs until the entire outside is seared. Set aside. (If you were eating the meatballs straight from here, you would want to cook them 7-10 min until firm, but since we will be cooking them in the sauce, we just need to lock in the juices and set the shape.)
Continue until all meat mixture has been used.
Cranberry Sauce
In a medium saucepan, bring water and sugars to a boil, stirring often. Simmer 5 minutes.
Add cranberries and cinnamon stick. Simmer 5-7 minutes, until the cranberry skins pop.
Add mustard, salt, cayenne, and cloves. Mix well.
Putting It All Together
Add meatballs to sauce and simmer 5-10 minutes, until glaze thickens and meatballs are warmed through.
Notes
This dish can be made ahead and reheated or kept warm for the party in a crock pot on low.
Just received a last minute invite to a party and want to bring something delicious?  Still looking for that final, perfect dish to serve the hungry masses?  Maybe you just got the call that your guest count increased?  (Why does that always happen at the last minute?)
Don't you worry, this week's #SundaySupper has you covered with plenty of tasty, easy (and even some healthy!) appetizers, main dishes, and desserts to keep you snacking all day long.
It is the Super Bowl after all!
#SundaySupper Super Bowl Appetizers & Snacks:
#SundaySupper Super Bowl Main Dishes:
#SundaySupper Super Bowl Desserts:
#SundaySupper Super Bowl Tablescape: 10 Tips For A Winning Superbowl Buffet Table from An Appealing Plan
Join the #SundaySupper conversation on Twitter on Sunday, February 3rd to talk all about our Super Bowl Recipes!  We'll tweet throughout the day and share recipes from all over the world.  Our weekly chat starts at 7:00 pm ET and you do not want to miss out on the fun.  Follow the #SundaySupper hashtag, and remember to include it in your tweets to join in the chat.  Check out our #SundaySupper Pinterest board for more fabulous recipes and food photos!
If you liked this recipe, here are some similar dishes you may enjoy!