If you have only heard of one Hindu festival, it's most likely Diwali. Even if the name is not familiar you may know it by what it celebrates: light. However there is more to it than just putting up lots of lights. Learn more about the celebration and, naturally, the foods eaten during Diwali.
What is Diwali?
Diwali (or deepawali) is celebrated in the autumn with the dates changing each year, according to the Indian lunar calendar.
While it is predominantly a Hindu festival, other religions like Sikhs and Jains celebrate their own versions or similar festivals alongside.
It is also widely celebrated by Indians around the world, and Diwali is an official holiday in Fiji, Guyana, Malaysia, Singapore, Myanmar, Mauritius, Sri Lanka, Nepal, Trinidad, Jamaica as well as India itself.
A brief history of Diwali
Diwali dates back to ancient times in India and is believed to have evolved as a fusion of the many harvest festivals in the area.
It is mentioned in Sanskrit texts as early as the 1st millennium BC and various texts later, including those of historians and travelers from Persia and beyond.
Diwali is the festival of light, celebrating the victory of light over darkness, good over evil and knowledge over ignorance. Some historical references link it to an ancient legend with this theme, with one of the most common saying it is the goddess Lakshmi's birthday on the new moon.
The festivities typically last 5 days, with temples and other places of celebration brightly lit throughout.
The climax is the third day, to tie in with the darkest day under the Hindu lunar calendar of the month "Karitka".
How is Diwali celebrated?
It's common to do a big clean up or renovation of both homes and offices in the run up to Diwali.
People often then decorate with rangoli, pictures made out of colored powder and sand usually made on the floor. Houses are lit up with candles and clay lamps both inside and out.
There are prayers, rituals, gift-giving and fireworks to celebrate the festival. And naturally, there is food.
There are many different things that might be eaten during Diwali, but it is most known for the sweets.
The second day of the festivities is typically the big day of buying and sharing sweets. Many people visit friends and family on this day and take sweets with them as gifts. Some will send cards to loved ones who they cannot celebrate with in person and often attach a box of confectionery.
Diwali is different from many other Indian festivals in that there is no fasting, but instead feasts celebrating the seasonal bounty.
The third day of the festival is typically the biggest festivities with visits to elders, prayers, fireworks and feasting with the family. It's also a time when people wear new clothes.
Festivities continue on the next two days, with the fourth being a celebration of the bond between husband and wife, and the fifth day being a celebration of brother-sister bonds.
Indian sweets
Indian sweets, or 'mithai', are a little different from candies and desserts you might find in other countries, as they are often considered more "sweet meats". Many use nuts or vegetables as a base, condensed down with sugar and maybe milk.
They are also served both alongside a cup of masala chai tea, as snacks, on their own after meals or even sometimes alongside a meal.
Some of the more common ones include:
Halwa, such as gajar (carrot) halwa or pumpkin halwa – typically made with a grated vegetable cooked with ghee, sugar and milk/condensed milk so that it becomes soft, sweet and thick. Often flavored with cardamon and/or nuts like almonds.
Laddu (or laddoo), little balls made with flour, ghee or oil and sugar and often nuts of fruit like raisins. The flour might not always be wheat – chickpea flour is a common variation, for example.
Barfi, a kind of fudge made with condensed milk.
Gulab jamun, almost like donut holes served in a sweet syrup.
You'll also see desserts like kheer, a rice pudding infused with cardamon and often with raisins, almonds and saffron.
Other foods eaten during Diwali
As well as sweet treats, there are also savory snacks served at various points over the festivities along with curries and rich dishes such as fried foods or those using ghee.
Snacks include chivda, a mix like Bombay mix, combining nuts and chickpea/lentil/rice-based crunchy salted snacks.
You'll also find appetizers like:
Many people are vegetarian during this period, if not throughout the year, and so mains typically combine vegetables, eggs and/or paneer, a kind of cheese (such as paneer Makhani).
Diwali is a festival that is a feast for the eyes, and stomach, with many variations to enjoy!
If you liked this recipe, here are some similar dishes you may enjoy!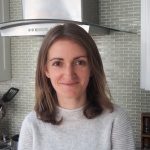 Caroline lived and traveled various places before settling in Cambridge, MA. She still fits in some travel with her family, but often settles for traveling through food instead. She shares her recipes at CarolinesCooking.com, where there's plenty of international inspiration using seasonal ingredients, as well as creative recipes for all to enjoy. Caroline is originally from Scotland, where she grew up hiking and skiing, both things she still loves to do when her two young boys give her a chance. You can follow along with her cooking adventures on Facebook, Instagram, Twitter, and Pinterest.