This sweet potato risotto is a fall treat, bringing floral notes of a dry white wine, creamy flavors of Parmesan cheese, and sweet and spiced sweet potatoes into one satisfying dish. 
Inspired by a fellow blogger
This month we were introduced to Melissa from Fried Ice and Donut Holes blog. (We love the story behind her name!) As a teacher by profession, Melissa and her husband use their blog as a recipe box to keep track of their recipes.
Her risotto inspired today's dish. It's so fitting for cooler weather!
Creamy Risotto and Smoky Sweet Potatoes
We think the flavors of this risotto would make it a perfect addition to a Thanksgiving spread, particularly if you are looking for a unique way to incorporate sweet potatoes into a dish that doesn't resemble the traditional sweet potato casserole.
There are really two components here that are fused together in the end to create a dish with a very unique taste.
First, the risotto is made with white wine and Parmesan cheese. It is perfectly rich and cheesy with the lingering aftertaste of a good glass of wine.
Second, mashed sweet potatoes seasoned with paprika and pepper bring a wonderful sweetness and fantastic smoky undertone to the finished dish.
It was REALLY hard not to eat all of each of these two element alone. But, we had to trust that the fusion would be worth the wait.
Our Sweet Potato Risotto recipe
The sweetness of the potatoes pairs incredibly well with the intense flavors of Parmesan cheese, and the depth created by the spices in the potatoes brings out the hearty notes of the dry French Chardonnay that we used to cook the rice.
We made very few changes to Melissa's recipe, the most notable was baking the sweet potatoes before mashing, rather than roasting them as she suggests, simply because we needed to be able to forget about the potatoes for an hour.
As a side note, we do recommend getting a block of real Parmesan. You won't regret it.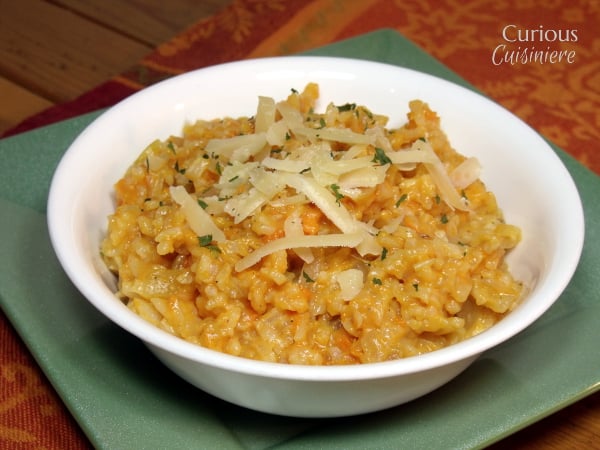 Sweet Potato Risotto
Dry white wine, creamy Parmesan cheese, and sweet and spiced sweet potatoes combine into one comforting fall dish.
Yield: 4 cups
---
Ingredients
1

small

sweet potato

2

tsp

olive oil

1

onion,

minced

2

garlic cloves,

minced

¾

c

white rice,

dry

2/3

c

dry white wine

(like a Chardonnay)

2

c

vegetable stock

(we prefer low sodium)

3

Tbsp

Parmesan cheese,

fresh grated

¼

tsp

nutmeg

¼

tsp

paprika

¼

tsp

salt

¼

tsp

ground black pepper
Instructions
Preheat oven to 450F. Prick sweet potato with fork and bake in preheated oven for 1 hour, or until soft. Remove from oven and let cool.

When the potato is slightly over halfway done, heat oil in a large saucepan over medium heat. Add onion and sauté, 2-3 minutes, until soft. Add garlic and cook for 30 seconds.

Add rice, stirring to coat with oil. Sauté for 3-5 minutes, stirring occasionally, until the rice begins to toast or the pan becomes dry.

Reduce heat to medium-low, and add the wine. Cook, stirring often, until the wine is absorbed.

Add the stock, 1/3 c at a time, stirring often, and adding more as the previous addition is absorbed.

While the risotto is cooking, peel your baked sweet potato and mash with nutmeg, paprika, salt, and pepper.

Once the risotto is cooked and chewy to your liking, reduce the heat to low and add Parmesan cheese. Stir until well incorporated. Then, mix in the mashed sweet potatoes.

To serve, top with more cheese if desired.
---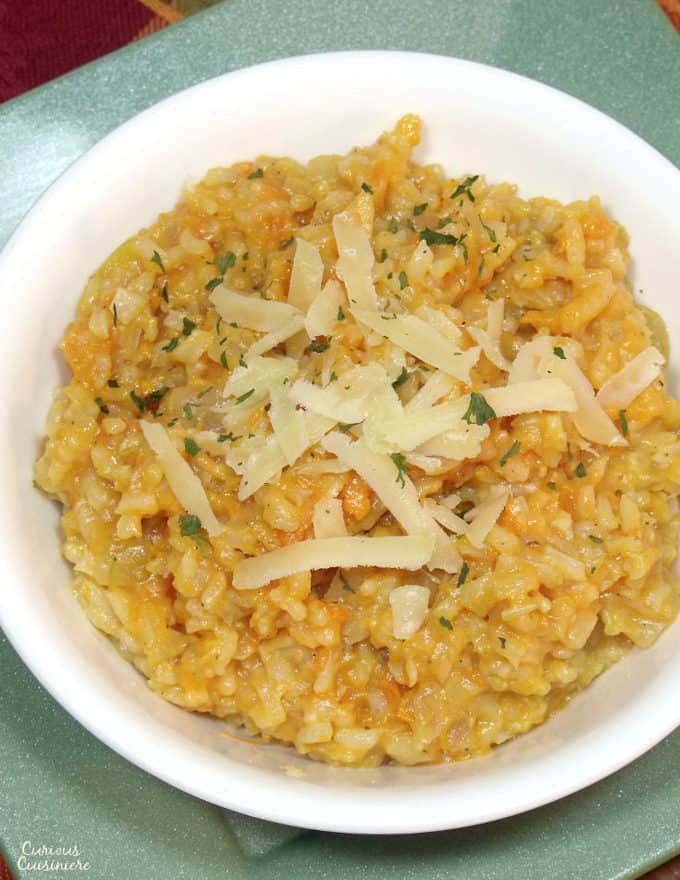 If you liked this recipe, here are some similar dishes you may enjoy!