This hearty Tuscan Ribollita is a hearty vegetable and bean stew that gets better the second day, so make up a big batch to have on hand for those cold winter nights!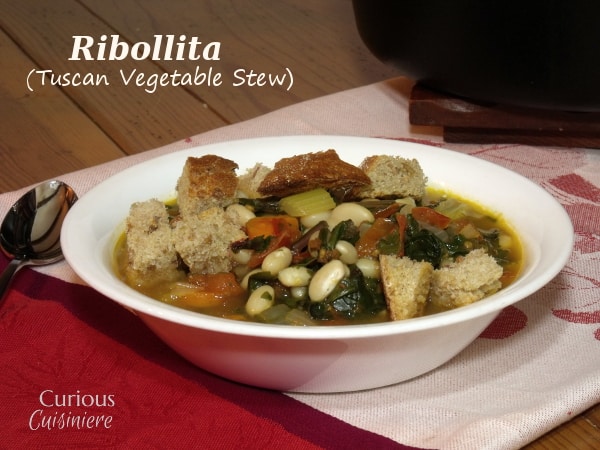 As we hit a lull between Christmas and New Year's parties, we're finding ourselves thinking about healthier dishes that still stick to your bones and keep you warm in the winter chill.
Soups are prefect for fit that bill, and today we're bringing you a Tuscan classic.
Tuscan Ribollita: A Hearty Vegetable and Bean Stew
The hearty vegetables and beans in a Tuscan Ribollita make it the perfect stew for a chilly winter night.
It's a healthy stew that gets better the next day, so it's perfect for making a big batch to have on hand for healthy and quick leftovers during the week.
Like many of these type of dishes, there are about as many variations as there are people making the soup, but a common vein can be found in white beans, inexpensive vegetables (carrots, onions, cabbage) and stale bread.
It's the perfect way to use up that random smattering of leftovers that inevitably finds its way into your fridge and freezer after a week of Holiday gatherings.
Ribollita: Better As Leftovers
The name Ribollita literally translates to "reboiled," and some cooks will make it a day ahead of time, with the intention of the reheated version being the main event.
We prefer to double our recipe and get two meals for one.
The first day you have a brothy, vegetable soup with crisp croutons. Then next day, the soup becomes a thick (like, stand a fork in it thick) vegetable stew with incredible flavor.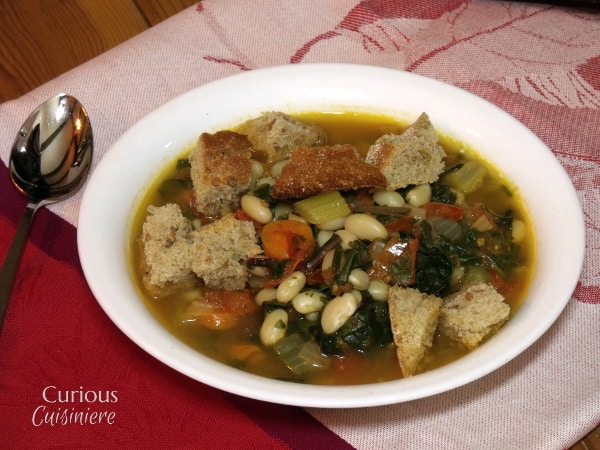 A Peasant Soup: Make It How You Like It!
Everything about this vegetable stew points to its peasant origins, where it was originally made by reheating leftover minestrone or vegetable soup with some stale bread.
We like our Ribollita heavy on the dark greens, making it a wonderfully de-toxing stew for those cold winter months when you really need something that is going to stick to your ribs and help give you minerals and vitamins to clean out your body and kick any traces of a cold.
Choosing Dark, Leafy Greens
Leafy greens, especially dark greens, are a great source of vitamins A, C and K, in addition to calcium and iron. And, they're packed with fiber.
If you're new to dark, leafy greens, this is the time to experiment.
Arugula: (rucola or rocket) Has a peppery taste and is often used in salads, soups and stir-fries.
Collard Greens: Have a mild flavor and are great for adding to soups or stir fries after boiling briefly.
Kale: A slightly bitter, cabbage-like green, perfect for soups and sauces.
Mustard Greens: No surprise, these come from the mustard plant and have a pungent, peppery flavor. Great for salads or soups.
Spinach: A sweet-flavored green that is great eaten raw or steamed.
Swiss Chard: Similar to spinach in taste, it is great stir-fried or eaten raw.
Grab some spinach or another familiar green along with a little bit of one you've never tried. Small amounts is a great way to test the waters.
Who knows, you may find your new favorite green!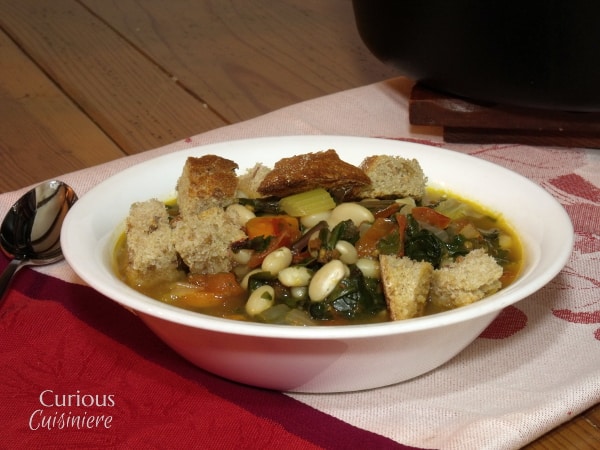 Ribollita (Tuscan Vegetable Stew)
This hearty Tuscan Ribollita is a hearty vegetable aand bean stew that gets better the second day, so make up a big batch to have on hand for cold nights!
Yield: 8 cups of soup
Ingredients
1 1/2

c

Great Northern Beans,

dry, soaked over night

1

tsp

olive oil

1

onion,

diced

1

celery stalk,

diced

2

carrots,

sliced

1

garlic clove,

minced

¼

tsp

salt

¼

tsp

fresh ground pepper

1

lb

tomatoes,

diced

2 ½

c

vegetable broth

(we prefer low sodium)

8

oz

spinach,

kale, or Swiss chard, chopped

4

thick slices

French bread
Instructions
In a large soup pot or Dutch oven, heat Tuscan Herb Olive Oil over medium-high heat. Add onions, celery, carrots and garlic. Add salt and pepper, and sauté 7-10 minutes until soft.

Add diced tomatoes (with any juice), soaked and drained beans and vegetable stock. Bring the mixture to a boil. Reduce the heat to medium-low and simmer, covered 20-30 min, until the beans are tender.

Mix in the chopped greens. Cover and simmer 5-10 minutes, until the greens have wilted.

While the soup is finishing up, toast the French Peasant Bread slices under your broiler for 2-3 minutes per side. Remove bread slices and, once cool, cut into cubes.

Scatter the toasted bread cubes over top of the soup before serving.

Serve soup with a splash of Oregano White Balsamic Vinegar, if desired.

Refrigerate any leftovers with the leftover bread. When you are ready to enjoy the soup for a second time, heat it slowly over medium low heat. The bread will break down and thicken the soup to a hearty stew.
Nutrition
Calories:
337
kcal
|
Carbohydrates:
59.9
g
|
Protein:
19.6
g
|
Fat:
3
g
|
Saturated Fat:
0.7
g
|
Sodium:
804
mg
|
Fiber:
15
g
|
Sugar:
7.6
g
If you liked this recipe, here are some similar dishes you may enjoy!