Literally translated "pasta with beans," white beans make this pasta e fagioli a hearty and filling dish. It's a great recipe for a comforting lunch or dinner.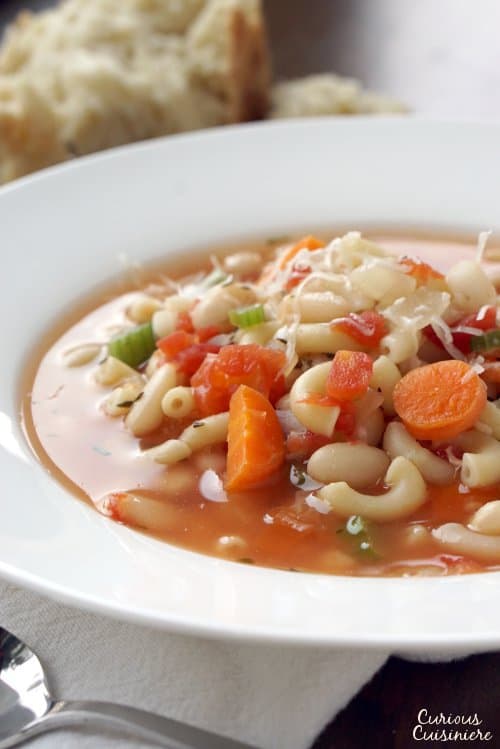 "When the stars make you drool, just-a like pasta fazool, that's amore!"
I've been singing this song for the past few days; ever since we made this pasta e fagioli and learned that this dish is what the classic song is talking about.
"Fazool" is the correct pronunciation of the Italian word for beans, "fagioli," in Neapolitan Italian (the Italian spoken in South Italy).
What Is Pasta e Fagioli?
Pasta e fagioli is a traditional Italian peasant dish.
This hearty soup is easy to make with inexpensive ingredients, making it the perfect food for poor Italian peasants. (Or the budget conscious Mama!)
When Italian immigrants came to America, it was inexpensive, peasant dishes like this that allowed them to bring a taste of their homeland to their tables as they were struggling to make a new start.
You've undoubtedly seen pasta e fagioli on the menu at your favorite Italian restaurant. But this (now restaurant staple) is incredibly easy to make at home.
It was, after all, home is where it was meant to be made!

How Do You Make Pasta e Fagioli?
This dish is quite a simple concept of pasta with beans, and can, therefore, be made from pantry staples, which makes it the perfect recipe for an easy weeknight supper.
To make the dish a simple mixture of aromatic vegetables are sauteed briefly before combining with broth, cooked (or canned) beans, some tomatoes, and seasonings. 
This warming mixture is then used to cook your dry pasta, and in minutes, you have yourself a comforting dish that is the perfect way to warm up on a chilly day.
Is Pasta e Fagioli A Soup?
This is a question we hear pop up often.
Traditionally, pasta e fagioli was a very thick and hearty soup. So thick, that some would classify it more as a stew than a soup.
But, as with any dish that has widespread popularity, there are as many ways to make pasta e fagioli as there are Italian grandmothers who make it for their family.
Some people make it super thick and stew-like. Some like it with more broth, so it becomes more of a soup. (And when it comes to the soup, some like more of a tomato base broth, while others like more of a stock based broth.)
Restaurants often want to stretch their food as far as they can, which is why the brothy soup form of pasta e fagioli is what tends to be seen in Italian restaurants across the US.
Our Pasta e Fagioli Recipe
For our pasta e fagioli recipe, we're taking a bit of a middle ground.
We love a hearty soup so our pasta e fagioli is plenty chunky, with just enough broth for us to call it a soup. 
A hearty soup.
And one that will have you going back for seconds!
Pasta e Fagioli
Literally translated "pasta with beans," white beans make this pasta e fagioli a hearty and filling dish. It's a great recipe for a comforting lunch or dinner.
Yield: 3 quarts of soup
Ingredients
2

Tbsp

olive oil

1

onion,

diced

2

cloves

garlic

(or ½ tsp garlic powder)

1

carrot,

sliced

1

rib

celery,

diced

6

c

broth,

chicken or vegetable (we prefer low sodium)

2

cups crushed

tomatoes

(or petite diced)

3

cups cooked

white beans

(or canned and drained) (1/2 lb dry beans, cooked)

2

bay leaves

1

tsp

thyme

1

tsp

rosemary

½

lb dry

pasta

(elbows or ditali are traditional)

Salt

(to taste)

Pepper

(to taste)

1

Tbsp

tomato paste

(optional)

Fresh grated

Parmesan cheese

(to top)
Instructions
In a 4 quart soup pot, heat the olive oil over medium high heat. Add the onions and garlic. Saute 2-3 minutes, until the onions start to soften. Add the carrots and celery and sauté for an additional 2-3 minutes.

Add the broth, tomatoes, cooked beans, bay, thyme, and rosemary. Bring the mixture to a simmer.

Add the dry pasta and simmer until the pasta is just al dente (roughly 8 minutes). (The pasta will continue to cook and soften as it sets in the hot soup.)

Taste the soup and adjust salt and pepper as needed.

(Optional: Mix in the tomato paste if you'd like your soup to have a stronger tomato flavor.) Remove bay leaves and serve the soup topped with Parmesan cheese.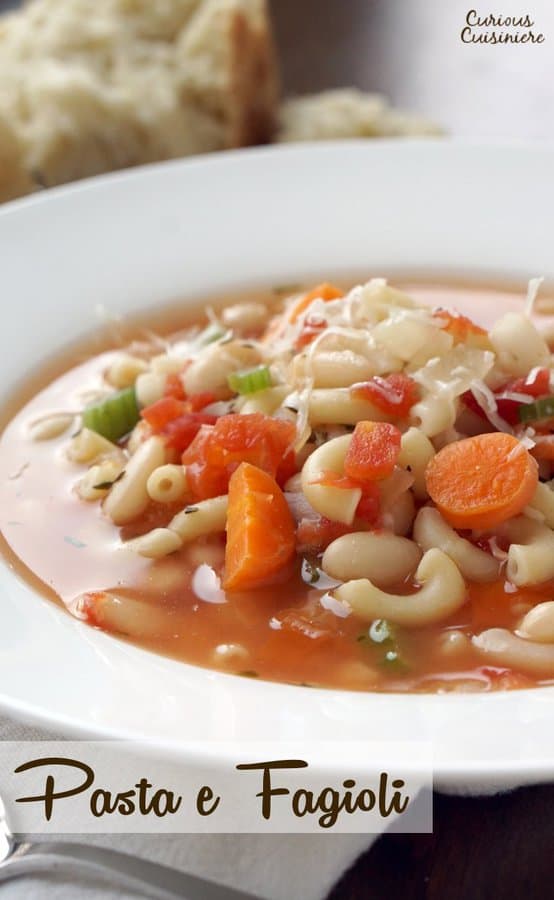 If you liked this recipe, here are some similar dishes you may enjoy!