Mango chunks and a citrus marinade give this recipe for beef and mango kebabs a bright and tropical, Caribbean flare that is perfect for summer grilling.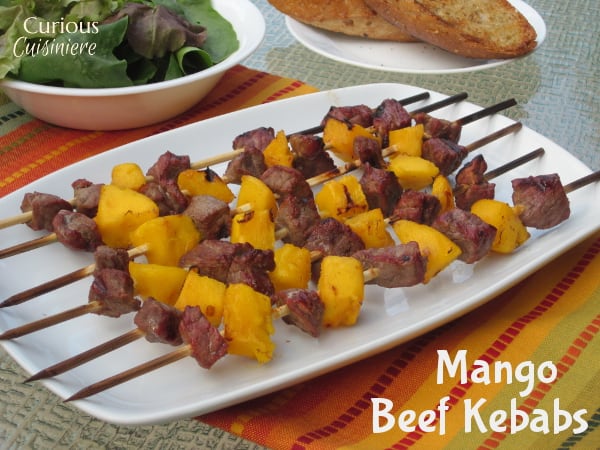 Kebabs or Skewers?
Do you call them Kebabs or Skewers?
I know you put a kebab on a skewer, but I've heard the end result called by both names.
Is it regional?
Is it cultural?
I guess it really doesn't matter either way, because whatever you call them, the concept of grilling bite-sized items on a sick is probably the best camping food ever devised. (Outside of s'mores. But, that's a whole different category.)
Our Beef and Mango Kebabs
These Beef and Mango Kebabs (Skewers) combine the meaty depth of beef steak with the sweet, tropical flavors of mango.
And, they're super simple.
The only part that took the littlest bit of effort and attention was cubing the mango.
How To Cut A Mango
You see, I always cut our mangos into wedge slices. And, lets just say it was a good thing we love mango so much that I bought an extra, because halfway through cutting up the mango, I realized that wedge slices were not going skewer as effectively as I was hoping.
When you're so used to doing something one particular way, let me tell you, it can be a bit of a brain exercise to try to do even the simplest things, like trying to figure out how to cut mangos into cubes.
But, I'm happy to report my brain was exercised, and the mango finally became cubes that were perfect for skewering.
(There are some great tutorials online, like this one from Simple Recipes, for how to cut a mango, if you're in the same rut I was.)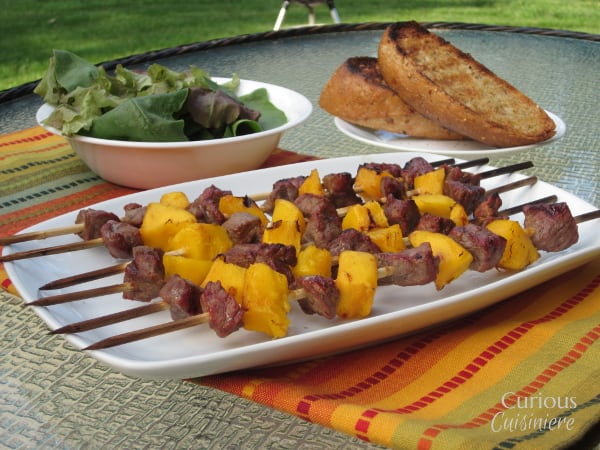 Grilling These Beef and Mango Kebabs
Do have a metal spatula handy when grilling these kebabs.
The mango likes to stick to the grill grates, so you'll want to loosen the kebabs from the grate with the spatula before you flip them.
Tricky mango.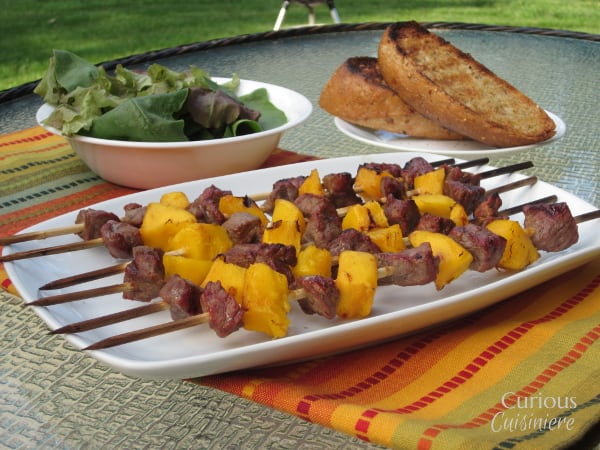 Mango Beef Kebabs
Mango chunks and a citrus marinade give this recipe for beef and mango kebabs a bright and tropical, Caribbean flare that is perfect for summer grilling.
Yield: 12 kebabs
---
Ingredients
¼

C

Worcestershire sauce

1

lime,

juiced (roughly 2 Tbsp juice)

1

tsp

ginger

1

tsp

chili powder

½

tsp

salt

1

lb

sirloin steak,

cut into ¾" cubes

2

large

mangos,

pitted, peeled, and diced into ¾" cubes

12

bamboo or other grilling skewers
Instructions
In a small bowl or liquid measuring cup, whisk together Worcestershire sauce, lime juice, ginger, chili powder, and salt.

Place the sirloin cubes into a shallow dish and cover with the marinade. Cover and let the beef marinate for 30 minutes.

Preheat the grill to medium-high heat. (You should be able to hold your hand 4 inches over the cooking grate for 4-5 seconds.)

If using bamboo skewers, soak the skewers in water for 3-5 minutes to prevent them from charring.

Skewer the marinated meat and mango cubes, leaving about 2 inches at each side of the skewer for easy turning.

Place the skewers on the grill and cook, covered 4 minutes.

Use a spatula to loosen the mango chunks from the grill grate. Then, flip the skewers. (Moving them around as needed to hotter or cooler parts of the grill.) Cover the grill and cook for an additional 4 minutes.

Serve kebabs as is or use them as a tropical topping for a fresh summer salad.
---
If you liked this recipe, here are some similar dishes you may enjoy!