Lamb karahi is a Pakistani style lamb curry made with diced lamb pieces in a rich and spicy tomato-based gravy, with lots of fresh ginger and coriander on top. Best served with naan.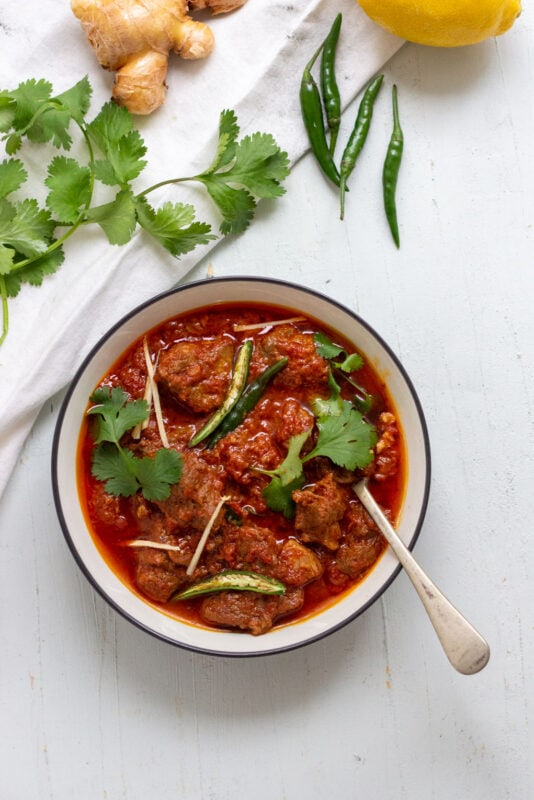 What is Karahi?
The dish karahi is named after the pan in which it is usually cooked, the karahi.
Similar to a wok, the karahi is a circular, deep cooking pot that originated from the Indian sub-continent.
It can be round or flat-bottomed, and it is used for cooking meat curries, as well as deep frying.
Where did the dish Karahi originate from?
The dish karahi is said to have originated from the province of Khyber Pakhtunkhwa (formerly known as NWFP) in Pakistan.
Over there, it is known as karahi gosht, with the term gosht referring to red meat.
The traditional meat used in karahi is red meat, usually lamb or goat meat (known as mutton in the Indian sub-continent) with lamb fat also being used in the cooking process to add more flavor and nuance to the dish.
Chicken karahi, typically made from bone-in chicken pieces, has also become quite common.
Though lamb karahi can be eaten year around, the popularity of the dish increases during the Muslim festival of Eid-ul-Adha.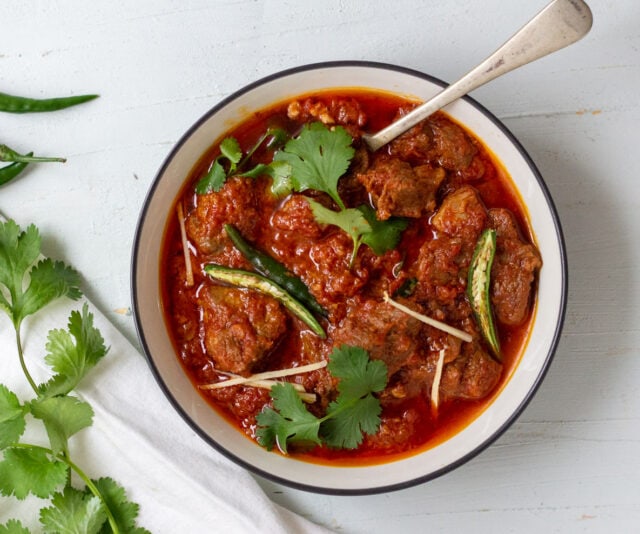 What is Eid-ul-Adha?
Also known as Eid-ul-Azha, Bakra Eid or Bari Eid, it is the second of the two main Islamic holidays celebrated throughout the year (the first one being Eid-ul-Fitr).
The day of Eid-ul-Adha falls on the tenth day in the twelfth and final month of the Islamic lunar calendar.
It is celebrated to remember how Prophet Ibrahim (Abraham) was going to sacrifice his son Prophet Ismail (Ishmael), peace be upon them, because of God's order.
In this Eid, those Muslims who can sacrifice an animal such as a cow, a goat, a sheep, or a camel.
The meat from the animal (known as Qurbani or sacrifice) is divided into three equal portions; one-third for the family, one-third for friends, and the final portion to be given to the poor and needy.
Time is spent celebrating with family, and friends. The food of choice are usually meat dishes, be it in the form of a stew, BBQ, a roast or a curry such as this lamb karahi.
What cut of lamb to us in this curry?
Bone-in pieces of lamb, cut into 2 – 2 ½ inch cubes are used to make this Pakistani lamb curry. At Pakistani or Middle Eastern butcher shops, this cut is sold as "curry pieces".
You can also get lamb shoulder, or lamb leg, and cut it into pieces yourself.
If lamb isn't available, goat meat or beef, cut in the same style, can also be used.
(To make chicken karahi, use bone-in skinless chicken pieces (known as karahi cut, or chicken curry cut), add the tomatoes after the spices, and reduce the cooking time accordingly.)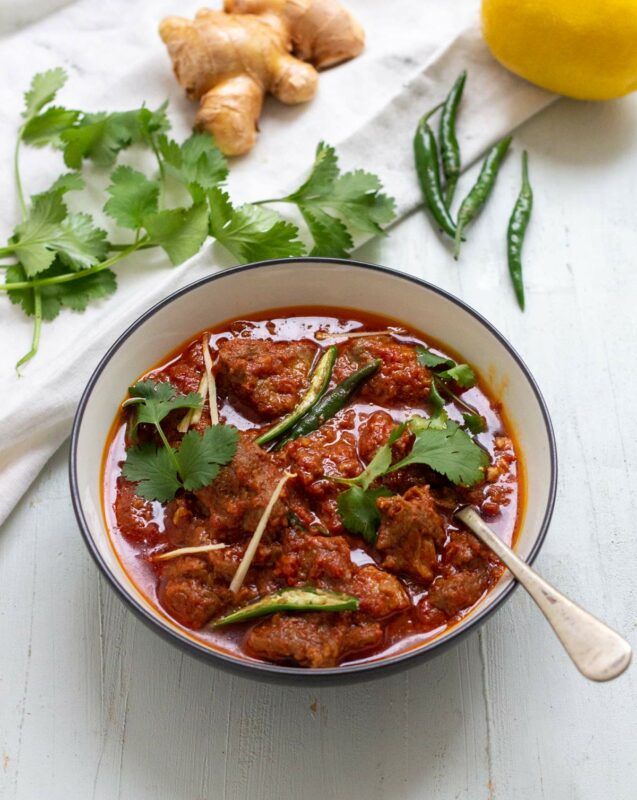 Karahi – a curry with tomatoes
Tomatoes are a must in karahi. They are used to create that finger licking karahi masala!
I have used fresh chopped tomatoes in this recipe, but traditionally, whole tomatoes are used. The whole (skin on) tomatoes are left to steam for a few minutes after which the tomato skins become easy to remove and can be discarded.
If you want to use canned tomatoes, use whole peeled tomatoes, or crushed tomatoes. The canned, diced tomatoes don't dissolve into a gravy properly.
What spices are used in karahi lamb curry?
Ginger and garlic are added for their aroma and flavour, and also to eliminate any possible lamb-y smell from the meat.
Make sure to use fresh garlic and ginger, especially for the garnish at the end.
Every household has their own spice blend for making karahi, but the other thing that is common across most family karahi recipes is black pepper, and always freshly crushed black pepper.
Same with coriander seeds, they are also freshly crushed and then used.
With such a limited spice list, it is important to make sure the spices are as aromatic and flavorful as possible.
What to serve with Karahi?
Karahi is a dry style curry, so it's best served with naan, roti or chapati.
On the side, you can serve raita, or a Pakistani style chopped vegetable salad known as kachumber.
Yield: 4 servings
Lamb Karahi (Pakistani Lamb Curry)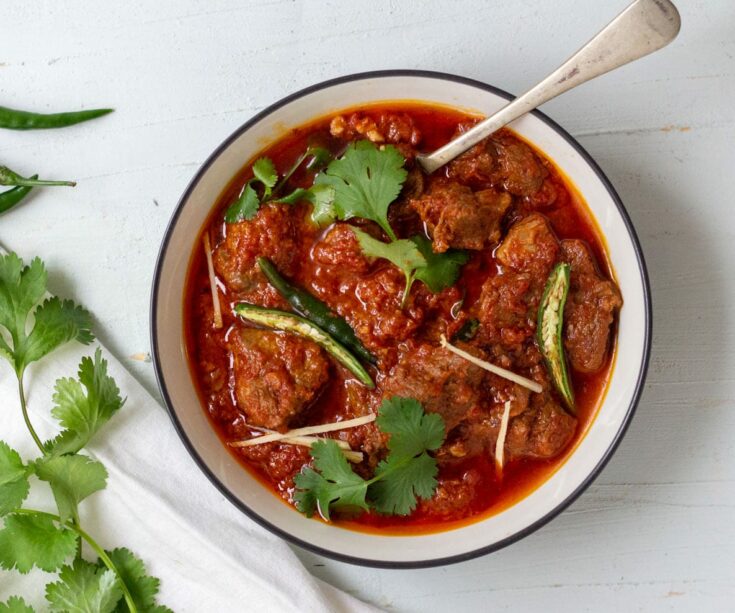 Lamb karahi is a Pakistani style lamb curry made with diced lamb pieces in a rich and spicy tomato-based gravy, with lots of fresh ginger and coriander on top. Best served with naan.
Cook Time
1 hour
30 minutes
Total Time
1 hour
40 minutes
Ingredients
½ cup vegetable oil
500g (just over 1 lb) bone-in lamb pieces, cut into 2-inch pieces
6 garlic cloves, minced
1 inch fresh ginger, minced
2 teaspoons red chili powder
1 teaspoon black pepper, freshly ground
½ teaspoon cumin seeds, crushed
½ teaspoon coriander seeds, crushed
Salt, to taste
½ kg (just over 1 lb) tomatoes, chopped
2 – 3 green chilies
½ cup coriander (cilantro) leaves, chopped
½ teaspoon fresh lemon juice
½ teaspoon fresh ginger, finely sliced (julienne)
Instructions
Heat oil in a karahi, or a wok.
Add the lamb pieces, and fry on high heat until all the meat has changed its color. Make sure to stir every couple of seconds.
Add the minced ginger and garlic, and fry for about 2 minutes untill the flavor of the ginger and garlic is released.
Add the red chili powder, black pepper, cumin seeds, coriander seeds and salt. Fry for a minute, and then add about 1 – 1 ½ cups of water. Bring to a boil, and then turn the heat to low.
Cook the lamb on simmer for about 45 minutes, adding water if needed. The lamb will be about 70% tender by this time. If it isn't, cook for a few minutes longer.
Once the lamb is about 70% tender, turn heat to medium-high and add the chopped tomatoes. Cook on medium high, stirring every minute or so to mash the tomatoes. As the tomatoes cook, they will soften and combine with the spices to form a thick gravy. This process will take about 15 – 20 minutes, and in this time the lamb will also be completely cooked through. If the gravy starts sticking to the bottom of the pan, add a few splashes of water. Remember this is a dry style curry, so there won't be a lot of gravy.
The lamb curry is done when you can see the oil separating from the gravy on the sides, and the lamb is tender.
Turn the heat to low at this stage and add green chilies, chopped coriander (cilantro) leaves, and fresh lemon juice. Let the karahi cook for about 2 minutes more.
Turn off the heat, garnish with sliced ginger, and serve hot with naan.
Nutrition Information:
Yield:
4
Serving Size:
1/4 recipe
Amount Per Serving:
Calories:

446
If you liked this recipe, here are some similar dishes you may enjoy!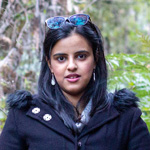 Kiran is originally from Pakistan, and is a food blogger and recipe developer. One of the things that she loves doing is learning about different cuisines and learning how food has shaped culture and history around the world. You can find Kiran on her blog MirchiTales.com as well as on Instagram.