If you like this dish, sign up for our newsletter to get tasty, cultural inspiration straight to your inbox. Where will you travel this week?
 A French classic, Gratin Dauphinois is simple potato gratin that is easy to make and elegant in flavor.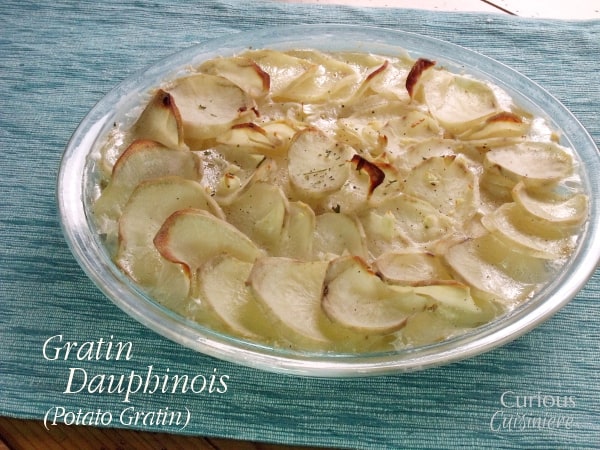 Gratin Dauphinois: A Simple Potato Gratin
Gratin Dauphinois is a traditional French dish with potatoes and cream from the Dauphine region in South-East France.
The word gratin comes from the French verb gratter, which means "to grate" and gratiner, which means "to brown." From these we get a culinary technique in which ingredients are baked or broiled until they develop a deliciously crispy golden crust.
Gratin Dauphinois is made with thinly sliced, uncooked potatoes and cream, which are cooked together slowly in a buttered dish that has been rubbed with garlic. It is an incredibly simple dish, with few ingredients. But, don't be fooled, the flavor (and aroma) will sweep you off your feet.
A Beautiful Combo Of Crispy and Creamy
A Gratin Dauphinois should be crispy on top with a rich, cheese-like layer on the bottom. With the consistency, you'll be surprised that there is actually no cheese in the dish. It's the cream, which, as it cooks, slowly, absorbs into the potatoes and turns into a thick and rich, cheese-like substance.
But a gratin really is all about the potato.
The type of potato you use can change this dish incredibly, and there are heated debates over which potato is the best. In the end it comes down to how you like your Gratin, so don't be afraid to experiment with different types of potatoes. (Think of it like finding the perfect apple for your apple pie.)
Picking A Potato For A Gratin
Starchy potatoes, like Russets, really soak in the flavor of the cream and garlic. These potatoes are soft and fluffy when cooked, so they will break down in the gratin, giving you a creamier result.
Waxy potatoes, like red-skinned varieties, have very little starch, giving a smoother, more firm texture when cooked. They hold their shape better, which will give your gratin more structure.
All-purpose potatoes, like yellow potatoes and Yukon Gold, fall in the middle. These are a little starchy, but not so much that they'll completely break down, creating a nice balance of textures in your gratin.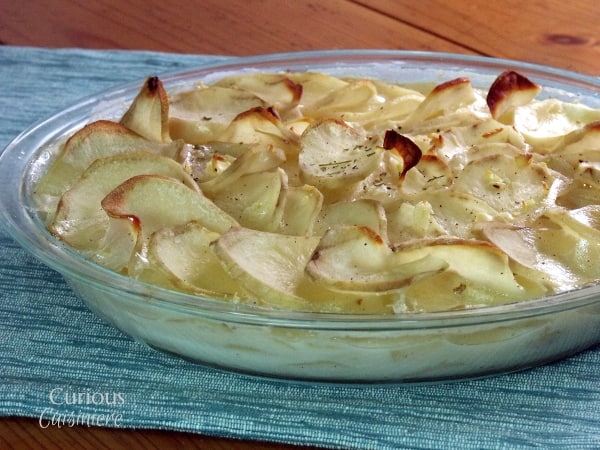 We used a waxy red skinned potato for our gratin, and you can see how the slices held their shape in the finished dish. We still had a creamy gratin, but the potato slices were definitely still firm and distinct. Next time, we will try using yellow potatoes or a mix of russet and red skinned potatoes to try to achieve a dish that is a bit creamier, but still has some texture to it.
Making Our Gratin Dauphinois Recipe
Be sure to scrub your potatoes well before you start working with them, because once cut, peeled and sliced, you won't want to rinse your potatoes. Rinsing gets rid of some of the potato starch, and it's the starch that, during the dish's long cooking time, creates that comforting, creamy texture that we love about Gratin Dauphinois.
The thickness of the potatoes, the way they are layered in the baking dish, and the type of dish will all influence your ending gratin. So, expect a different result each time you make a gratin. But that's ok.
Each will be a bit different, but each will be equally as delicious.
Gratin Dauphinois
A French classic, Gratin Dauphinois is simple potato gratin that is easy to make and elegant in flavor.
Yield: 1 (9 inch) pie pan (or 8x8 baking dish)
Ingredients
1

c

whole milk

or cream

1/2

c

light cream

1

garlic clove,

minced

Pinch

nutmeg

½

Tbsp

unsalted butter,

softened

1 1/2

lbs

potatoes

(Yukon gold, baking, or russet), peeled and sliced into 1/8" thick rounds*

1 ½

tsp

salt
Instructions
Preheat your oven to 325F.

Heat milk, cream, minced garlic and nutmeg in a saucepan until the mixture begins to steam. Remove it from the heat.

While your milk is heating coat a 9" pie pan with butter. Layer the sliced potatoes in the dish, sprinkling salt between the layers.

Pour your heated milk mixture over the potatoes. Place the dish in the oven and bake for 1 hour.

After an hour, increase your oven temperature to 400F and bake for an additional 5-7 minutes, until the top is golden.

Remove the dish from the oven and let stand for 10 minutes before servings.
Notes
*Do not rinse the potatoes after slicing them. You don't want to rinse off the starch.
Nutrition
Calories:
141
kcal
|
Carbohydrates:
21
g
|
Protein:
3.5
g
|
Fat:
5.5
g
|
Saturated Fat:
3.3
g
|
Cholesterol:
18
mg
|
Sodium:
615
mg
|
Fiber:
2.7
g
|
Sugar:
3.5
g
If you liked this recipe, here are some similar dishes you may enjoy!