A fusion of two classic Game Day foods, these Jalapeno Popper Potato Skins bring crisp, creamy, and spicy to a new level!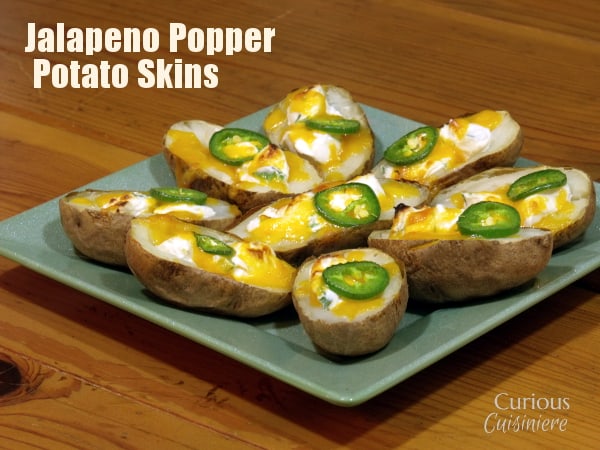 Potato Skins for Game Day Food
We're nearing the end of football season, but that doesn't mean we're slowing down on Game Day foods. Actually, it seems like the beginning and the end of the season are when people get the most excited about hosting parties to cheer on their favorite teams.
When you think of Game Day food, greasy, saucy, spicy, and meaty all come to mind. But, who said you can't have healthier choices that are still fitting for the Big Game?
We love appetizer foods while we watch a game, and these Jalapeno Popper Potato Skins combine two of our favorite Game Day snacks into a lightened-up bundle of spicy, creamy goodness.
How To Choose Jalapenos
When picking out your jalapenos, choose one that feels firm and has smooth, shiny skin.
If you like quite a bit of heat, look for peppers that have a lot of veining. But, if you just want a little heat, choose a pepper that has little to no veining.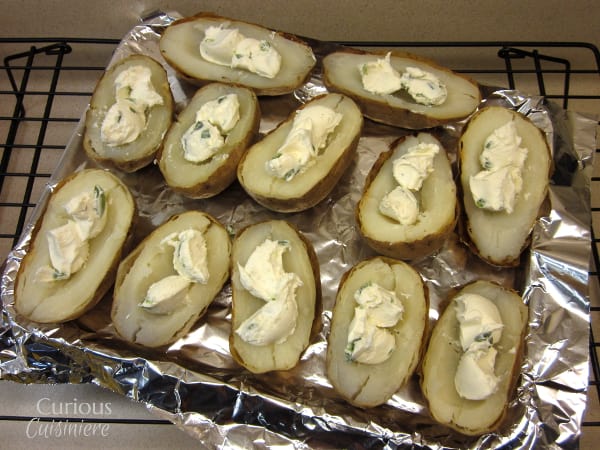 Our Jalapeno Popper Potato Skins Recipe
Most potato skins are brushed with butter and have nearly all of the potato flesh taken out. So, to lighten them up, we've omitted the butter and left a hefty 1/4 inch of potato around the skin to give these guys a bit of substance.
Jalapeno poppers tend to be breaded, fried, and stuffed with cream cheese. That's what makes them tasty, and addicting, and leaving you with that sinking feeling of a grease bomb in your gut.
(Sorry, but you know it's true.)
We've taken the essential parts of the popper (The jalapeno and cream cheese, of course!) and switched them over to their potato skin carrier.
The result is soft and fleshy, roasted potato skins filled with creamy, jalapeno-infused cheese.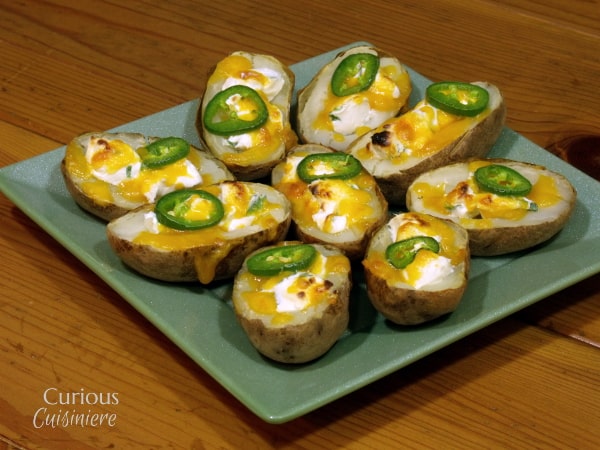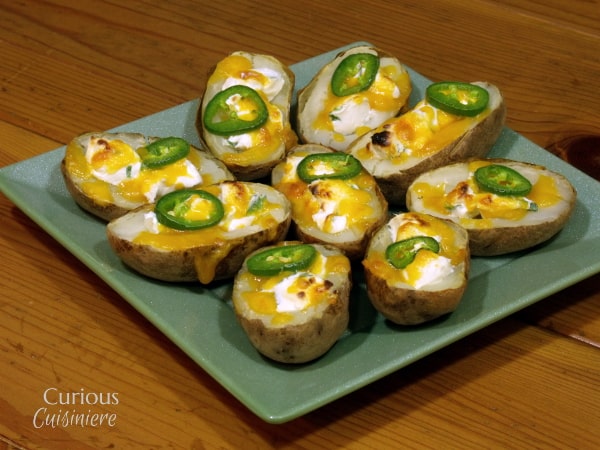 Jalapeno Popper Potato Skins
A fusion of two classic Game Day foods, these Jalapeno Popper Potato Skins bring crisp, creamy, and spicy to a new level!
Yield: 12 potato skins
---
Ingredients
6

small

potatoes

(roughly 1 ½ lbs)

1

medium

jalapeno

4

oz

cream cheese

(1/3 fat is fine), softened to room temperature

¼

tsp

salt

1/8

tsp

onion powder

1/3

c

cheddar cheese,

shredded
Instructions
Preheat your oven to 400F. Wash the potatoes, prick them with a fork, and place them on the wire rack in your oven. Roast the potatoes for 40-45 minutes, until a fork can be easily inserted into the center of the largest potato. Remove the potatoes from the oven and let cool slightly.

While the potatoes are cooling, slice 12 slices of the jalapeno. Set the slices aside. (We will use them to top the skins later.) Dice the remaining jalapeno.

Mix 1 Tbsp diced jalapeno with the cream cheese, salt, and onion powder. Mix well with a fork. Set aside.

Once the potatoes are cool enough to handle, cut them in half, lengthwise. Scoop out a little of the inner potato flesh, leaving ¼ inch around the edges to create a 'boat'.

Preheat your oven's broiler to high.

Fill each potato skin with 2 tsp of the jalapeno cream cheese. Sprinkle each with a little cheddar cheese and top with a jalapeno slice.

Place the filled skins on an aluminum foil-lined baking sheet and broil on high, roughly 6 inches from the heating element, for 2-3 minutes, until the filling is bubbly and golden.

Remove from the broiler and serve immediately.
---
If you liked this recipe, here are some similar dishes you may enjoy!