Our Slow Cooker Coq Au Vin recipe makes this classic French dish of wine braised chicken perfect for an easy weeknight dinner. 
Fancy French Food: Coq Au Vin
Maybe it's the fancy French name, but something about 'coq au vin' conjures images of haute cuisine and fancy restaurants.
It's funny, because this dish actually started out as a frugal dish, the cousin of boeuf bourgignon, which uses beef, rather than chicken. Both dishes were easy ways for peasants in one of France's wine regions to transform cheap, tough cuts of meat.
Coq is the French word for rooster, and coq au vin started as a way to use old roosters who were no longer useful as breeders. Old roosters were tough, and therefore needed a long braising time in an acidic liquid, like wine, to make them tender.
Nowadays, 'rooster with wine' is nearly always 'chicken with wine'. Unless, of course, you happen to have an old breeding rooster around that you're looking to do away with.
Choosing A Wine For Coq Au Vin
Like boeuf bourgignon, coq au vin comes from the Burgundy region of France. Which is why it is most common for recipes to call for a Burgundy wine.
But, Burgundy wine can be some of the most expensive wine in the world. And, we're not in the habit of using expensive wines for cooking.
A red Burgundy wine is made using 100% Pinot Noir grapes. So, when you're drinking a Burgundy, your just drinking a Pinot Noir from the Burgundy region of France.
Now, we could talk all day about how the soil the grapes are grown in and the climate of that particular region will, in fact, make a Burgundy wine taste different than your California Pinot Noir. However, when it comes to cooking, the subtle nuances of the wine tend to get lost among the onions and chicken broth.

So, go grab yourself an inexpensive bottle of Pinot Noir, from France or otherwise, and pour that in your slow cooker.
Save the really good stuff for a lazy evening in front of the fire.
In your glass. Not on your chicken.
Our Slow Cooker Coq Au Vin Recipe
While the traditional coq au vin cooks on the stove or in the oven for hours, we've made the dish a set-it-and-forget-it kind of meal in this slow cooker coq au vin recipe.
With just a little prep work, your slow cooker does the work for you, meaning that you can come home to a tasty,  French meal that's perfect for a cold winter's day..
Slow Cooker Coq Au Vin
Hearty and comforting, this French coq au vin makes braised chicken in red wine easy by using your slow cooker.
Ingredients
2

lb

chicken breast

(boneless, skinless)

8

oz

whole button mushrooms,

cleaned

1

Tbsp

butter,

unsalted

2

onions,

diced

8

cloves

garlic,

minced

4

large

carrots,

sliced

1

bottle (750mL)

Pinot Noir wine

2

bay leaves

2

tsp

thyme

2

tsp

parsley

1 ½

tsp

salt

½

tsp

ground black pepper
Instructions
Heat a small, non-stick skillet over medium-high. Add the chicken breast and sear on all sides, 2-3 minutes, until golden. Remove and place into a 3 quart slow cooker.

Place the cleaned, whole mushrooms over the chicken.

Add the butter to the skillet and melt over medium high heat. Add the onions, garlic, and sliced carrots. Saute until the onions begin to soften.

Add the flour and mix until moistened, 1 minute.

Add the wine and seasonings and bring the mixture to a simmer, stirring until the mixture begins to thicken, 4-5 minutes.

Pour the sauce over the chicken and mushrooms in the slow cooker.

Cover and cook on low for 6-8 hours or high 4-5 hours.
Notes
This recipe from 2016 was updated in January 2018. We made the coq au vin even easier and more flavorful! Enjoy!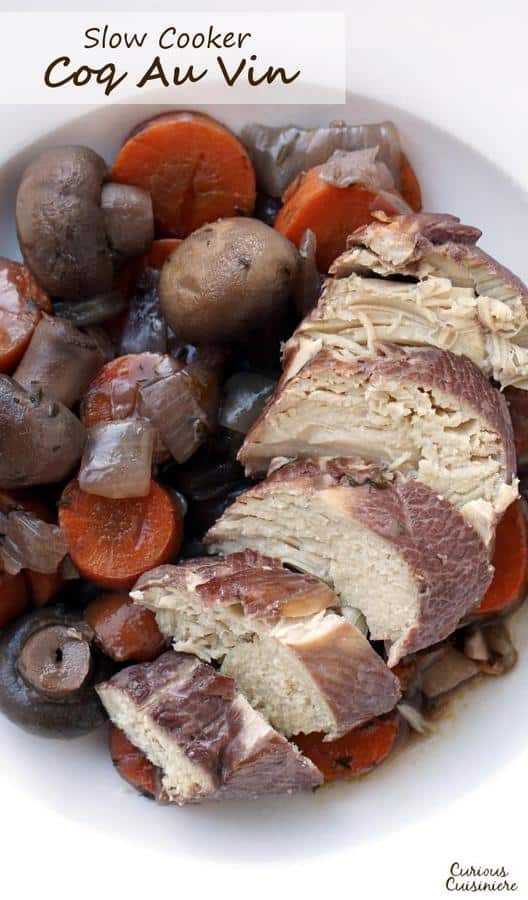 ---
This is one of the recipes from the early days of Curious Cuisiniere. We've updated our pictures since we first shared it, but we've left some originals here, in case you've found us in the past and are looking for that old, familiar image.
 
If you liked this recipe, here are some similar dishes you may enjoy!