Irish Colcannon brings mashed potatoes to a whole new level with flavorful onions and nutritious cabbage. These Irish mashed potatoes are the perfect way to sneak extra veggies into your meal!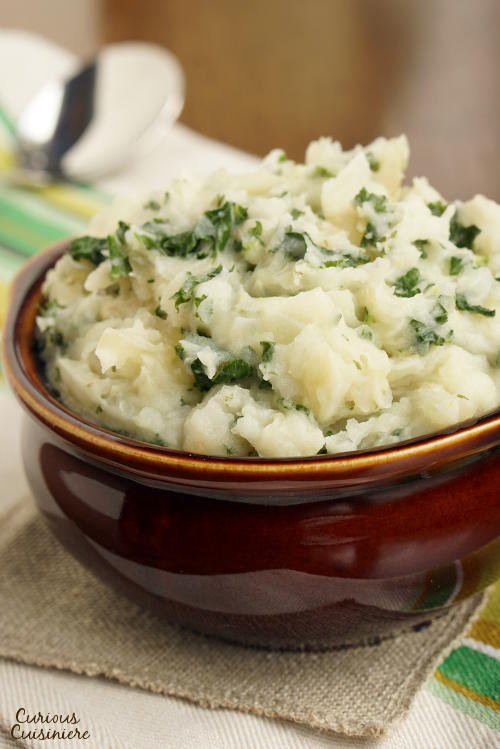 I don't think I could ever tire of classic mashed potatoes. Warm and fluffy, with plenty of butter, and maybe some garlic. They're pure comfort food!
But when we discovered that there was an Irish version that jazzed up the classic we love, of course we had to try it!
Irish Colcannon: A Halloween Dish
While colcannon might not be the first dish you think of when it comes to Halloween, in Ireland it is a traditional dish for the October 31st festivities, along with Barmbrack, a fruited Irish Halloween bread.
In fact Hallowe'en was often referred to as "Colcannon Night" in old Irish towns.
On Colcannon Night, not only did everyone get to indulge in piles of these flavorful mashed potatoes, there was also some fortune telling involved.
You see, it was common for a gold ring to be buried somewhere in the large serving dish of colcannon.
If you were lucky enough to receive the ring along with your portion of colcannon, it was said that you would be married within the coming year!
So, eat your potatoes! You might be getting married!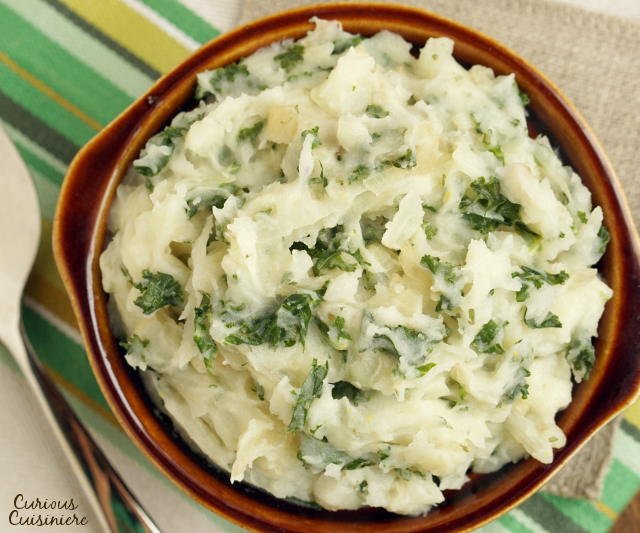 Irish Mashed Potatoes
The name 'colcannon' comes from the Gaelic cál ceannann, meaning "white-headed cabbage".
There are a few things that set this dish of mashed potatoes apart from your ordinary mashed potato side.
First off is the inclusion of onion and cabbage. (Sometimes kale is used as well, or a combination of the two, as we did in our dish.)
If you're not a cabbage fan, don't worry, the cabbage flavor is pretty mild, adding just a hint of something different to a beloved mashed potato side dish.
(And, cabbage is so nutritious, maybe this is the perfect way to sneak it into your diet!)
Not only the veggies, colcannon also includes a bit of milk or cream and butter, which bring the creaminess of these potatoes to a whole new level.
If you're really feeling decadent, serve the colcannon with a pat of butter on top. The butter will melt into the hot potatoes, making it really extra-ordinary.
That is truly the Irish way to serve colcannon!
How To Make Traditional Irish Colcannon
Making colcannon is nearly as easy as making mashed potatoes.
Basically, your're just mixing some sauteed onions and cabbage in with your potatoes after you mash them.
But, don't forget the butter and milk! They are always essential to tasty mashed potatoes, and even more so in this special dish!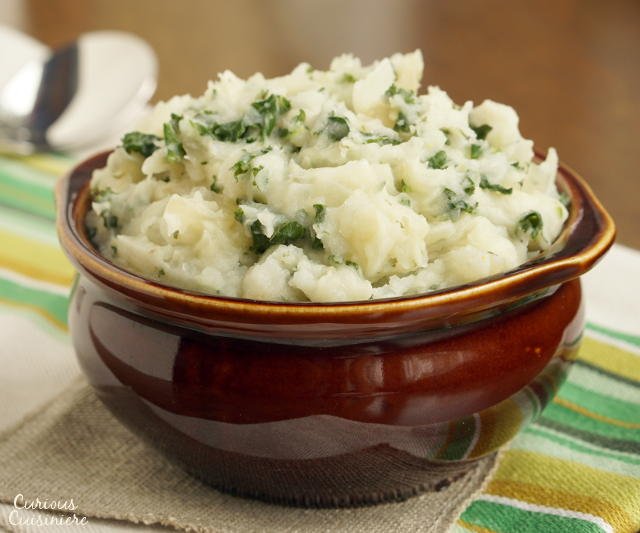 What To Serve With Colcannon
Serve your colcannon as a side dish along some sausages. (Bangers and Mash is a traditional English pub dish, but there's no reason you can't serve bangers with colcannon!)
It's also a great side dish go go with a ham.
You can also serve colcannon along side an Irish stew. (We'd leave the potatoes out of the stew if serving it over these mashed potatoes.)
Irish Colcannon Mashed Potatoes
Irish Colcannon brings mashed potatoes to a whole new level with flavorful onions and nutritious cabbage.
Ingredients
2

lb

potatoes,

peeled and cut into 1" chunks

4

Tbsp

unsalted butter

(divided)

1

onion,

quartered and sliced

4

c

green cabbage

(or kale), shredded

¼

- ½ c

milk

(or heavy cream), at room temperature

¼

tsp

prepared yellow mustard

2

tsp

parsley,

dry

3/4

tsp

salt

¼

tsp

ground black pepper
Instructions
Place the peeled and cut potatoes in a large saucepan and cover with water. Cover the pan and bring the water to a simmer. Cook the potatoes until soft when pricked with a fork, 20 minutes.

While the potatoes are cooking, heat 1 Tbsp butter in a saute pan. Add the onion and saute over medium heat until soft, 3-5 minutes.

Add the cabbage and ¼ c water to the onions. Cover pan and reduce the heat to low. Steam the cabbage for 5-7 minutes, until tender. Remove the saute pan from the heat.

Drain the cooked potatoes.

Add 3 Tbsp of butter and ¼ c milk (or cream) to the hot potatoes. Using an electric hand mixer or a potato masher, m

ash the potatoes with the butter and milk, until fluffy. (If needed, add additional milk to get the potatoes to a good consistency.)

Add the cabbage and onion mixture, mustard, parsley, salt, and pepper to the potatoes. Mix well.

Taste the colcannon and adjust the salt and pepper as desired.

If desired, serve the colcannon topped with a pat of butter.
Nutrition
Calories:
127
kcal
|
Carbohydrates:
27.8
g
|
Protein:
4.1
g
|
Fat:
0.5
g
|
Cholesterol:
1
mg
|
Sodium:
329
mg
|
Fiber:
6.2
g
|
Sugar:
6.8
g
---
This is one of the recipes from the early days of Curious Cuisiniere. We've updated our pictures since we first shared it, but we've left some originals here, in case you've found us in the past and are looking for that old, familiar image.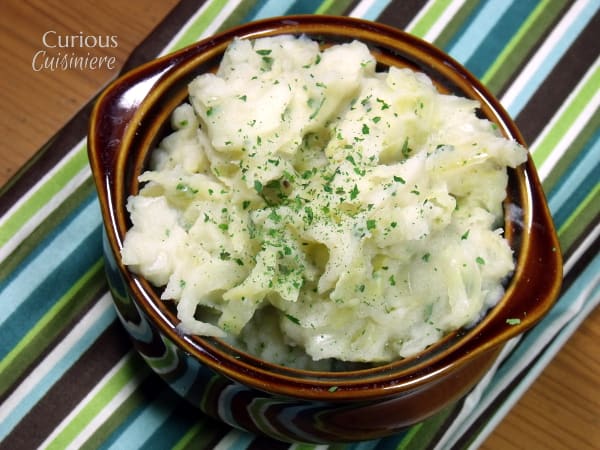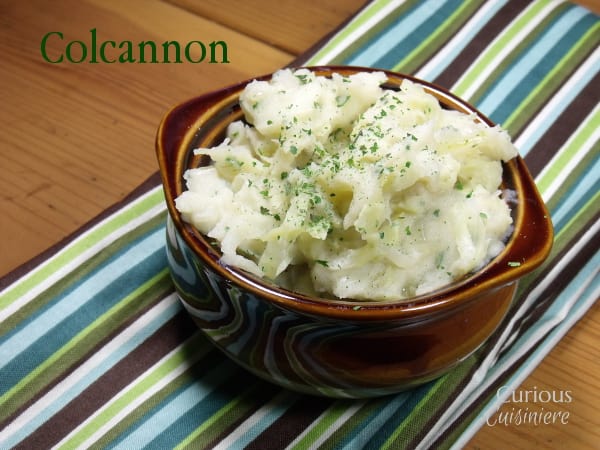 ---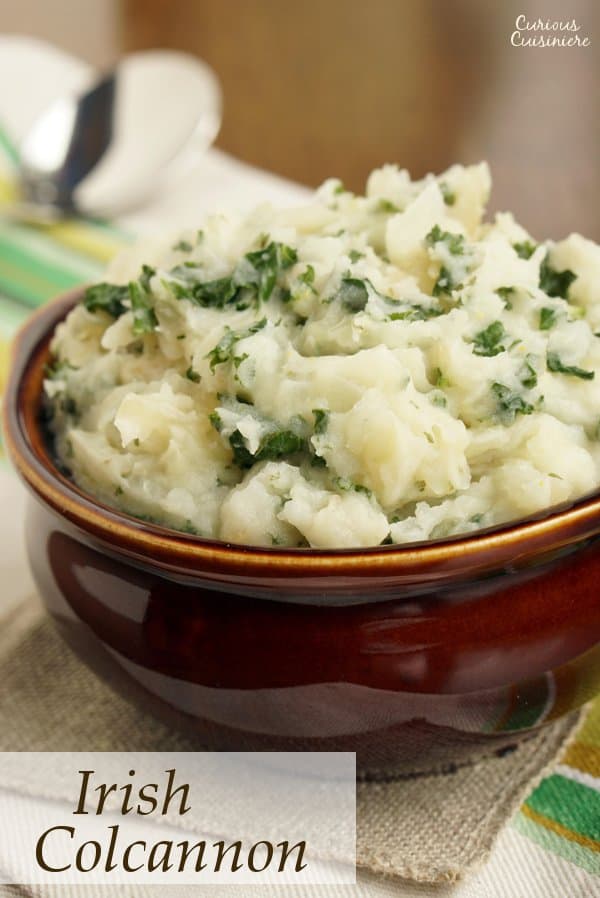 If you liked this recipe, here are some similar dishes you may enjoy!