Our Baked Shrimp Toast, crispy toast, topped with a warm garlic and herb shrimp spread,  are a lighter version of the classic dim sum appetizer bites.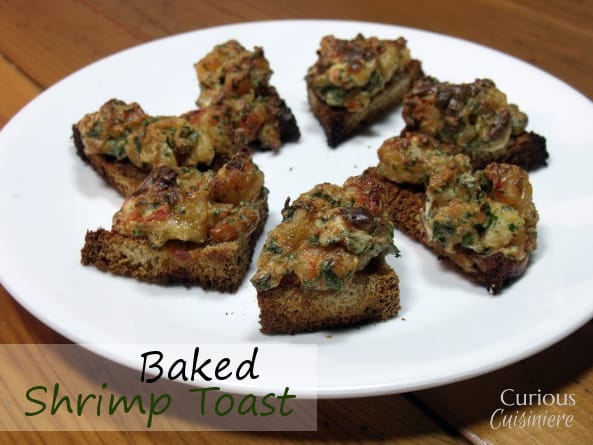 Have You Tried A Dim Sum Restaurant?
When I was quite young, my family happened into one of our favorite Asian restaurants on a non-characteristic night for us.
Instead of the Asian buffet we were expecting, after being seated we were soon greeted by waiter after waiter who circled the dining room with carts of food. Each would stop, table-side, for us to choose if we wanted their particular dish as a part of our meal.
None of the waiters spoke English very well, which lead to an incredibly interesting meal of many new flavors we had never tasted before.
It wasn't until years after this experience, the restaurant long closed, that we finally realized what a rare and authentic evening we had happened upon. Sad, because if we had known sooner, we probably would have made a point to go back and learn more about the food and culture.
Turns out, this particular restaurant was known for doing dim sum on particular nights of the week.
Dim sum is a style of Cantoneese cuisine made up of bite-sized or individual portions of food. Almost like what we in the States would call an appetizer party.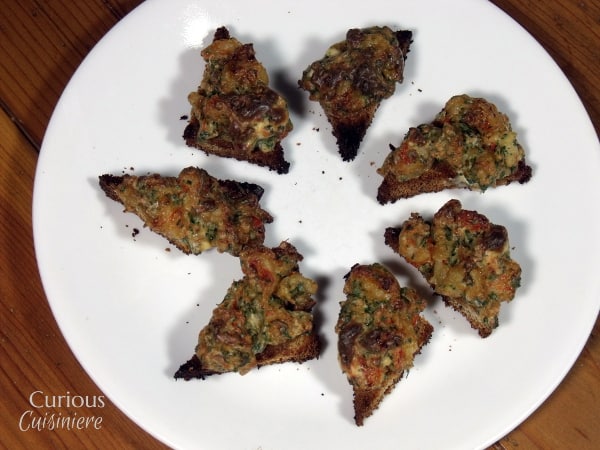 Baked Shrimp Toast
Traditional dim sum shrimp toast are small triangles of bread that are brushed with beaten eggs and then coated in a batter containing bits of minced shrimp. These battered bread pieces are then deep-fried to crispy, appetizer perfection.
If I ever see these babies on a menu, I am going to have to try them, deep-fried goodness and all, just for the sake of comparison.
Of course, we decided to forgo the deep frying and make baked shrimp toast.
(Did you expect any less?)
While they're not crispy, deep fried, the crisp toast gives quite a satisfying crunch that to compliments the soft, warm cheese and herb shrimp topping.
These baked shrimp toast appetizer bites would make a fun cultural addition to any party appetizer spread, or a nice change from egg rolls or crab rangoon to satisfy that crunchy craving with your next Asian meal.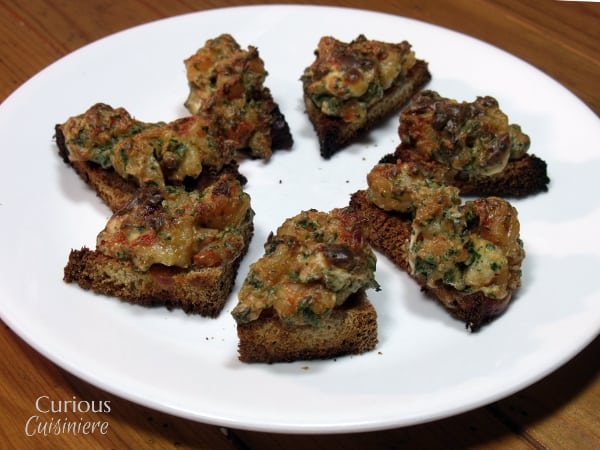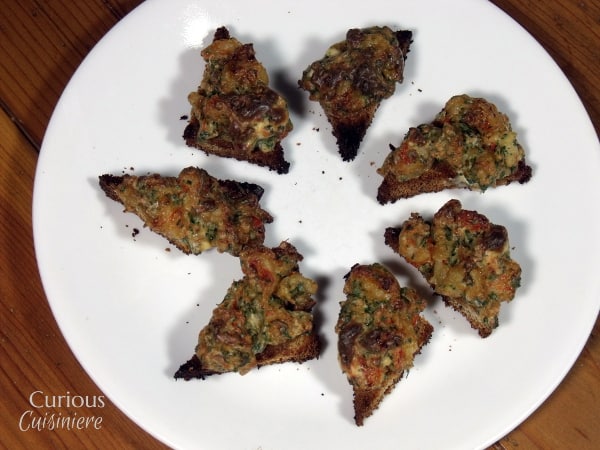 Baked Shrimp Toast
For best flavor, let your shrimp marinade for 1 hour before making your toasts.
Yield: 16 appetizer bites
---
Ingredients
½

lb

raw shrimp,

peeled and deveined

2

garlic cloves,

minced, or 1/2 tsp garlic powder

2

tsp

sesame oil

1

tsp

soy sauce

4

tsp

parsley,

dry

1

tsp

ground ginger

2

oz

cream cheese,

softened to room temperature

4

slices

of bread

(wheat or rye works well) quartered
Instructions
For The Shrimp Topping
Finely chop the peeled shrimp.

In a small bowl, mix together garlic, oil, soy sauce, parsley, and ginger. Add the cut shrimp. Cover and let this mixture marinate in the refrigerator for 1 hour. (At the same time, remove your cream cheese from the refrigerator to ensure it is soft enough for the next step.)

When you are ready to make the toasts, preheat the oven to 375F.

Mix softened cream cheese with the shrimp mixture.
For The Toasts
Place quartered bread slices on a baking sheet and toast in the oven for 3-5 minutes, until lightly crisp.

Remove toast from the oven and increase oven temperature to 475F.

Top the toast with a heaping spoonful of the shrimp mixture. Return the toasts to oven and bake 15-20 minutes, until shrimp is opaque and cooked through.

Serve warm.
---
If you liked this recipe, here are some similar dishes you may enjoy!