There is more than meets the eye to this chilled, Spanish soup. Gazpacho is a refreshing and flavorful chance to serve up summer in a bowl!
What's the big deal with gazpacho anyway?
For years, I have had an aversion to gazpacho.
I had never even tried it. But two things in particular just seemed out of place:
It's a cold soup.
It's pureed veggies.
Why those things kept me so vehemently away, I can't tell you. But, gazpacho had just taken up that 'bad' corner in my mind.
This summer, I've started seeing gazpacho everywhere. Restaurants, online, at work. It's like it has been following me, taunting me, telling me to give it a try. So, I finally gave in and tried the gazpacho we have at work, which we just so happen to get from The Milwaukee Soup and Stock Market.
Holy moly and hold the phone! This is what I had been missing?!
Classic Gazpacho: more than just "cold soup"
Think salsa, minus the spice. Think the most juicy summer salad you can imagine. Think…
Well, really just give it a try.
After having my taste buds blown away by the Soup Market's gazpacho, I knew I had to try my hand at making some myself. And while they add their own flair to their soup, I decided to go strictly classic.
Traditional Spanish Gazpacho
A bit of research lead me to the traditional Spanish gazpacho ingredients. The only one that I left out was the stale bread that is used to thicken the soup and give it more body. Even without the bread, this soup was deliciously smooth, with just enough thickness from all of the veggies.
Fresh veggies are key here, since their flavor IS the soup. If you use tasteless veggies, you will have tasteless soup. So choose your veggies wisely!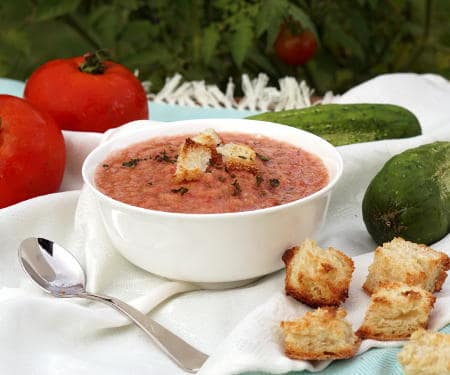 Classic Spanish Gazpacho
A classic Spanish gazpacho: it's like all of your garden goodies bundled into a of cool and refreshing spoonful.
---
Ingredients
1

Tbsp

olive oil

1

Tbsp

red wine vinegar

3

Roma tomatoes,

quartered

½

c

cucumber,

diced

2

garlic cloves

¼

green pepper

¼

onion

¼

tsp

salt
Instructions
Combine all ingredients in a blender and blend until the mixture moves. The soup should have some texture to it, so don't overdo the blending.

Taste the soup and adjust the salt and vinegar to your desired taste.
---
Recipe Notes
Fresh ingredients are key to getting a gazpacho with great flavor. Flavorless veggies will result in a flavorless soup.
---
This is one of the recipes from the early days of Curious Cuisiniere. We've updated our pictures since we first made it, but we've left the original images here as a fun throwback and shout out to how far we've come. Enjoy!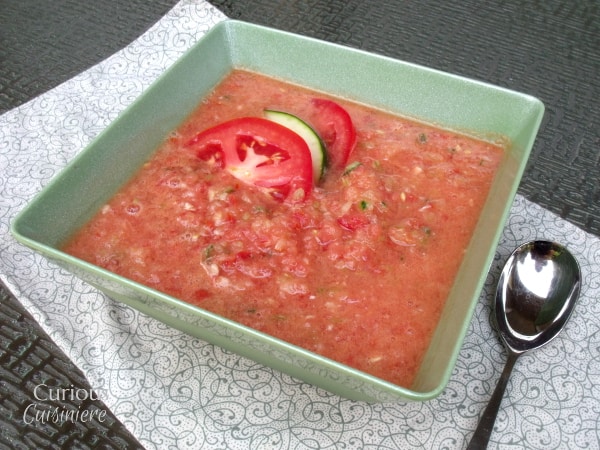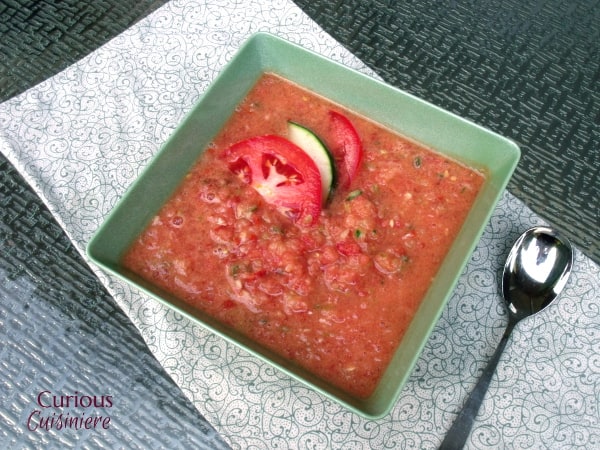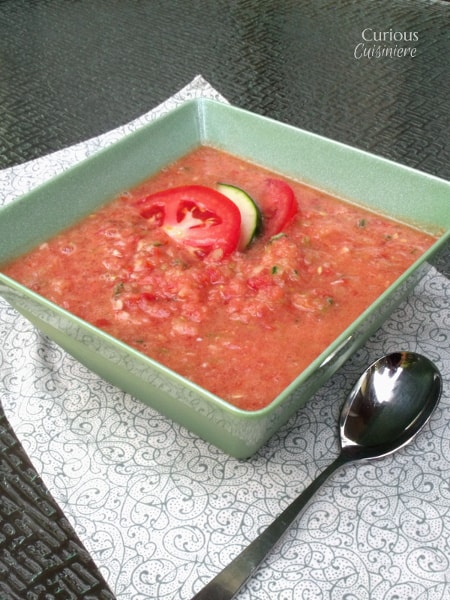 If you liked this recipe, here are some similar dishes you may enjoy!