Light and crispy homemade churros are a perfect treat dipped in a rich, dark drinking chocolate.
Tasting Authentic Spanish Churros
If you've traveled to Spain, you've probably run into the classic Spanish breakfast of Churros con Chocolate – Churros with Chocolate. A stiff batter is deep fried, sometimes sprinkled with cinnamon sugar or powdered sugar, and then served with a warm drinking chocolate for dunking. It's the perfect way to start the morning!
Making Homemade Churros
Churros are incredibly simple to make – only three ingredients! There is a special tool for piping them into the hot oil called a churrera, however, if you don't have one, don't despair. Instead of a churrera you can use a heavy duty piping bag and a large star piping tip, size 1M.
Please do make sure you have one of these two pieces of equipment for making your churros.
We experimented with all manner of tips and other ways of shaping our churros and found out how essential that 1M, large star size really is. That large star makes churros of the perfect thickness so that they cook through and are perfect for dipping. The ridges on the churro are so much more than just for decoration. They actually help the churro to cook properly, without exploding.
Why Do Churros Explode?
You heard us right.
If you Google "why do my churros explode," you'll see what we mean. And, after our first churro experience turned into a hot mess of exploded oil and churro dough, you'll want to trust us. We're just trying to save you from the oil burns and potential grease fires.
You see, the ridges on the churro create more surface area, allowing the churro to cook more evenly. Without the ridges, the outside of the churro cooks much more quickly than the inside, creating a hard shell. Then, once the inner batter starts to heat up and steam, there's nowhere for the steam to go. So, it forces its way out the only way it can. BANG!!
Just be glad we did the dirty work for you.
Our Homemade Churro Recipe
The churro dough is an incredibly stiff batter, which is why, if you're using a piping bag, you need to be sure it is a sturdy one. The batter will burst through the seam of those disposable piping bags. The churro dough is similar to a choux pastry dough in that it is made by adding flour and salt to boiling water. You will find some recipes that give you a softer dough, these recipes use butter and eggs in the dough, basically creating a choux pastry (think eclairs or cream puffs) that you are making your churros out of. We tried the choux pastry style and, while the dough is softer and a bit easier to work with, we found the texture of the end product to be quite different than we were looking for in a churro.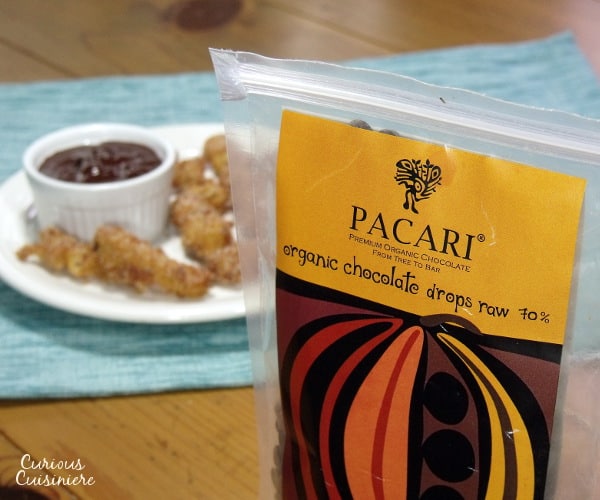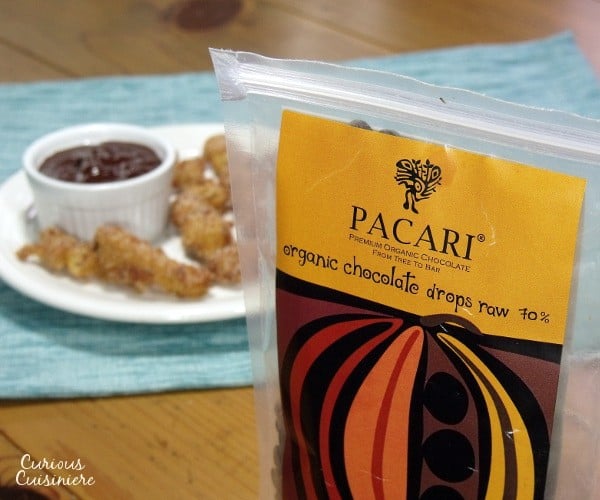 Serving Traditional Churros
It is traditional to serve churros with a thick, hot chocolate, just thick enough to dunk your churros into, but thin enough that you can drink whatever is leftover. For us, this was the perfect opportunity to try out some high quality Pacari chocolate we have been looking for an excuse to use.
Pacari is a line of premium, organic chocolate. But, not only that, they are the first single-origin organic chocolate made entirely in Ecuador. We had the pleasure of tasting and learning about Pacari at this year's Food and Wine Conference, and we fell in love with the rich flavor and smooth texture of their dark chocolates.
We came home with a bag of their Organic Chocolate Drops Raw 70%, which, to our tastes, are the perfect balance of dark, rich chocolate and light sweetness.
To create the hot chocolate, we simply melted the drops over low heat and combined the melted chocolate with a little milk until it reached the thinness we were looking for. It is a perfect chocolate to pair with the warm, crisp on the outside, tender on the inside, cinnamon-y churros.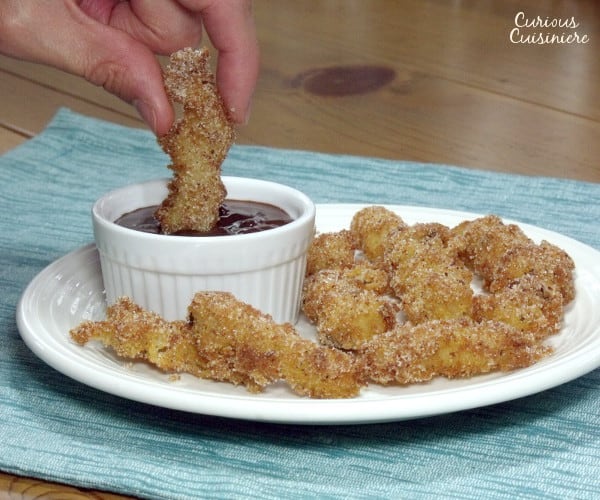 Churros con Chocolate
---
Ingredients
For the Cinnamon Sugar
2

Tbsp

sugar

½

tsp

cinnamon
For the Chocolate
4

oz

dark chocolate,

chopped

3-4

Tbsp

milk
Instructions
Heat water and salt to boiling in a small saucepan over high heat. Once the water begins to boil, remove the pan from the heat and add the flour. Stir with a sturdy, wooden spoon until the flour is incorporated. Switch to a flexible spatula and stir, pressing the dough against the sides of the pan until a smooth and shiny, stiff dough forms, 2-3 min. Set the dough aside to cool slightly.

Fill a medium saucepan with 3/4 - 1 inch of oil. (The high sides of a saucepan will help reduce the amount of oil splatter.) Heat the oil over medium high heat to 360-375F.

When the oil has nearly reached temperature, fill a sturdy piping bag, fitted with a 1M, large star, tip (or a churrera) with the warm dough.

Once the oil has reached temperature, pipe the dough into the hot oil, using a knife to sever each churro. You can pipe more than one churro into the oil at a time, but don't overcrowd them. Overcrowding will cause the temperature of the oil to go down. We want to keep the oil right around the 360-375F mark.

Fry each churro for roughly 2 minutes per side, flipping halfway through when the bottom starts to get nice and golden.

Once golden, remove the churros from the hot oil with a slotted, metal spoon. Set them to dry on a paper-towel lined plate. Continue frying the remainder of your batter.

In a small bowl, mix together cinnamon and sugar. Once the churros are cool to the touch, sprinkle them with the cinnamon sugar mixture.

In a small saucepan, combine chocolate and milk. Heat over low heat until the chocolate begins to soften. Turn off the heat and mix the chocolate and milk to create a smooth mixture. Add additional milk if you would like a thinner dipping chocolate.

Serve the churros immediately with the dipping chocolate.
---
Recipe Notes
If you would like to prepare the churros ahead of time, make and pipe the batter onto parchment, lined baking trays and then freeze the batter. Once the churro batter has frozen solid, you can package them in an airtight container with layers of wax paper in between.
The batter will stay good frozen for several weeks.
To fry, drop the frozen churros into the hot oil and fry for 2 1/2 to 3 minutes per side, flipping halfway through when the bottom starts to get nice and golden.
---
DISCLOSURE: This post contains Amazon affiliate links. These links are provided to help you find some of the more specialty products we mention in the recipe. If you make any purchase clicking through our links, we receive a small commission from Amazon, at no extra cost to you. Thank you for supporting Curious Cuisiniere!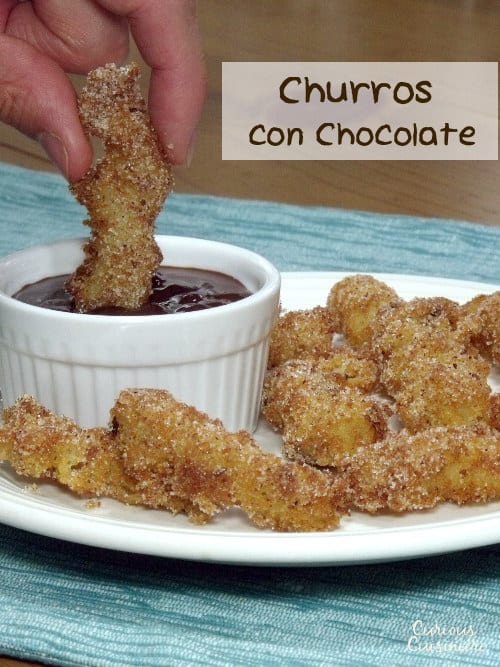 If you liked this recipe, here are some similar dishes you may enjoy!