This vegetable-heavy, braised Chicken Cacciatore is delicious over pasta, rice, or even mashed potatoes.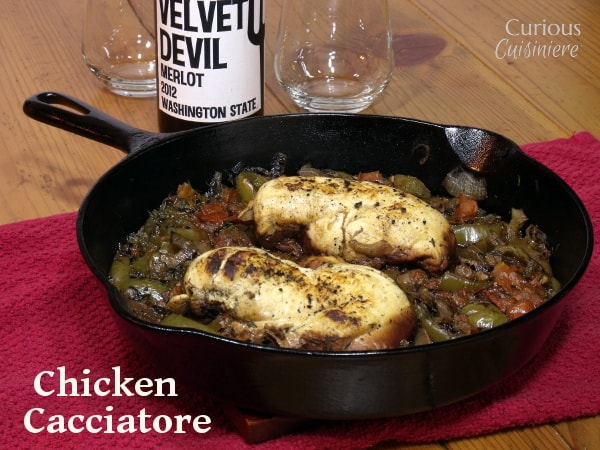 Chicken Cacciatore
Cacciatore means 'hunter' in Italian. The term "cacciatore" is used to refer to a dish that is cooked 'hunter style' meaning that meat is braised in tomatoes, onions, peppers, and herbs. The long, slow simmer of the braise yields tender, flavorful chicken.
It's no wonder this hearty dish was a hunter's favorite!
We've pumped up the veggies in this braised Chicken Cacciatore, making a hearty and healthy dish that is delicious over pasta, rice, or even mashed potatoes.
And, it goes great with a glass of Merlot.
Chicken Cacciatore Wine Pairing
For today's pairing, we picked up a Washington State Merlot called The Velvet Devil, produced by Charles Smith Wines. We found the wine to be incredibly smooth and fruity with a light acidity. The wine is a blend of mostly Merlot with just a hint of Cabernet Sauvignon, which gives it a bit of tannin on the front end that is nicely smoothed over by the acidity of the Merlot.
Generally speaking, Merlot is near the middle of the red wine spectrum, making it an incredibly versatile wine for pairing with food. Typically you would pair a Merlot with grilled meats, beef, and flavorful, hard cheeses. However, Merlot also pairs well with the tomatoes in classic Italian dishes and the savory flavors of roasted chicken and mushrooms.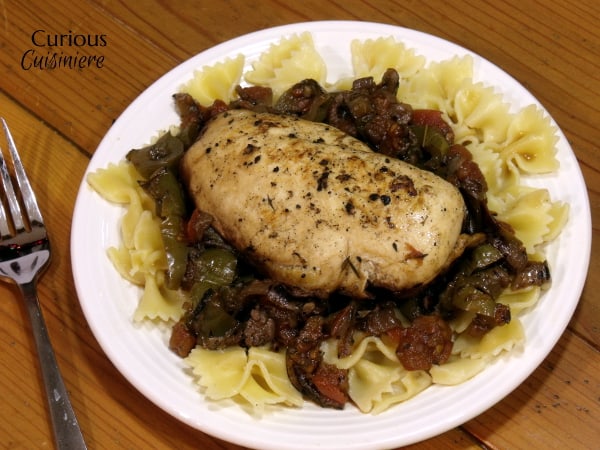 The acidic finish in The Velvet Devil Merlot made us think of Italian food, and a dish we hadn't had in a while suddenly came to mind: Chicken Cacciatore.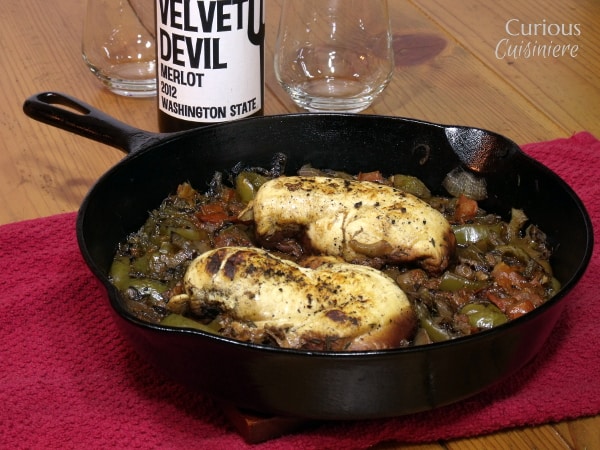 Chicken Cacciatore
This vegetable-heavy, braised Chicken Cacciatore is delicious over pasta, rice, or even mashed potatoes.
---
Ingredients
1 ½

tsp

oil or unsalted butter,

divided

1

tsp

salt

½

tsp

ground black pepper

1 1/2

lbs

chicken breast

2

onions,

quartered and sliced

4

garlic cloves,

minced

2

green peppers,

quartered and sliced

1

bay leaf

1 ½

tsp

thyme

½

c

medium bodied red wine

(Merlot works well)

4

tomatoes,

diced
Instructions
In a large cast iron skillet or Dutch oven, heat ½ tsp oil. Season the chicken breasts with salt and pepper and place them in the hot skillet. Sear the breasts on all sides over high heat, 1-2 minutes per side, until golden. Remove the chicken to a plate.

Heat 1 tsp oil in the skillet and add onions and garlic. Reduce the heat to medium and sauté the onions 3-5 minutes, until golden. Add green peppers and continue to sauté 2-3 minutes, until the peppers begin to soften.

Add the bay leaf and thyme to the vegetable mixture.

Pour the wine into the skillet and scrape up any bits that are stuck to the pan.

Add the diced tomatoes with any of their juices.

Place the chicken back into the pan. Cover and reduce the heat to medium low. Simmer for 1 hour.

Serve the Cacciatore over pasta, rice or potatoes.
---
---
Take a look at these great wine resolutions!
David of Cooking Chat started this event in June of 2014, and every month since then this group of wine and food lovers have had a great time! For more background, check out the original post announcing Wine Pairing Weekend. You can see the full list of past and upcoming #winePW events here.
If you liked this recipe, here are some similar dishes you may enjoy!