Insalata Caprese (known in the States as a Caprese Salad) is a traditional Italian appetizer. Juicy tomatoes, fresh basil, and soft mozzarella cheese make this salad a summer favorite.
Simple Summer Caprese Salad
Caprese Salads are just beautiful.
Wouldn't you agree?
Just look at how the salad shows off the colors of the Italian flag!
Yes, they are simple. But they are so fresh and bright. They just sing of summer!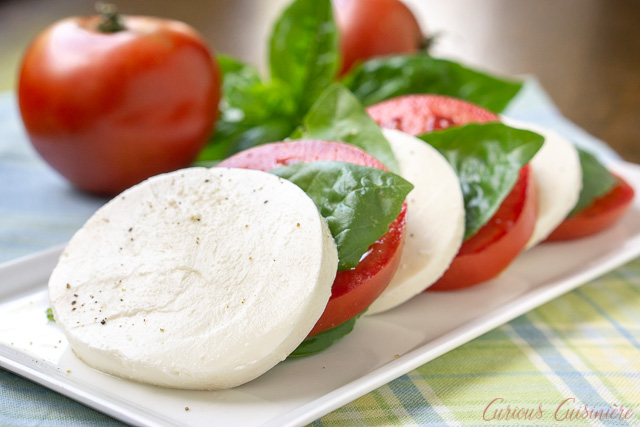 Why Is It Called Caprese Salad?
Insalata Caprese, as you'll find this salad called in Italy, has its origins from the island of Capri, south of the coast of Naples.
The name, in fact, literally translates to "salad of Capri".
The first "Salads of Capri" were probably created to use a soft local cheese, rather than the mozzarella that is commonly used today.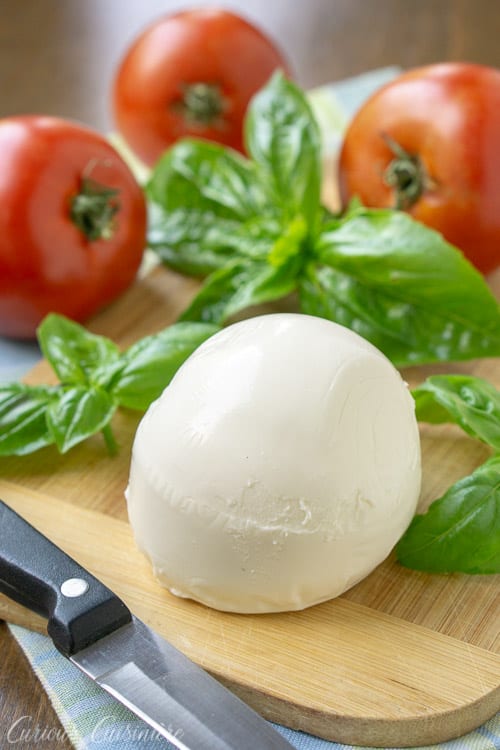 Italian Insalata Caprese Appetizer
In the States, you'll often find a caprese salad drizzled with some balsamic vinegar and served with some toasted bread as a light lunch.
However, this is not the Italian way.
The traditional Italian way of eating insalata caprese is as an antipasto, or starter, to your meal.
With garden basil, juicy tomatoes, fresh mozzarella cheese, this salad is bursting with flavor and texture. All you need is a drizzle of good quality extra virgin olive oil to bring this salad together and make the creamy flavors of the mozzarella really stand out.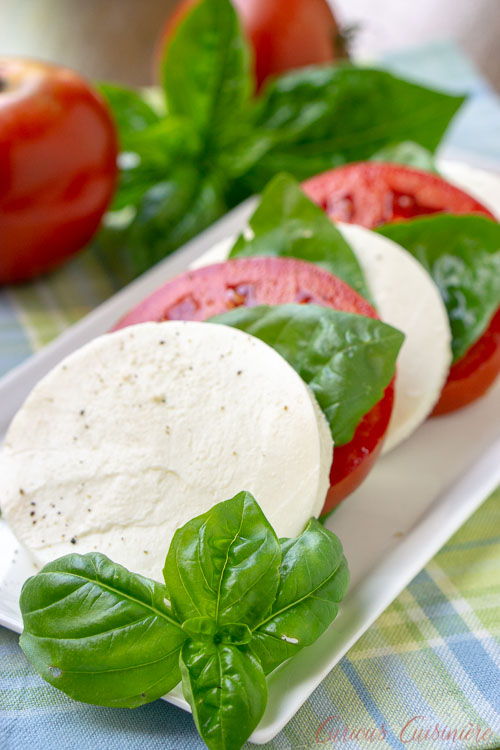 How Long Can You Keep Caprese Salad?
The idea of a caprese salad is fresh ingredients, so is makes sense that it is best to eat a caprese salad right after it is made, or at least within 24 hours.
If you need to store it, it will stay good in an air tight container for 2-3 days.
But, if you do need to prepare it ahead of time, we would recommend slicing all the ingredients and keeping them separate in the refrigerator. Then you can plate it just before serving.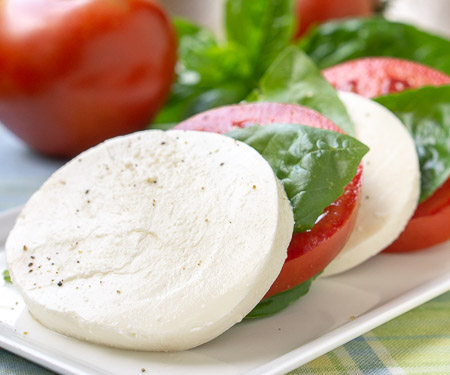 Insalata Caprese (Caprese Salad)
Insalata Caprese (Caprese Salad) is a traditional Italian appetizer made with simple and fresh ingredients.
Keyword:
basil, cheese, tomatoes
---
Ingredients
1

oz ball

fresh mozzarella cheese

1

large, firm

tomato

12-15

leaves

fresh basil

1

tsp

Extra Virgin Olive Oil

Salt and pepper
Instructions
Slice the tomato and mozzarella into rounds, thick enough to hold together, but thin enough that they're not unwieldy.

On a plate or serving platter, alternate layers of tomatoes and cheese, placing a basil leaf between.

Drizzle the whole salad with a little oil and dust with some salt and ground black pepper.

Serve as a starter with some good Italian bread.
---
---
This is one of the recipes from the early days of Curious Cuisiniere. We've updated our pictures since we first shared it, but we've left some originals here, in case you've found us in the past and are looking for that old, familiar image.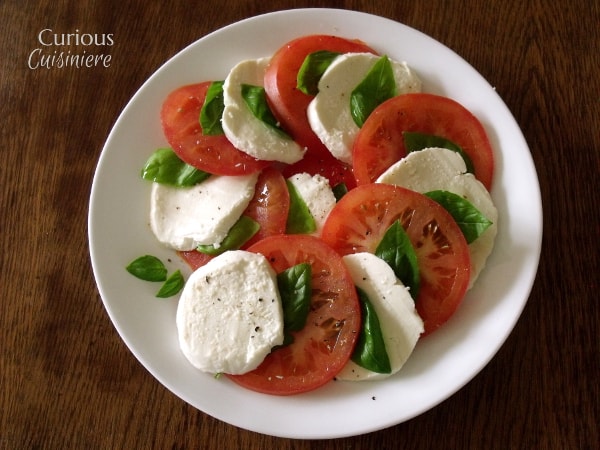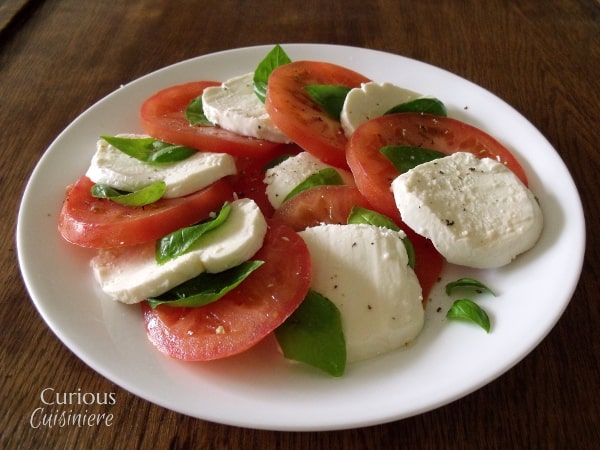 If you liked this recipe, here are some similar dishes you may enjoy!