While it may sound odd, Filipino Banana Ketchup is a delicious condiment that is sweet and tangy, and remarkably similar to tomato ketchup in flavor. You might just forget there are bananas in there!
What Is Banana Ketchup?
If you sit down for lunch in the Philippines, you might want to look twice before you reach for the nearest red condiment to add to your fries.
Most people outside of the Philippines, are not familiar with this red, tomato ketchup alternative. But, in the Philippines, people love their banana ketchup.
As the name implies, this red, sweet and tangy condiment is, in fact, made from bananas. But, if you were to taste it, you'd probably never guess.
Why Bananas In Ketchup?
No one really knows how banana ketchup actually came about.
Some say that as Americans began traveling to the Philippines, they introduced the locals to canned goods and American condiments, like ketchup. Since tomatoes aren't really a big crop in the Philippines, they decided to start making a similar condiment out of what they had: bananas.
Others claim that (like so many food items) banana ketchup was a product of World War II, when American soldiers in the Philippines ran out of ketchup, they were forced to make an alternative out of the bananas they had readily available.
Still others say that banana ketchup actually started as a traditional Filipino banana sauce that has been widely used for ages. Once Americans, with their affinity for ketchup, started traveling to the Philippines, the locals died their banana sauce red and started calling it "banana ketchup" to appeal to the tourists.
And yes, most versions of banana ketchup that you will pick up from the store are in fact died red. No trace of tomato, what-so-ever is in the tradition version of this "ketchup".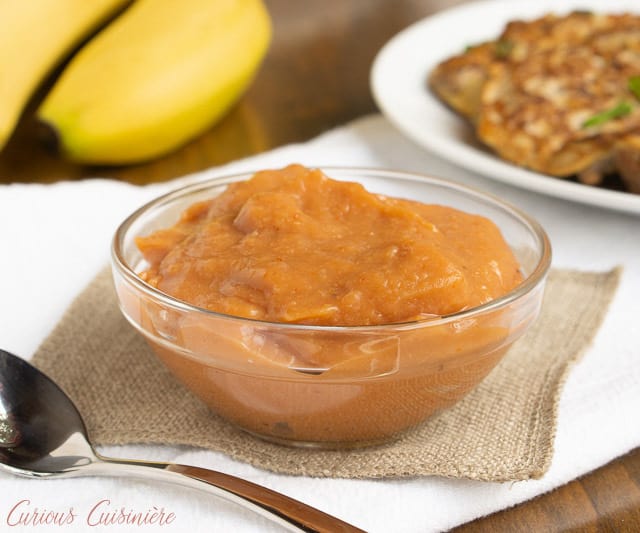 Our Filipino Banana Ketchup Recipe
For our version of banana ketchup, we did decide to add a small amount of tomato paste. This allows us to dye the ketchup naturally, and gives the flavor of the ketchup a hint of a familiar, tomato flavor.
We were honestly quite skeptical about this continent.
I mean, really, tomatoes and bananas just really don't sound like they belong together.
But, we forged ahead.
And, let me tell you, we were pleasantly surprised.
Actually, we became slightly addicted to this sweet and tangy sauce.
It tastes surprisingly like tomato ketchup in the sweet and tangy categories, there's just a lack of bright, acidic, tomato-ness. But, honestly, we didn't really miss it.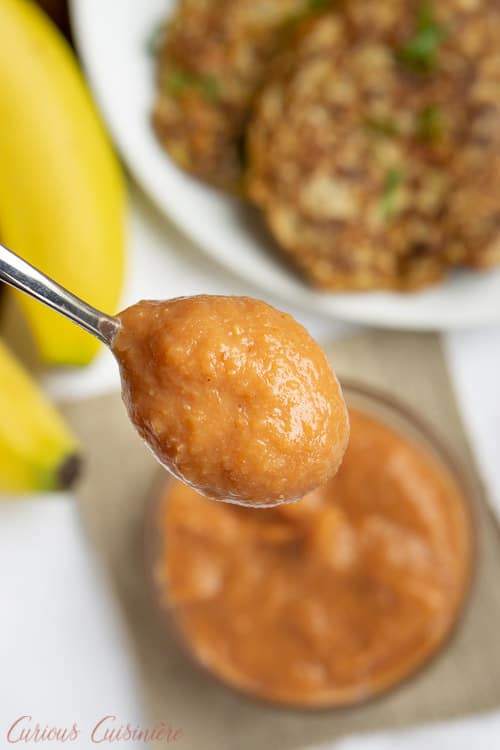 How To Use Banana Ketchup
Now, here comes another interesting part.
Traditionally, banana ketchup is used as a condiment on Filipino beef omelettes and garlic fried rice.
Back up a minute.
So, we're putting bananas on our eggs and fried rice?
We weren't sure about it either.
But, even Tim (who can be a bit picky about his sweet and savory combos) had to agree that these combos were on to something.
So, if you like ketchup, you need to give this banana ketchup a try.
Use it on your eggs, your rice, or even your fries.
As strange as it seems, this works. It really works!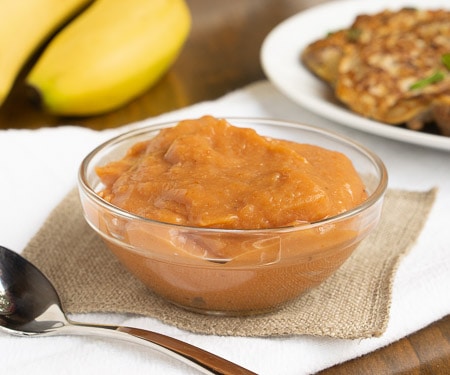 Filipino Banana Ketchup
Yield: 1 ½ c banana ketchup
Servings
:
12
(2 Tbsp) servings
---
Ingredients
1

Tbsp

oil

2

cloves

garlic,

chopped

½

small

onion,

diced

1

tsp fresh

ginger,

chopped

2

bananas,

mashed (roughly 1 c)

¼

c

tomato paste

¼

c

brown sugar

½

c

white vinegar

½

c

water

⅛

tsp

cayenne powder
Instructions
In a medium sauté pan, heat oil over medium heat. Add the garlic, onion, and ginger. Sauté for 5 minutes, until soft and fragrant.

Add the mashed bananas, tomato paste, and brown sugar. Mix well.

Add the vinegar, water, and cayenne powder. Mix well and bring the mixture to a simmer. Reduce the heat to medium low and simmer for 10 minutes, until thickened slightly.

Remove the pan from the heat and let the mixture cool slightly. Transfer the cooled mixture to the bowl of your food processor or blender. Blend until smooth.
---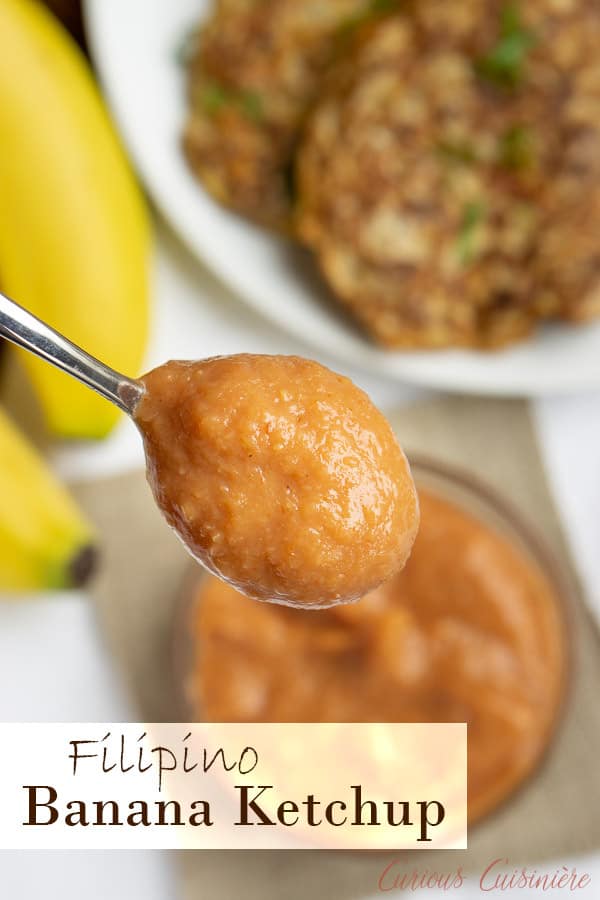 If you liked this recipe, here are some similar dishes you may enjoy!