Baked Chiles Rellenos are an easy way to enjoy Mexican stuffed peppers without all the hassle of frying. We stuff our peppers with chorizo, rice, and melted cheese, making this a tasty and simple dinner recipe!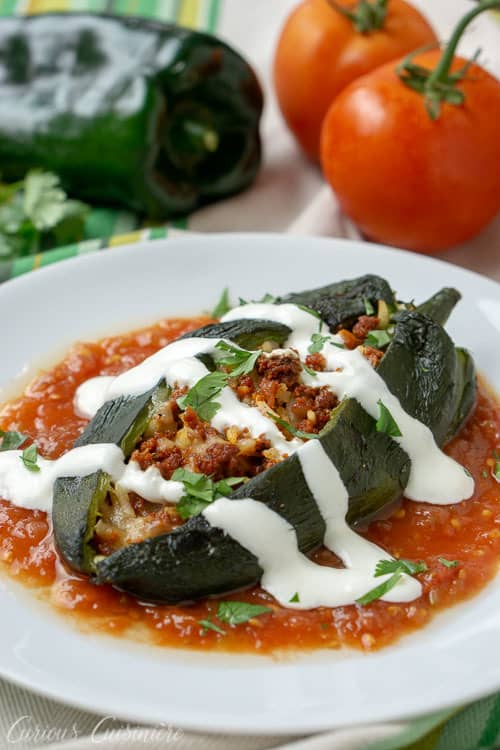 DISCLOSURE: This post was sponsored by V&V Supremo®. As always, we only share quality products that we love with our readers. All opinions are our own.
What Are Chiles Rellenos?
At its most simple, chiles rellenos are Mexican stuffed peppers.
They are typically poblano chiles that are roasted and then stuffed with cheese or sometimes meat. Then, the peppers are dipped in an egg batter and fried.
I've loved chiles rellenos since I first tasted them. But, they've always been a bit of a guilty pleasure food.
I mean, it's basically battered, fried cheese with a bit of roasted chile so you can say you're eating your veggies too.
But, my world was changed one day when I found them stuffed with chicken on a restaurant menu. The concept of filling chiles rellenos with something besides just cheese took this dish to a whole new level!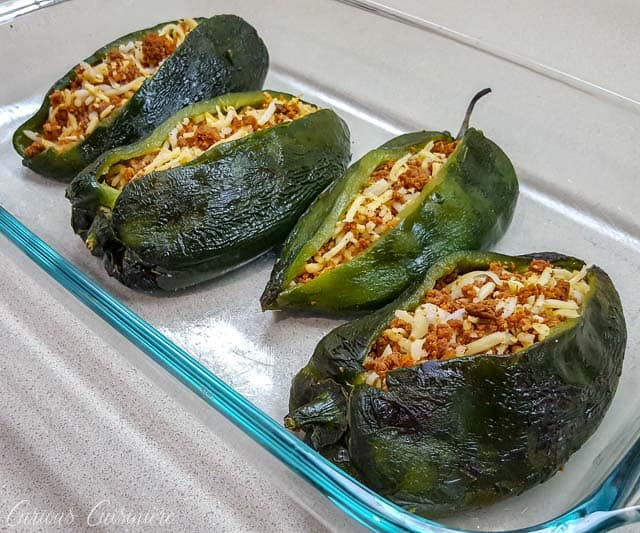 Our Easy Baked Chiles Rellenos Recipe
I'll be honest, as much as I loved the fried, cheesy version, about halfway through the pepper I start to slow down. I'm big on food textures, so once the crispy, fried coating starts to get soggy in the sauce and cheese grease, a lot of the starry-eyed love I have for the dish starts to fade.
When coming up with our chiles rellenos recipe, I knew texture was going to play a big factor.
We're not breading our chiles rellenos recipe for a number of reasons
It's easier
It's lighter
No soggy breading
It lets the cheese and chorizo we use to fill these chiles rellenos really shine
And, while many recipes for chiles rellenos don't use anything besides cheese for the filling, we love the flavor chorizo adds and the way adding a little rice to the filling makes this feel like more of a complete meal.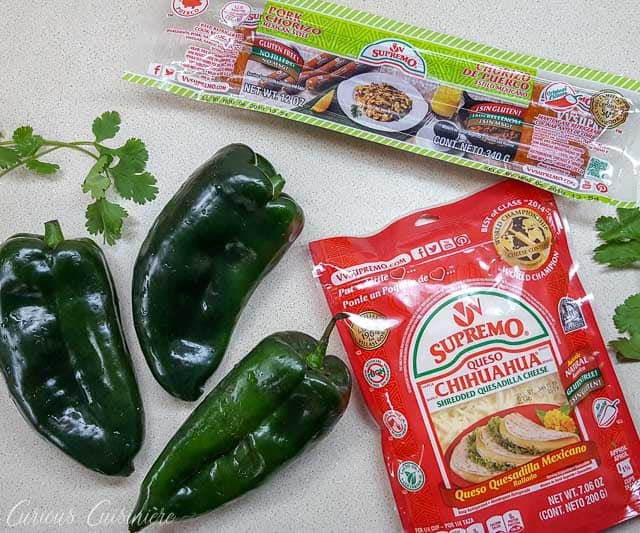 This recipe takes your restaurant chiles rellenos and transforms it into an easy meal that you could make for a weeknight dinner.
It's no more difficult than making up a batch of stuffed peppers!
And, it is oh so tasty!
What Is Chorizo?
In this recipe we're using Mexican chorizo, which is a fresh pork sausage (as opposed to Spanish chorizo which is dry cured) that is heavily spiced with chile peppers.
The chorizo we're using today is from V&V Supremo, a Chicago-based producer of Mexican cheeses and meats. They are actually one of the US's oldest family-run Hispanic food business. We like this chorizo because it's the highest quality Mexican chorizo in the U.S. (free from fillers, MSG and gluten). We found their chorizo in the meat section of our local store near the hot dogs and other cased sausages.
We really enjoyed the flavor of the V&V Supremo chorizo. It had a slight spiciness, but not overwhelmingly so. It was moist, but not too greasy.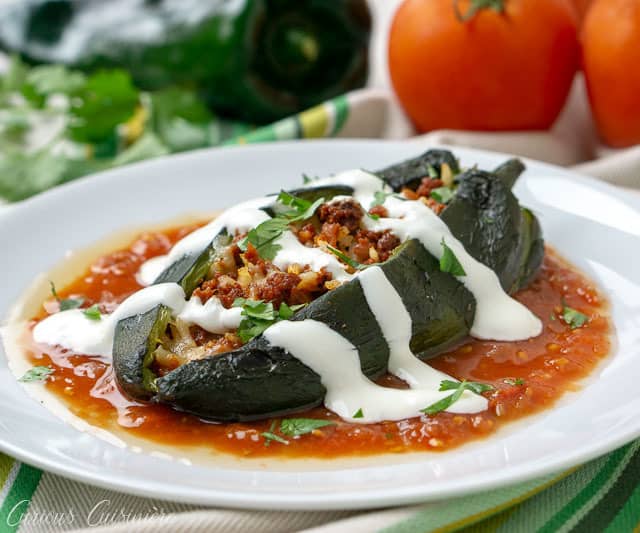 How To Use Chorizo
Most recipes for using Mexican chorizo have you remove the meat from the casing, which can sometimes get a bit tricky, but we really appreciated that the V&V Supremo chorizo was packaged in a way that was really easy to remove from the package and cook up.
Once removed from the casing, chorizo is sauteed and crumbled while cooking. And after cooking, it can be added to a number of dishes.
hash browns or breakfast potatoes
bean dishes or bean soups
nachos
and much more!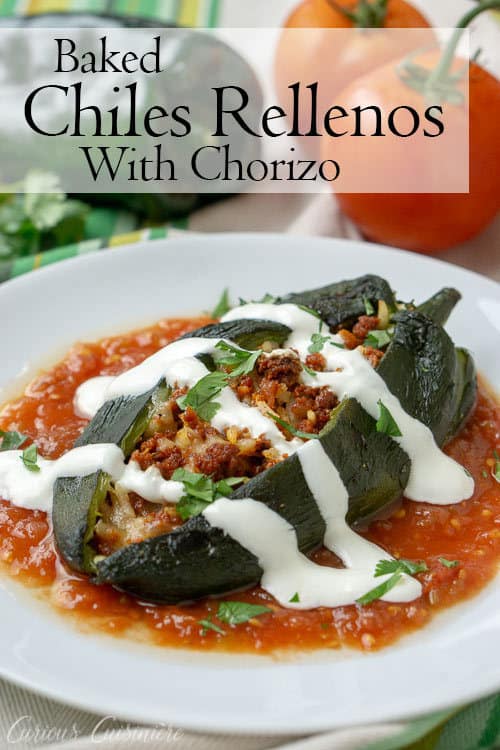 What Is Chihuahua Cheese?
Chihuahua Cheese is a traditional semi-soft, Mexican cheese made with cow's milk that has a mild flavor similar to a Jack cheese.  (Although the flavor can get up to the sharpness of a mild cheddar, depending on how long it is aged.)
It is often found in a soft brick, but for ease of use in this chiles rellenos recipe, we used the Chihuahua® Cheese  Shreds from V&V Supremo. V&V Supremo manufactures all of its own fresh cheeses in the hand-crafted style of Central Mexico and their cheese is made from pasteurized, grade "A" whole milk from cows from Midwestern farms.
We found their cheese in the cheese section of our grocery store, on the lower shelf below the shredded cheeses in the refrigerated wall racks.
We loved how their Chihuahua Cheese shreds made it super easy to add this traditional Mexican cheese not only to our chiles rellenos, but also to other dishes that could use a good sprinkle of a flavorful, melty cheese.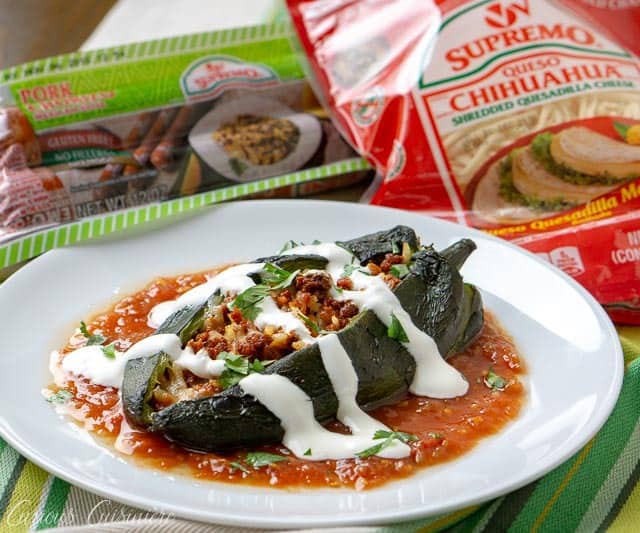 If you're looking to find some of V&V Supremo's authentic Mexican cheese (or chorizo) you can find it in many large grocery stores across the US, including Costco, Walmart, Kroger, Meijer, Jewel and Hy-vee, and also local independent grocery stores. (We've even seen some in our Aldi!)
You can find which of your local stores carry V&V Supremo by using their store locator.
You can also follow them on Facebook, Pinterest, Instagram, and Twitter to find out more about the company and their products.
How To Use Chihuahua Cheese
Chihuahua Cheese is a wonderful melting cheese, which makes it the traditional choice for making chiles rellenos.
But, it can also be used in any dish where good melting qualities are desired.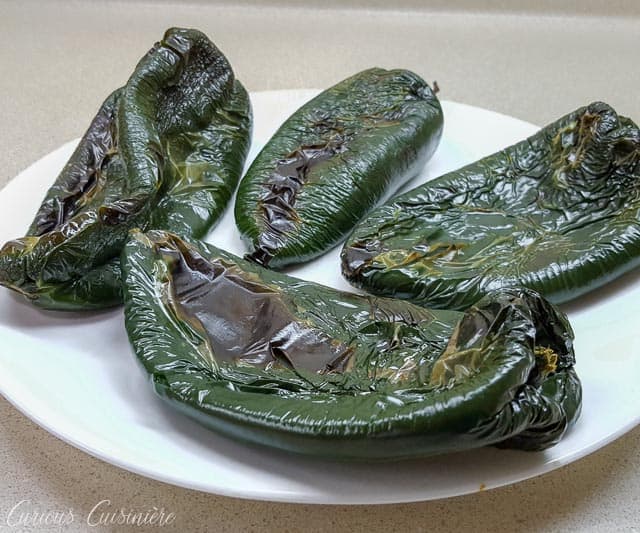 How To Prepare Poblano Chiles
Unlike making traditional stuffed peppers, the poblano chiles for chiles rellenos need to be prepared before being stuffed.
To prepare the poblano chiles, we first roast them under a broiler until the skin is blistered.
Then, we steam them in a sealed container until they are cool enough to be handled.
Once cool, we remove the papery skin from the chiles. Then, we slit them down the side so that we can remove the seeds and membranes before stuffing them with our filling.
Poblano chiles are typically not too spicy, although occasionally you will find a spicier one, so we like to wear kitchen gloves while handling the chiles, just in case.
Even with this little bit of extra preparation, these chiles rellenos are quite simple to make!
We serve them with some salsa and an easy to make cream sauce, to round out the flavors and add a bit of extra creaminess.
Baked Chiles Rellenos With Chorizo
Baked Chiles Rellenos, filled with chorizo, rice, and melted cheese, are an easy way to enjoy Mexican stuffed peppers without all the hassle of frying.
Yield: 6 large (5.5 inch) stuffed poblanos
Ingredients
6

large

poblano chiles

(5-6 inches long)

12

oz V&V Supremo

chorizo

2

c V&V Supremo Shredded

Chihuahua Cheese

(1 7oz bag)

1 ½

c

cooked rice

½

c

sour cream

2

Tbsp

milk

2

c

salsa

(to serve)

Chopped

cilantro

for garnish (optional)
Instructions
Roast the poblanos under your broiler, until blistered, 5-10 min, turning every few minutes to blister evenly. Place the blistered poblanos in large bowl and cover with plastic wrap or a lid to steam the chiles and let them cool slightly.

Preheat your oven to 450F.

While the chiles are cooling, cook the chorizo over medium high heat, breaking it up with a wooden spoon as it cooks, 5 minutes. Transfer the cooked chorizo to double paper towel lined plate to cool.

While the chorizo is cooling, remove the papery skins from the chiles by gently pulling. The skin should come off easily. (If the skin doesn't come off easily, don't worry about getting it all off. The main point is to remove the charred sections so you get all of the roasted flavor without a burnt taste.)

After removing the skins, gently cut a slit down the side of each chile and carefully remove the seeds and veins.

Mix the cooled chorizo with the shredded cheese and cooked rice. Spoon the filling into the prepared chiles, using roughly ¾ c of filling per chile.

Place the filled chiles into a greased baking dish.

Bake at 450F for 5 - 7 min, until the cheese is melted through.

While the chiles rellenos are baking, blend the sour cream and milk to create a pourable cream sauce.

Serve the chiles on top of a bed of salsa, topped with the cream sauce and chopped cilantro, if desired.
Notes
These chiles rellenos can be made ahead of time and refrigerated until ready to use. Simply refrigerate them, covered, in your baking dish. Uncover the dish and place it, from the refrigerator, into a cool oven while the oven heats to 450F. Bake for 10-15 minutes, until the centers of the filling is warm and melted.
If you liked this recipe, here are some similar dishes you may enjoy!