Forget everything you thought you knew about Goulash. Traditional Hungarian Goulash is a chunky soup full of tender beef, hearty vegetables, and lots of flavorful paprika. Our Slow Cooker Hungarian Goulash recipe makes this comforting and healthy dinner incredibly easy to prepare!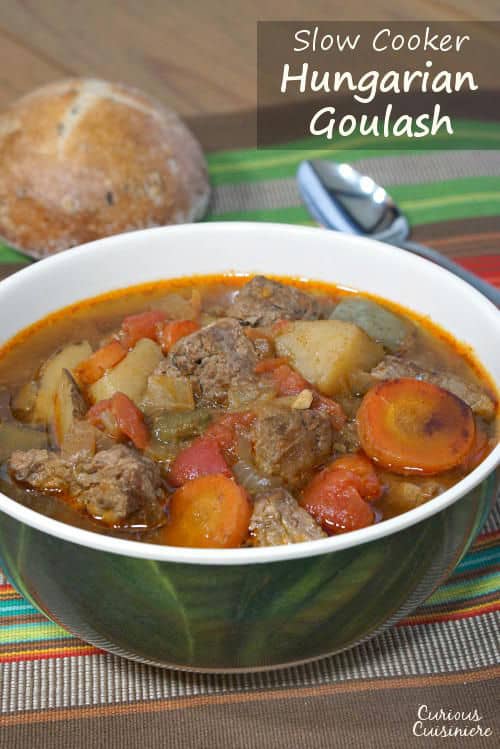 With each new year, everyone seems to take on resolutions to eat healthier. But, it seems like many people fall off of the healthy eating train just a few weeks in. And, we think bland food is to blame. You see, just because food is healthier, doesn't mean it has to be boring. On the contrary, healthy eating can be incredibly flavorful, you just have to know how to pick your ingredients.
That's why, this week, the Sunday Supper Movement is teaming up with The Beef Checkoff to share 20 recipes that will help you pump some serious flavor into your healthy meal choices this year.
Getting Protein from Beef
When it comes to choosing a protein for your meal, there are many ways to get the nutrition of beef in a leaner cut. The Beef Checkoff has a nifty Interactive Butcher Counter, where you can search for your cut of meat. If you're looking for a lean cut, just look for their green lean icon:
Once you choose your cut, you can see the recommended cooking methods and a collection of tasty recipes using that cut. It's a perfect tool if you know which cut you have on hand, but aren't sure how to prepare it. And, it's great for guiding you to the perfect cut for the dish you want to create.
Traditional Hungarian Goulash
To most Americans, when we say goulash you wouldn't think of the healthy and hearty soup we have pictured here. American goulash is an easy, one-pot meal (referred to in parts of the country as American Chop Suey) that contains ground beef, macaroni noodles, tomatoes and cheese. We're not sure how it gained the name of the wonderfully chunky and hearty Hungarian soup, but (although tasty and comforting) it has come a long way from its namesake.
True Hungarian Goulash is a brothy meat and vegetable stew or soup that dates back to a 9th century dish that Hungarian herdsmen would eat in the field as they took a break from herding their cattle. In fact, the Hungarian word 'gulyas' (pronounced GOI-yaj) where the soup gets its name, actually means 'herdsman' or 'cowboy.'
The soup has evolved over time, gaining ingredients like tomatoes and paprika, which were unknown to the original Hungarian gulyas. But, the hearty, nourishing nature of the base of the soup has stayed the same.
How to choose Paprika
It can get confusing standing there in the spice aisle staring at the types of paprika. Hungaring Sweet. Hungarian Hot. Spanish Sweet. Spanish Hot. And then there's just Paprika.
Paprika is a spice made from a type of chili pepper that has been dried. The peppers can be mild or hot depending on where they are grown and what parts of the pepper are dried. Spanish paprika is dried by smoking, giving it a bit of a smoky flavor. Spanish paprika can be found mild, medium, and hot and typically has a more subtle flavor than the Hungarian variety.
For Hungarian paprika, the chilies are sun-dried. It is characterized by its bright color and a rich, robust flavor. You can find it in six levels from sweet to hot.
If your paprika is simply labeled "Paprika," it could really come from anywhere. It shouldn't be sweet or hot, and it may have other dried chilies mixed in. It most likely won't have the intense color of Hungarian paprika.
For this dish, we would recommend picking up some Hungarian Sweet Paprika just to get an idea of the real flavor that paprika can have and the robustness it can add to a dish.
Our Slow Cooker Hungarian Goulash Recipe
We've taken the traditional long-simmering Hungarian goulash and made it even easier by breaking out the slow cooker. With a little prep work early in the day or even the night before, slow cooker Hungarian goulash is a hearty and nutritious meal takes care of itself.
The longer you cook it, the more tender the beef becomes. So, even if you're a bit late getting home, the soup will still be ready to greet you with warm, comforting arms.
With all the veggies and beefy protein in the soup, you are on your way to an incredibly balanced meal. The only thing you're missing is the whole grains. But, that's easy to fix. We like to serve our slow cooker Hungarian Goulash recipe with hearty and rustic whole grain bread or rolls. (The crustier the better!) The whole grain goodness is perfect for soaking up the broth!
Slow Cooker Hungarian Goulash
Serves 5-6
Author:
Sarah | Curious Cuisiniere
Ingredients
2 lbs sirloin tip beef roast, cut into 1 inch chunks
1 tsp salt
½ tsp pepper
1 tsp butter
2 onions, diced
2 garlic cloves, minced
4 large carrots, sliced
2 large green pepper, chopped
2 large potatoes, diced ½ inch
¼ c Hungarian sweet paprika
1 tsp caraway seeds, whole
4-5 c water
1 bay leaf
2 tomatoes, diced
Instructions
Heat a large saute pan over medium high heat. Sprinkle salt and pepper over the beef cubes and place them in the hot pan. (Do this in batches if necessary so the cubes are not crowded.) Sear the beef cubes on all sides, 1-2 minutes per side. Remove the meat from the pan and place it in a large, 3-4 quart slow cooker.
Melt ½ tsp of butter in the, now empty, pan. Add onions and garlic. Sauté over medium heat until golden, 7-10 minutes. Transfer the onion mixture to the slow cooker.
Melt the remaining ½ tsp butter in the pan. Add the carrots, bell peppers, and potato. Sauté over medium heat, 7-10 min. Add the Hungarian paprika and caraway seeds. Mix well. Transfer the mixture to the slow cooker.
Put 1 c of water into the hot pan to deglaze the pan. Scrape up any stuck bits and seasonings from the pan, and then pour the liquid into the slow cooker.
Add the bay leaf to the slow cooker along with enough water to just barely cover the meat. Cover and cook on low for 6-8 hours (or high for 4 hours).
-30 minutes before serving the soup, add the diced tomatoes. Mix the soup well. Taste it and add salt as desired, to taste. If the soup is too brothy for your liking, continue to cook with the lid off until the desired thickness has been reached.
Serve the soup with crusty, whole grain bread.
---
Getting beefy protein with Sunday Supper
Take a peek at the Sunday Supper Healthy Meals with Beef Pinterest board for more healthy recipe inspiration. And for more information about making beef a part of your healthy eating routine, connect with The Beef Checkoff on Twitter, Facebook, Pinterest, and YouTube.
Now, if you're ready to continue getting your healthy flavor on, check out these healthy beef dishes from other members of the Sunday Supper Movement.
Beef Recipes to Live A Flavorful Life in 2016
Join the #SundaySupper conversation on twitter on Sunday! We tweet throughout the day and share recipes from all over the world. Our weekly chat starts at 7 pm ET. Follow the #SundaySupper hashtag and remember to include it in your tweets to join in the chat. To get more great Sunday Supper Recipes, visit our website or check out our Pinterest board.
Would you like to join the Sunday Supper Movement? It's easy. You can sign up by clicking here: Sunday Supper Movement.
Disclosure: This post is sponsored by the Beef Checkoff in conjunction with a social media campaign through Sunday Supper LLC. All opinions are our own.
  This post does include Amazon affiliate links. These links are provided to help you find some of the more specialty ingredients we mention in the recipe. If you make a purchase on Amazon after following our affiliate links, we do receive a small commission from Amazon, at no extra cost to you. Thank you for supporting Curious Cuisiniere!
If you liked this recipe, here are some similar dishes you may enjoy!