Nowruz, or the Persian New Year, is an Ancient tradition celebrated across the world.
Discover more about what Nowruz is and how it is celebrated!

What is Nowruz?
Nowruz originated in modern-day Iran. It marks the first day of the first month in the Iranian calendar. Hence, it is sometimes referred to as the Persian New Year.
It is celebrated by a number of countries in the region, as well as many Iranian, Kurdish and Parsi communities worldwide. And, is recognized by the UN.
What does Nowruz mean?
Nowruz (pronounced "no-rooz") comes from the words 'now' meaning 'new' and 'ruz' meaning 'day' or originally 'light' in Farsi.
The festival dates align with the spring equinox in the Northern hemisphere.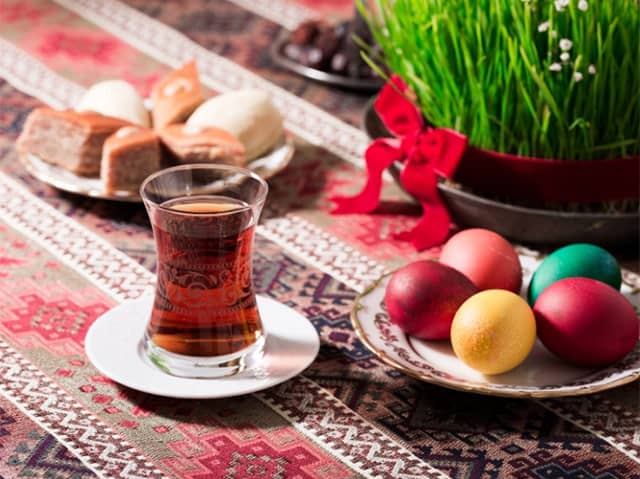 The origins of Nowruz
Not unsurprising with something that has been celebrated for 3000 years, there are a few beliefs on the origins of Nowruz.
One of the more dominant beliefs focuses on King Jamshid, sometimes viewing him as a mythical being saving mankind from a cruel winter.
Other myths include him drawing on astrologers and declaring the day as the first day of the Iranian year.
How is Nowruz celebrated?
Nowruz has been celebrated for thousands of years, and as such the way it is celebrated varies from one place to another.
The length of the celebration can vary from one day to two weeks. However, there are some things that are common.
In Iran, and some other places that celebrate, there is a festival shortly before the new Year called Charshanbe Suri held on the last Tuesday evening before the New Year. It's often called the Festival of Fire and includes fire jumping rituals and fireworks. Part of the symbolism is burning anything that is bad before the new year starts, and looking forward to a fresh start.
Nowruz itself typically starts with spring cleaning, wearing new clothes, visiting family and friends, and decorating homes and public places with a 'Haft-e-Seen' or 'Haft-sin'.
What is a haft-sin?
A haft-sin is a relatively new addition to the Nowruz traditions and is a collection of seven items beginning with the letter 'sin' or 's'. These items are displayed on a table ahead of and during Nuwruz celebrations. This table typically becomes the focal point as Nowruz approaches.
The seven haft-sin items are:
'Sabze' – sprouting wheat, lentils or mung beans growing in a dish

'Samanu' – a sweet pudding made from wheat germ

Sumac – a spice common in cooking in the region with a lemon-like flavor (one of the best known being in fattoush salad)

'Serke' – vinegar

'Sib' – apple

'Sir' – garlic

'Senjed' – often known as Persian olive
The table may also include mirrors, painted eggs, coins, a goldfish and a book of wisdom such as the Quran, amongst other things.
What are the typical foods eaten for Nowruz?
Foods naturally vary in different places, but many Nowruz foods are symbolic. Eggs representing fertility, herbs are for rebirth, and fish for life.
Part of the traditions for Nowruz are to visit family and friends. These visits are typically accompanied by tea, fruit, cookies and other sweet treats.
Legend goes that one of the Persian kings discovered sugar on Nowruz, and candy comes from the Persian word 'qand' for sugar. So it's the perfect excuse to indulge slightly.
Some typical Persian dishes served on the first day of Nowruz include:
Parsi traditions include prawn patia and mori dal.
The cookies and sweet treats come in many forms, with many using nuts and grains other than wheat. Some common ones include baklava, sugar coated almonds, Persian rice cookies ('nan-e berenji'), Persian walnut cookies ('nan-e gerdui') as well as other cookies made with chickpeas, pistachios and raisins.
In Iran, on the 13th day, the celebration is typically rounded out outdoors with a picnic, often including kebabs.
Even if you haven't come across Nowruz before, if you are near a major town, look in to see if there is a celebration somewhere. You may find there is, and it's a great way to learn more about some of the traditions of this ancient celebration.
And wherever you are, why not make Nowruz an excuse to try some of the delicious foods from this region!
If you liked this recipe, here are some similar dishes you may enjoy!