With a bright and tart flavor, Middle Eastern sumac is a spice you should have in your kitchen. Find out why and get some great recipes with sumac.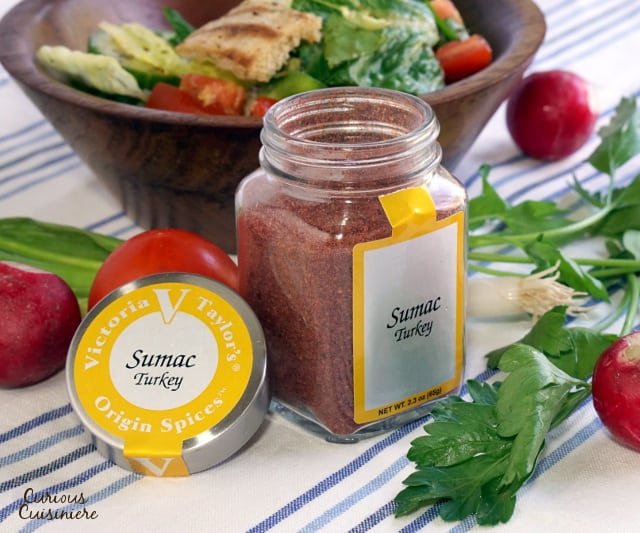 If you've taken the plunge into Middle Eastern cooking, you've probably come across Sumac in an ingredient list or two.
No, we're not talking about the poison sumac that you might have growing in your backyard. While related, culinary sumac is a deep red spice that gives a unique flavor to Middle Eastern cuisine.
Let's take a look at what it is and how to use it.
What is sumac spice?
Sumac (pronounced SOO-mak) is a bush with dark purple-red berries that grows wild in the Middle East and parts of Italy. The berries are dried and ground to make sumac spice.
It is used widely in the cuisines of Lebanon, Syria, Turkey, and Iran. Sumac was actually used in this region to add an acidic flavor to foods before the introduction of lemons by the Romans.
What does sumac taste like?
Sumac has a unique, tart, almost lemony flavor that is complemented by deeper savory and almost herby notes.
How can I use sumac?
Sumac adds a crisp brightness to any dish and can be featured prominently, like it is in Fattoush Salad, or simply added in small quantities to give a dish a little extra burst of flavor.
Try sumac rubbed into steaks before grilling, sprinkled on potatoes before roasting, or used to add an extra brightness to summer salads.
It is also a prominent ingredient in the Middle Eastern spice mix Za'atar.
Where to Find Sumac?
Sumac can be found at Middle Eastern markets and in the spice aisle of some grocery stores. You can also buy sumac online
.
Substitutions
We have yet to find any good substitutions for the unique flavor that sumac adds to a dish. If you are really in a pinch, we'd recommend trying a spritz of lemon juice or sprinkling of citric acid.
Recipes With Sumac
In addition to our Fattoush Salad recipe, here are some other great recipes to get you loving the unique flavor of sumac.
Great in Salads:
And Beyond:
Do you have a favorite way to use sumac?
If you liked this recipe, here are some similar dishes you may enjoy!