A simple, homemade Vanilla Caramel Sauce recipe without corn syrup that adds hints of vanilla to make a great topping for fruit, ice cream, and other desserts.
Don't be afraid of homemade caramel sauce
If you've never made caramel sauce before, don't be intimidated.  Just be prepared.  You will burn your first batch.
I'm not trying to be mean.  But, I really think it happens to everyone.  (If you are one of those incredibly patient people who is able to claim success on a firs try — I envy you.)
Sugar is cheap.  Don't worry about it.
It takes a minimum of one batch to know what you are looking for in the consistency of the sugar, the rate it melts, and the nuances of how your stove heats.  You can read the written instructions a million times, but it takes a trial run for them to sink in.
That said, once you get through your first batch, making caramel sauce isn't difficult, and it's incredibly rewarding to have a homemade caramel that tastes more authentic than any store-bought version.
Making vanilla caramel sauce without corn syrup
You don't need corn syrup to make a good caramel sauce. Actually, we find that caramel sauce is better if you make it the way it has been made for ages: with real sugar. Caramel comes from the caramelization that happens to the sugar as the molecules are heated.
There are a couple different ways to make caramel sauce. Some recipes will start with your sugar and a little water, while others (like ours) start with just the sugar. The caramelization of the sugars happens once most of the moisture has evaporated from the sugar, so we find that starting with just the sugar speeds up the process a bit. But, it does require a bit more attention to make sure the sugar isn't burning. That's why we keep it on a medium-low or low heat. At first, it will look like nothing is going to happen. But, trust us. It's just a matter of a little patience.
Once the sugar gets to a nice caramel color, but before it starts to really darken or smoke too much, your caramelization has finished and you need to add the butter and cream to make your caramel a sauce (rather than a caramel candy). When adding the butter and cream, remember, you're adding room temperature ingredients to a pot of sugar that is around 340F. So it's going to bubble and sputter as the two drastically different temperatures collide. (This is why we always recommend making caramel sauce in a pot that is WAY bigger than you think you will need. We don't want any hot sugar foaming over the top of our pots.)
The mixture might seize a bit also, as the caramel meets the cream and puts up a bit of resistance. But, just keep stirring. If it's really not wanting to come together, you can put your pot back onto a LOW heat to warm up the butter and cream to a temperature that will coax the sugar to start playing nicely.
Using homemade caramel sauce
This is the perfect time of year for caramel sauce too.  Caramel apples are a must in the fall. And, apple pies and pumpkin pies are delicious topped with a little caramel drizzle! (And don't forget about our Pumpkin Pie Bread Pudding.) That is GREAT with some nice caramel love!) And there's something about caramel that takes any cheesecake to a whole new level.
So, what are you waiting for? Get caramel making!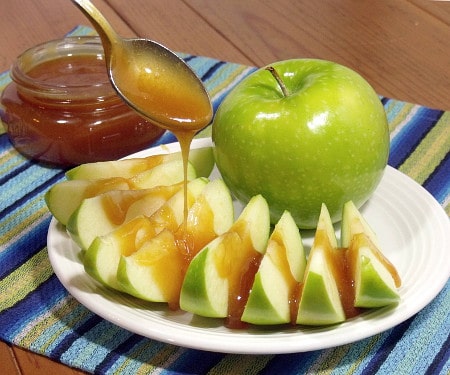 Vanilla Caramel Sauce
This simple, homemade Vanilla Caramel Sauce recipe without corn syrup that adds hints of vanilla to make a great topping for fruit, ice cream, and other desserts.
Yield: 1 cup of caramel sauce
Servings
:
16
(1 Tbsp) servings
---
Ingredients
1

c

white sugar

2

Tbsp

unsalted butter,

room temperature

½

c

heavy cream or half and half

1

tsp

pure vanilla extract

½

tsp

cinnamon

¼

tsp

salt
Instructions
In a large saucepan (much larger than you would ever think you would need), heat white sugar over medium-low heat. You can swirl the pan slightly to mix the sugar as it is heating, but resist the temptation to stir the sugar mixture until you see the edges begin to melt.

Once you see the sugar beginning to melt, stir the sugar with a heat proof spatula or wooden spoon to aid in the melting process.

Watch constantly as the sugar is melting, stirring frequently to prevent burning. You will notice the sugar begin darken from a light gold.

As the sugar changes from dark gold to deep amber, it will begin to smoke.

Once the sugar starts to smoke, remove the pan from the heat.

Immediately, stir in the butter and heavy cream. The sugar will foam up and steam. (This is why you need a larger pan than you would initially think.) It will get a bit resistant to your stirring, but keep stirring to incorporate the butter and cream until the mixture becomes smooth.

Add vanilla, cinnamon, and salt. Stir to incorporate.

Let the caramel sauce cool slightly, stirring occasionally.

Taste the caramel. If it smells or tastes burnt, pitch the batch and start over. You may need to use a lower heat setting to slow the process down a bit.

Store caramel in a covered container in the refrigerator. It will last for two to three months.
---
Recipe Notes
The best way to clean your caramel pan is to fill it halfway with water and return the pan to the stove. Boil the water until the sugar dissolves. Dump the water out, fill with warm tap water, and scrub out the remaining sugar while the pan is still warm – being careful to let the pan cool enough so that you don't burn your hands on metal that just came off of the stove.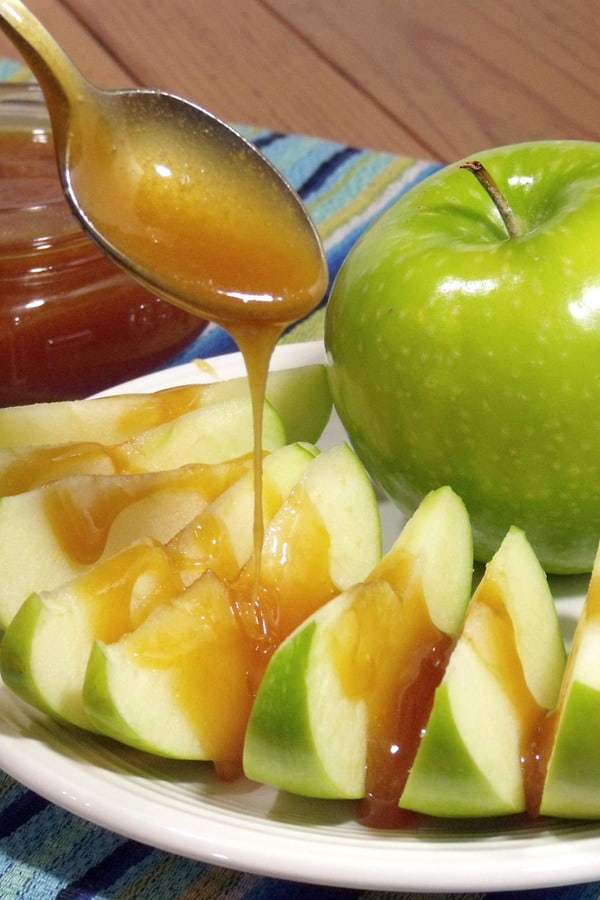 If you liked this recipe, here are some similar dishes you may enjoy!