Just as good as warm pumpkin pie, this crock pot pumpkin bread pudding recipe is healthy enough for a fall breakfast, but it's enough of a treat, that it makes a wonderful dessert too!
Fall, thankfulness, and faith
This morning, as I was thinking about what I was most thankful, I started thinking about everything that has gone on in my life in the past few months: getting married, buying a house, and then learning to fix said house. And, as if that wasn't enough, throwing a career change into the mix.
Needless to say, all of the emotions, adjusting, excitement, and uncertainty created a lot of tension and stress in our lives. You know, those days where you wonder if you can mentally handle another thing breaking down or going wrong. We've had a lot of them. It has been exciting, but it has also been stressful.
As things finally seem to be calming down, I asked myself how we got through, and the answer was clear. It was our faith.
"Trust the Lord with all your heart and lean not on your own understanding." Proverbs 3:5
Particularly after the past few weeks, I am so grateful for my faith and trust in a loving and merciful God. It is that faith that creates a sense of calm when everything seems to be swirling in chaos. It is that faith that allows us to place our lives and our situations in His caring hands when we don't know which way to go. It's easy to seek God in the difficult times with prayers asking for favor; it's not as easy to go to God in difficult times letting go and trusting in his plan. But, the knowledge that He is all-knowing and full of love beyond measure brings such a sense of peace.
It feels good to wake up in the morning and know our loving God is in control of our day and our lives. All we have to do is let go and trust his will.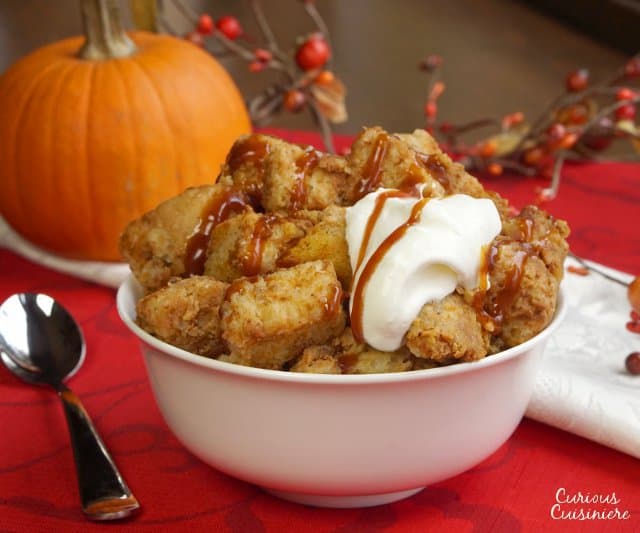 But, that's enough about me, on to what you really came here for. The BREAD PUDDING!
Our pumpkin bread pudding recipe
Bread pudding is actually a popular dessert in many countries.
It makes sense, really. I'm sure Americans aren't the only ones who have stale bread left over. And, what better way to use up that bread that to make a delicious, creamy bread pudding?
Our slow cooker pumpkin bread pudding recipe isn't too sweet. Rather, it brings the perfect balance of pumpkin spice with pumpkin pie sweetness. When we made it, we were looking to make the perfect fall breakfast dish, not another pumpkin pie dessert.
Granted, you could always top this pumpkin bread pudding with some powdered sugar, caramel, or maple syrup if you want to kick the sweetness up a bit and make it dessert. (Or breakfast… We won't tell!)
Pumpkin Bread pudding in a crock pot
Using the slow cooker (crock pot) to make this bread pudding makes it the perfect, make ahead breakfast dish for a crowd.
You can easily prep this dish the night before by cubing your bread and mixing your wet ingredients (store the mixture in the refrigerator overnight). In the morning, all you have to do is mix the bread and the liquid mixture in your slow cooker and flip it to the high heat setting. (If you have a slow cooker with a delay timer, you're even better off!)
On high, this pudding cooks in just under two hours. So, make yourself some coffee, get ready for the day, and then sit down to a warm and satisfying breakfast that is full of pumpkin and warm spiced goodness.
As a bonus, your house will smell like fall for the whole day! You're welcome!
Crock Pot Pumpkin Bread Pudding
Just as good as warm pumpkin pie, this crock pot pumpkin bread pudding recipe is healthy enough for a fall breakfast, but it's enough of a treat, that it makes a wonderful dessert too!
Yield: 6 cups
Ingredients
2

c

milk

1 1/2

c

pumpkin puree

(NOT pumpkin pie filling)

3

eggs,

beaten

1/4

c

brown sugar

1/4

c

white sugar

1/2

small

orange,

zested

1

tsp

cinnamon

1/2

tsp

nutmeg

1/2

tsp

ginger

1/8

tsp

ground cloves

pinch

salt

8

c

white bread cubes,

cut roughly 1"

1/2

c

wheat bran

(optional, for extra fiber and nutrition)

Caramel sauce

(for topping)
Instructions
Mix milk, pumpkin puree, eggs, sugars, orange zest, cinnamon, nutmeg, ginger, cloves and salt in a medium bowl. (I like to use my 1 qt measuring cup for easy pouring.)

Grease the bowl of a 2.5-3 qt slow cooker. Combine bread cubes, bran (if using), and milk mixture in the greased crock pot. Stir to combine, until all the bread is evenly moistened.

Cook on high for 2 - 2 1/2 hours or on low for 3-4 hours. The pudding is done when the bread is puffy and a knife inserted in the center comes out clean. (The internal temperature should be around 140F.)

Serve immediately, or keep warm until serving. Top with

caramel sauce

if desired.
Notes
This recipe from 2012 was updated in February of 2017. We made the bread pudding even better! Enjoy!
---
This is one of the recipes from the early days of Curious Cuisiniere. We've updated our pictures since we first made it, but we've left some originals here, in case you've found us in the past and are looking for that old, familiar image.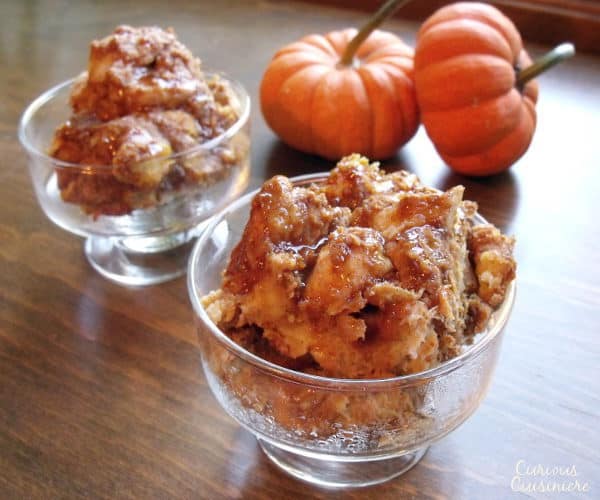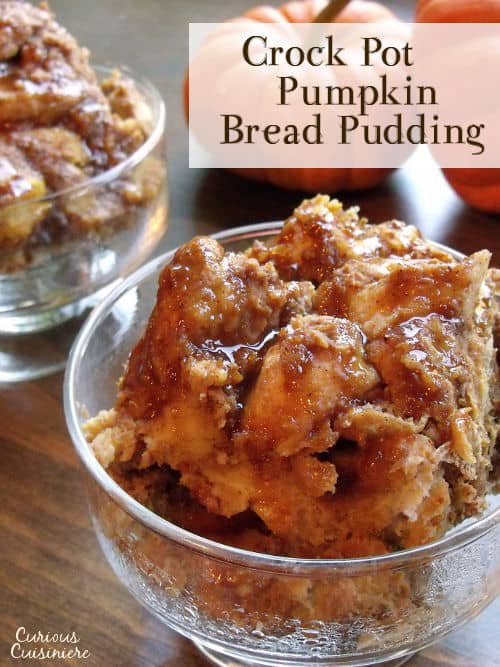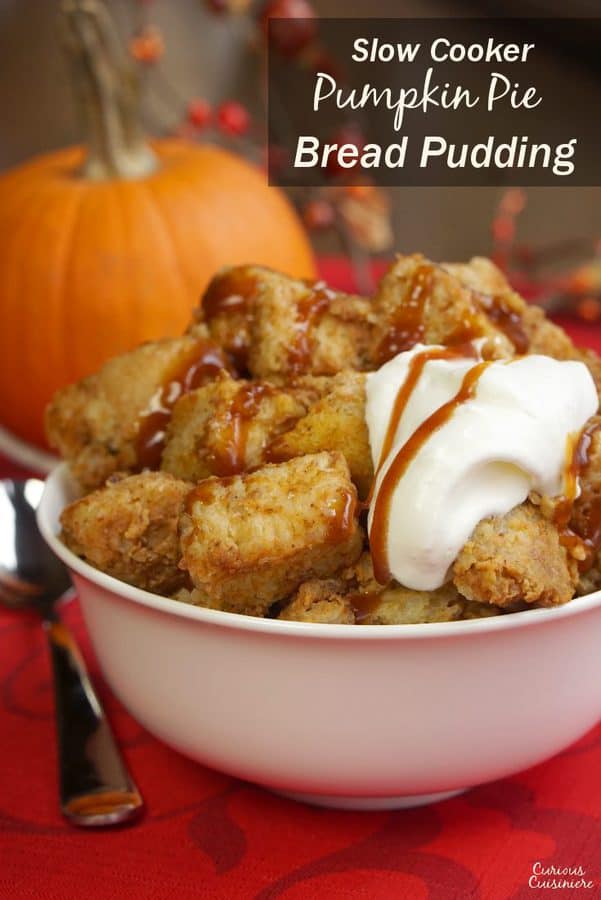 If you liked this recipe, here are some similar dishes you may enjoy!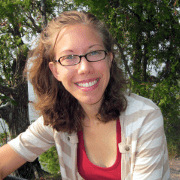 Sarah is one of Curious Cuisiniere's founding duo. Her love for cultural cuisines was instilled early by her French Canadian Grandmother. Her experience in the kitchen and in recipe development comes from years working in professional kitchens. She has traveled extensively and enjoys bringing the flavors of her travels back to create easy-to-make recipes.