Not just any caramel, a white wine caramel sauce takes this cinnamon and apple monkey bread to a whole new level. It is guaranteed to be the perfect recipe for a holiday brunch or dessert!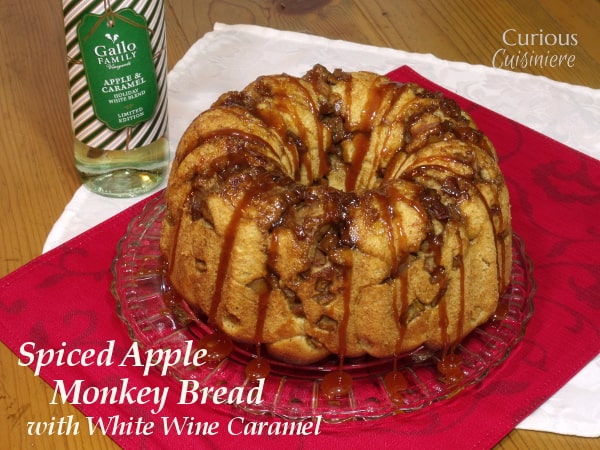 Each year, the Sunday before Christmas, my Aunt hosts a Christmas brunch for her entire extended family. This means her husband's big, Italian family, my Dad's fairly large family and any friends in the area are invited to stop by this incredible all-day event.
Everyone brings a dish to share, but the menu is pretty similar year to year. Pancakes, made by one of the men in my Dad's family. Egg casseroles made by my Aunt. Biscuits and gravy from my Dad's parents. Ample sweet breads and coffee cakes by other Aunts.
Sticky, gooey monkey bread goodness
Without fail, there is always Monkey Bread. (From what I last remember, it's common that whoever brings the Monkey Bread brings two or three, just to appease the mass craving.) I think it was at this brunch that I was introduced to Monkey Bread, and a sweet addiction was born.
I mean, who doesn't love soft, egg-y bread coated in cinnamon sugar and baked to sweet, warm perfection?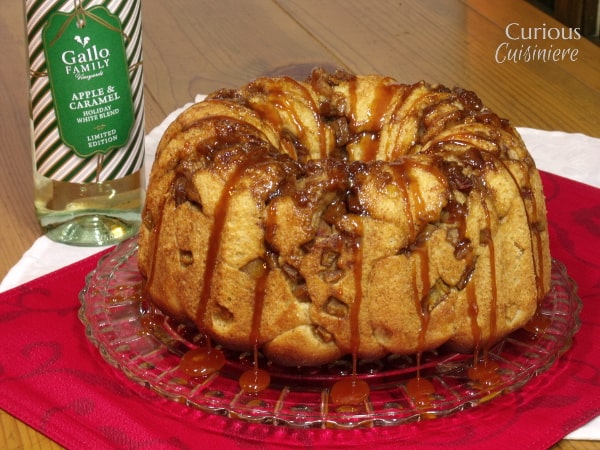 A taste of home
Since Tim and I have been married, getting down to St. Louis for this annual brunch has been difficult. And, I'm not going to lie, I tend to make biscuits and gravy the Sunday before Christmas just to feel like I'm with the family in spirit.
But, I always find myself craving the Monkey Bread.
Our Apple Monkey Bread
When Gallo Family Vinyards sent this week's bloggers their two new Holiday Seasonal Wines: Apple and Caramel Holiday White Blend and Mixed Berries and Chocolate Holiday Red Blend, I instantly knew that I wanted to re-create the Monkey Bread of Christmas Brunch with a double apple flair.
You'll first notice the apples mixed in with the sweet, eggy bread. And then, as you take a bite, you'll notice hints of apple and a white wine brightness in the caramel sauce.
Delicious White Wine Caramel Sauce
If you thought nothing could make caramel sauce any better, you've never added wine.
Imagine that deep and rich caramel flavor, paired with a light and slightly tangy brightness that only a sweet white wine could give. Gallo's Apple and Caramel Holiday White Blend is a perfect, lightly sweet and effervescent sipping wine for a Holiday party, and it infuses this caramel sauce with its beautiful flavor.
If you can't find Gallo's Holiday White, look for any sweet white blend that boasts flavors of honey and apples, like a Riesling or sweet Pinot Grigio. You could also use a cidre, which is a French apple wine.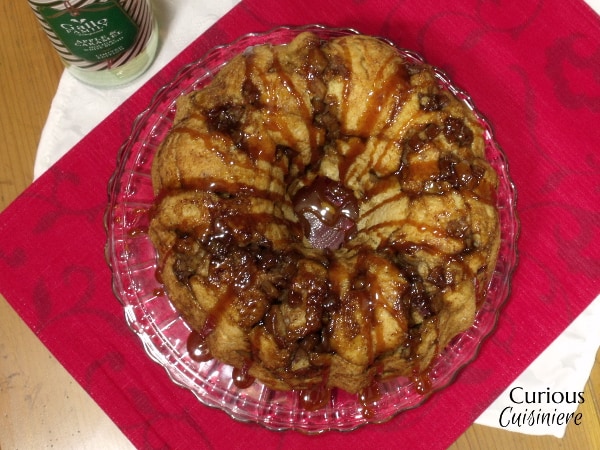 Spiced Apple Monkey Bread
Author:
Sarah | Curious Cuisiniere
Ingredients
For the Bread
1 c milk
¼ c sugar
2 Tbsp butter
1 tsp salt
¼ warm water (100-105F)
4 ½ tsp yeast
2 eggs, beaten slightly
3 c white wheat flour
2 c unbleached all purpose flour
Apple Filling
4 large apples, peeled, cored and diced fine (roughly 4 c)
1 c brown sugar
2 tsp vanilla
2 tsp cinnamon
1 tsp nutmeg
½ tsp cloves
1 recipe White Wine Caramel Sauce (below)
Instructions
For the Bread
In a small saucepan, heat milk, sugar, butter and salt over medium heat, until the sugar and butter have dissolved. (The mixture may steam, but do not let it boil.) Remove the mixture from the heat and pour it into a small bowl. Let it cool to roughly 100F.
While the milk is cooling, place the warm water in a large bowl. Sprinkle the yeast over the water and let is set until the yeast begins to foam.
Add the beaten eggs and cooled milk mixture to the yeast, stirring to combine.
Add white wheat flour and 1 cup of all purpose flour, stirring to form a soft dough.
Turn the dough out onto a lightly floured counter top and begin kneading the dough, adding the last cup of flour as needed to keep the dough from sticking to your hands or the counter. Knead the dough for 8-10 minutes. Your final dough should be soft, smooth and slightly tacky, but it should not stick to your hands or the counter as you knead.
Place the dough in a clean, well-greased bowl. Cover it with a damp tea towel and let the dough rise in a warm, draft-free place until doubled in bulk, 40-45 minutes.
For the Filling
While the dough is rising, mix the chopped apples with brown sugar, vanilla and spices in a large bowl. Set aside.
Putting It Together
Once the dough has risen, punch it down and turn it out onto a lightly floured counter top. Divide the dough into 4 pieces and shape each piece into a snake, roughly 1 inch in diameter. Cut the dough into roughly 1 inch pieces. Toss a few pieces at a time with the apple mixture and place the coated pieces in a well-greased bundt pan. (Be sure to incorporate some of the apple chunks with the bread pieces in the pan.) Continue until all the dough and filling have been used. (You will not fill the pan completely.)
Cover the ban with your tea towel and let the dough rise in a warm, draft-free place until nearly doubled in bulk, 30-35 minutes.
Near the end of the rising time, preheat your oven to 350F.
Place the pan in the oven and bake for 20-25 minutes, until the top is golden and firm when tapped. A thermometer inserted into the center of the bread should read 180F.
Remove the bread from the oven and let it cool in the pan for 10-15 minutes, until the pan is cool to the touch.
Invert the pan over a cooling rack and gently shake to remove the bread. If it sticks, insert a knife, gently along the sides of the pan and use it to separate the bread from the pan.
Nutrition Information
Serving size:
Each of 16 servings
Calories:
314
Fat:
4.5g
Saturated fat:
2.2g
Carbohydrates:
61.9g
Sugar:
32g
Sodium:
188mg
Fiber:
4.5g
Protein:
6.4g
Cholesterol:
29mg
White Wine Caramel Sauce
Author:
Sarah | Curious Cuisiniere
Ingredients
1 c sugar
1 c Gallo Family Vineyards Apple and Caramel Holiday White Blend
2 Tbsp butter, room temperature
Instructions
Place 1 cup of sugar a large saucepan (larger than you would ever think you would need). Heat the sugar over medium heat. DO NOT STIR the sugar, until the edges start to melt. After that point, you can stir the sugar occasionally to aid the melting process. (This will take about 15 minutes, be patient.)
While the sugar is melting heat the wine in a small saucepan. Simmer over medium heat until it has reduced by half. Remove from the heat.
Once your sugar has completely melted, reduce the heat to medium low and continue to cook it to a deep golden/amber color. (This will take about 10 minutes.)
Once the sugar has reached that beautiful dark caramel color, remove it from the heat. Gently pour the wine reduction into the caramelized sugar, drizzling it down the side of the pan. Your sugar will bubble, sputter and steam (all of the water and alcohol in the wine is instantly coming to a boil because the sugar is so hot). Your sugar will turn into a solid mass.
Heat your sugar and wine mixture over medium heat, stirring occasionally, until the sugar has melted again and the mixture begins to thicken, 15-20 minutes.
Remove the pan from the heat and mix in butter, stirring until the mixture is smooth.
Store any un-used caramel sauce in the refrigerator for up to 2 months. The caramel sauce will harden in the fridge, soften it by heating for a few seconds at a time in the microwave.
Nutrition Information
Serving size:
2 Tbsp
Calories:
144
Fat:
2.9g
Saturated fat:
1.8g
Carbohydrates:
25.8g
Sugar:
25.2g
Sodium:
22mg
Protein:
.1g
Cholesterol:
8mg
---
Sunday Supper holiday recipes with wine
Be sure to check out the other Gallo-inspired Holiday recipes below!
Cheerful Beverages:
Holiday Brunch:
Memorable Main Dishes:
Delightful Desserts and Sweets:
Join the #SundaySupper conversation on twitter on Sunday! We tweet throughout the day and share recipes from all over the world. Our weekly chat starts at 7:00 pm ET. Follow the #SundaySupper hashtag and remember to include it in your tweets to join in the chat. To get more great Sunday Supper Recipes, visit our website or check out our Pinterest board.
Would you like to join the Sunday Supper Movement? It's easy. You can sign up by clicking here: Sunday Supper Movement.
Compensation was provided by Gallo Family Vineyards via Sunday Supper, LLC. The opinions expressed herein are those of the author, and are not indicative of the opinions or positions of Gallo Family Vineyards.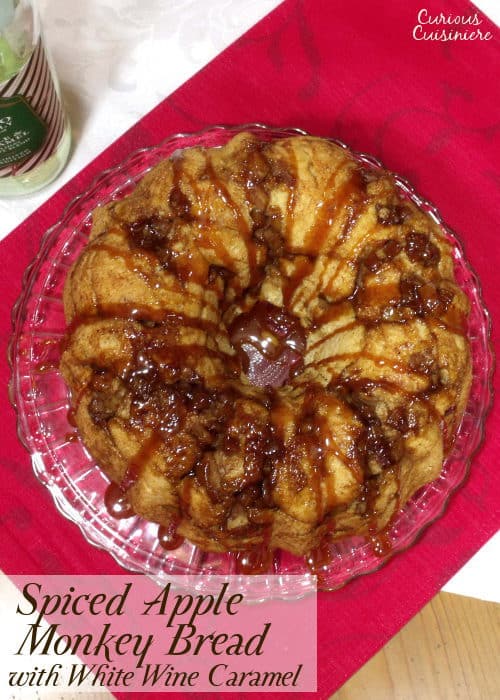 If you liked this recipe, here are some similar dishes you may enjoy!