If you like this dish, sign up for our newsletter to get tasty, cultural inspiration straight to your inbox. Where will you travel this week?
This quick and easy Swiss Steak is cooked in a skillet, so you can enjoy this serious comfort food even on a busy weeknight.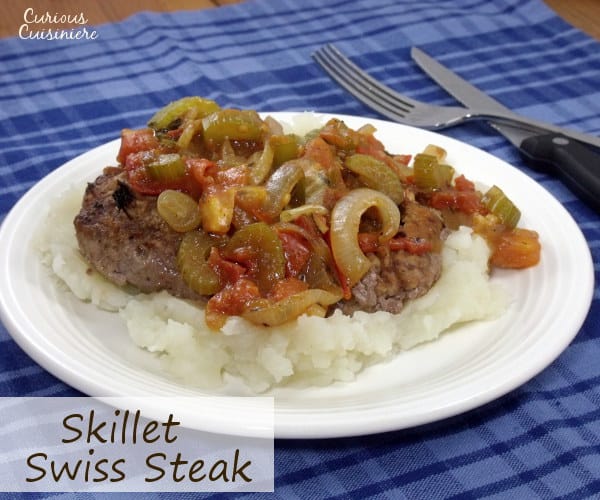 Quick weeknight meals with beef
As the fall chill enters in, we start craving hearty, slow cooked comfort food. But, on a weeknight, it can be hard to satisfy that craving with a quick meal. We need something that is fast, but still comforting and hearty enough to fuel us for the busy evening ahead. For us, that means choosing a healthy lean protein, like beef, to fill us up and keep us going.
This month, Sunday Supper has partnered with The Beef Checkoff to share easy ways to build a healthy, complete meals that fit into our busy lives.
Easy Swiss Steak cooked in a skillet
When it comes to quick cooked meals, we often look to skillet meals. It is incredible what you can do in one pan. (And, it means there's less to clean up!)
Swiss steak is a family favorite, and it is a perfect way to get your protein and a healthy dose of vegetables in one meal that will stick to your ribs. The problem is, traditional Swiss Steak recipes depend on over an hour of low and slow cooking to tenderizes the meat and create a flavorful sauce. (You can check out our long-cooked Swiss Steak here.)
While that version is quite tasty, it doesn't quite work for a quick meal. So, we decided to create a version that would keep all the flavor and comfort, but that would be quick enough for a weeknight.
Choosing beef for your quick and easy swiss steak recipe
The cut of beef you choose is incredibly important when you are looking for a quick meal.
For this recipe, we chose cube steak. Cube steak is a cut of beef usually from the top round or top sirloin, a tougher cut, that is tenderized by pounding or rolling thin by the butcher.  Once tenderized, this cut is so tender and quick cooking that all it needs is a quick sear in the pan.
Then, while the meat stays warm in the oven, we create a flavorful, veggie-laden sauce, full of the classic Swiss Steak flavors, to pour over the steak.
In less than 30 minutes, you have a comforting rendition of a dish that typically takes at least an hour to cook, making it a wonderful weeknight meal.
Skillet Swiss Steak
This quick and easy Swiss Steak is cooked in a skillet, so you can enjoy this serious comfort food even on a busy weeknight.
Ingredients
2

Tbsp

salted butter,

divided

½

tsp

salt

¼

tsp

ground black pepper

1

lb

cubed steak,

cut into serving-sized pieces

2

celery stalks,

sliced

1

onion,

halved and sliced

1

garlic clove,

minced

1

(14.5 oz) can

diced tomatoes,

un-drained

1 ½

tsp

Worcestershire sauce

1

Tbsp

unbleached all-purpose flour

1

tsp

thyme

Salt and pepper

(to taste)
Instructions
Preheat your oven to warm (roughly 200F).

Melt 1 Tbsp butter in a large, cast iron skillet over medium high heat.

Mix the flour, salt, and pepper together on a large plate. Dredge the cube steak by pressing it into the flour to coat it lightly.

Place the dredged steak into the hot skillet and cook the steak 3-4 minutes on each side, reducing the heat to medium if the pan gets too hot. Once the steak is cooked, transfer it to a serving platter (or 8x8 baking dish) and place it in the oven to stay warm.

Add the remaining 1 Tbsp butter to the skillet. Once the butter is hot, add the sliced celery, onion, and garlic. Sauté over medium heat 5 minutes, or until softened.

Add the tomatoes (with their juice), Worcestershire sauce, flour, and thyme. Mix well and bring the sauce to a simmer over medium high heat. Simmer the sauce until thickened 3-5 minutes. Season with salt and pepper to taste.

To serve, spoon the vegetable mixture over the cooked steak.

Serve with mashed potatoes*, pasta, or rice.
Notes
*To make mashed potatoes in only 15-20 minutes: cut the potatoes small, into 1/2 inch dice, and boil in water for 10-15 minutes, until tender. Drain most of the boiling liquid and mash using a hand masher or electric hand mixer. Add a little milk or butter for added creaminess. Season with salt, garlic powder, and white pepper to taste.
---
Check out the rest of this week's lineup of quick and easy beef-inspired Weekday Supper dishes.
Monday – Pepper Crusted Sear Roasted Steaks Over a Warm Spinach/Tomato Farro Salad salad by Grumpy's Honeybunch
Tuesday – Grilled Teriyaki Steak and Noodle Salad by A Kitchen Hoor's Adventures
Wednesday – Bistro Style Beef and Onion Sandwich by Meal Planning Magic
Thursday – Pressure Cooker Mexican Beef Rice by Magnolia Days
Friday – Skillet Swiss Steak by Curious Cuisiniere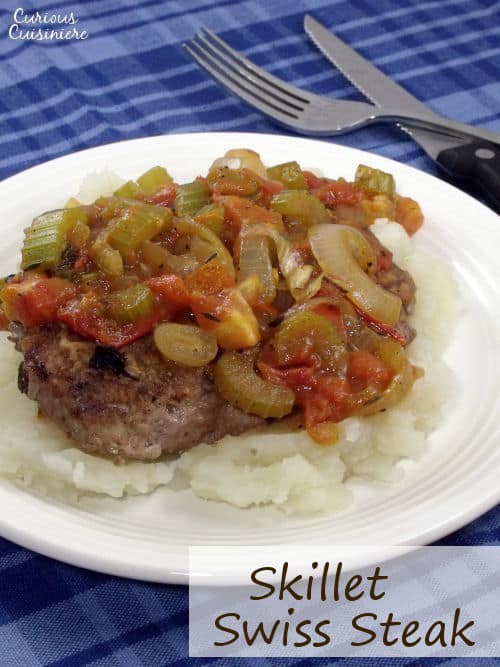 This post is sponsored by The Beef Checkoff in conjunction with a social media campaign through Sunday Supper LLC. All opinions are my own.
If you liked this recipe, here are some similar dishes you may enjoy!