This Seafood Okra Stew is a classic West African way to enjoy okra (okro): wiith tiger prawns and white fish in a flavorful tomato sauce.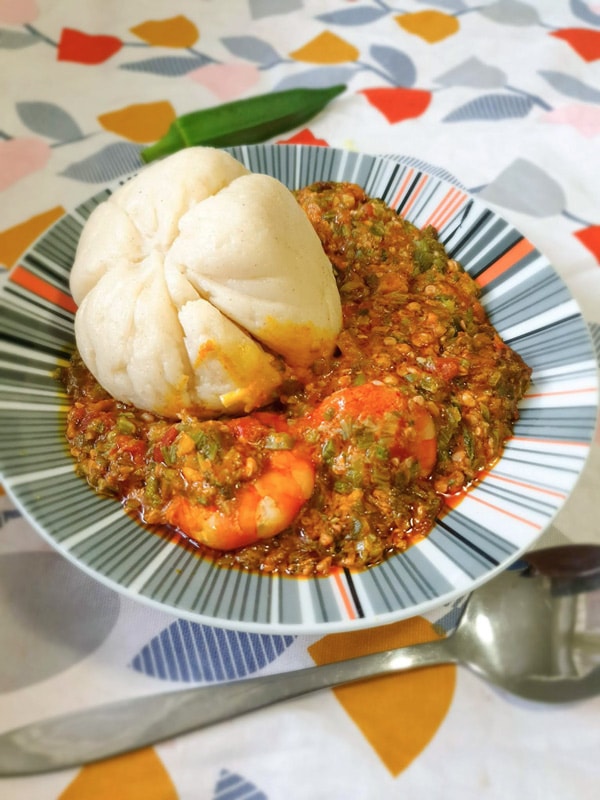 Okra (okro) stew must be one of the most widely known dishes originating out of West Africa. Different variations of it can be found all over the region and the rest of the world.
In fact, there are some versions of gumbo from Southern American cuisine, that are directly related to okro stew in West and Central Africa by name and consistency.
Where does okra (okro) come from?
The okro plant itself is native to West Africa, though sometimes the origin is attributed to Ethiopia.
This is possibly due to historic references of the entire Sub Saharan African region as Aethiopia.
The etymology for the word okro can be traced to the 1670s Nigerian Igbo word, ọ́kụ̀rụ̀.
Similarly, in Ghana, in the Ashanti languages refer to it as nkuruma.
What does okra look like?
Okra, sometimes described as lady fingers, are usually green and pointy.
They have highly fibrous flesh that can be so hairy it gives an itchy prick. The leaves of the plant are just as hairy.
There are different varieties of okro. A common type found in West Africa is the cowhorn or the "local" variety which is short, thick and woody in texture.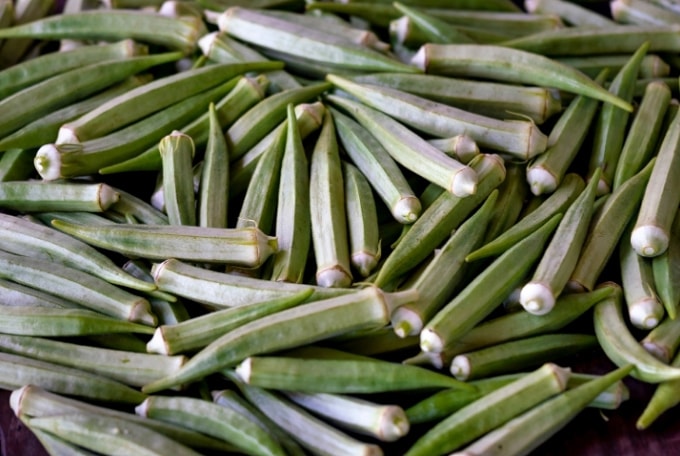 How to choose okra
This brings us to our next point: how to pick the right okra pods.
There is nothing worse than tucking into a delicious okro stew only to end up with some tough pulp in your mouth. This often results from overgrown okra pods.
The good news is this can be completely avoided by taking an extra minute to meticulously pick out the best pods from the rest while at the store or market.
The first thing you will want to do is use your visual judgement.
If you have picked up an okro the size of a baby cucumber, chances are it is overgrown and tough. You want to stick to between small and medium sized okra pods.
Another thing you can do is a tip test. It is common practice in the street markets of Lagos, Nigeria, for example, to gently press on the pointy end of an okro pod.
If it is fresh, the tip should snap off quite cleanly, leaving no traces of tough fibers. If, on the other hand it is a tough pod, you will clearly meet resistance. The fibres will hold that tip in place and it will not be able to break away cleanly.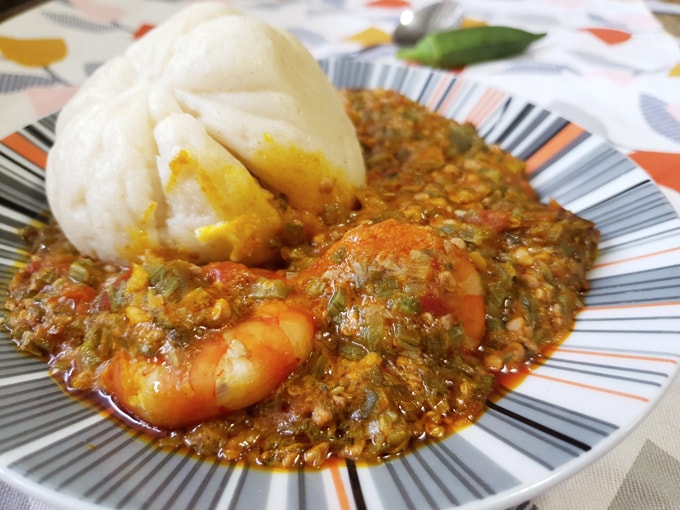 What does okra taste like?
Okra, when chosen properly and cooked well, has a pleasantly fresh texture, with a little bite that melts away in your mouth as you chew.
In terms of taste, it is difficult to say, as the vegetable takes on the flavours introduced to whatever stew it cooks in.
However in its purest form, okra has a mildly sweet and grassy flavour that can be likened to aubergines (eggplant).
The flavour can be deepened or mellowed out depending on how you choose to cook it.
When roasted or dry fried, the flavour intensifies, much like any green leaf would when dried. (Think dry herbs compared to their fresh counterpart.)
When chopped into small pieces and stewed, okro is rather mucilaginous, a trait which people either love or hate.
For anyone put off by the sliminess, it is possible to enjoy the vegetable fried or roasted, where no slime is allowed to form.
For those who are fans of the texture, you can make a stew that is as thick as a smoothie or chunky. In fact, depending on which part of West Africa you are in, you are likely to find differing textures according to region.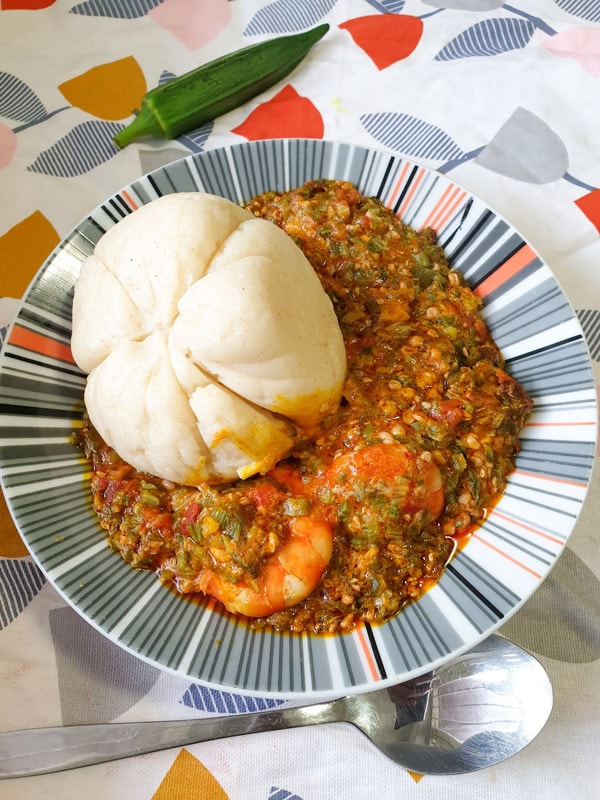 In Nigeria, an okro stew made with grated okro is highly favoured.
Other times the okra is simply steamed, without any oil and added alongside other stews and soups.
In Ghana's Volta region, the Ewe make fetri detsi, using finely chopped okro which turns out as more of a soup than a stew.
Other varieties result in a thicker, chunkier stew filled with an assortment of meat, offal and seafood.
How to serve okra stew the West African way
There are just some things that go together in life, like peanut butter and jelly, peaches and cream or bbq wings and a blue cheese dipping sauce.
Okro stew is no different.
The classic Ghanaian way to serve okro stew is with a side of banku, a fermented corn and cassava dough dumpling. The sour notes and saltiness in the banku is brought together beautifully with savoury and spicy okra stew.
If you wish to try the combination with a little less okra in the stew, then I highly recommend fanta fante, a tomato based fish stew with drops of chopped and steamed okro pods laced around the stew.
Yield: 4-6 servings
West African Seafood Okra Stew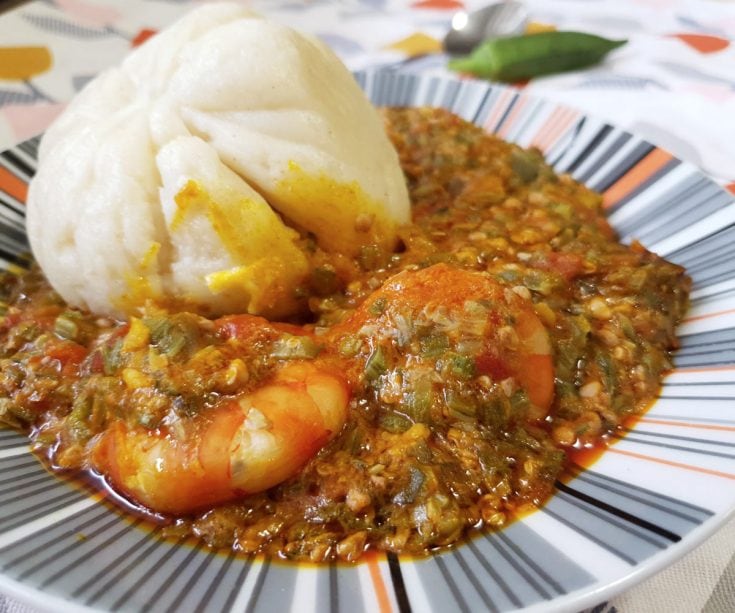 This Seafood Okra Stew is a classic West African way to enjoy okra (also called okro): wiith tiger prawns and white fish in a flavorful tomato sauce.
Ingredients
1 large onion, finely chopped
2 cloves of garlic, finely diced
1 inch of ginger, finely diced
1 Tablespoon tomato puree
3 to 4 medium vine tomatoes
2 scotch bonnet peppers (or habanero chiles) (optional, if you like heat)
20 to 24 okra pods
2 pounds of tiger prawns (or extra large shrimp)
1 pound white fish fillet
2 fillets of smoked fish like cod or mackerel (optional)
1 fish, crayfish or chicken stock seasoning cube (or use stock rather than water)
Water as needed
Instructions
Place a good sized pot on the stove and heat up the oil. Fry the onions in the oil until they just begin to caramelize.
Add the diced ginger and garlic to the pot and fry for about 1 minute. Add the tomato puree.
Chop the tomatoes into small chunks and place them into a blender or food processor. If using scotch bonnet pepper, you may add the desired amount to the blender. Pulse or liquidize the ingredients until smooth. Pour them over the caramelized onion mixture and allow the sauce to cook down and thicken. This should take 10 minutes, and the oil will begin to rise to the top. Stir regularly to prevent burning.
Prepare the okra by dicing. Quarter the okra pods, then chop them into ¼ inch thin slices. Set aside and move on to step 5.
Add the prawns and white fish to the stew and cook until the prawns are pink and fish white and flaky. If using smoked fish, break them into chunks and add to the stew at this point. Add a little water to help the seafood cook and the stock cube. Allow the stew to simmer for 5 minutes to allow the flavours to infuse into the sauce.
Add the chopped okra into the stew and stir. A little more water may be added now to encourage the okra to cook well.
Now is a good time to check for seasoning and add salt only if required. Simmer for 10 more minutes and then the stew is ready to eat.
Serve alongside banku, polenta or semolina porridge.
Recommended Products
As an Amazon Associate and member of other affiliate programs, We earn from qualifying purchases.
Nutrition Information:
Yield:
6
Serving Size:
1/6 of recipe
Amount Per Serving:
Calories:

623
If you liked this recipe, here are some similar dishes you may enjoy!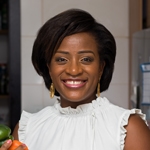 Freda Muyambo has been a food writer for 10 years, with a significant focus in the under explored area of African cuisines. She is now established as an African Cuisine Expert and resides in Lagos, Nigeria with her husband and 4 children. In 2018 she co-authored "The Science of Spice", exploring the spices of the African continent. You can find Freda on her site MyBurntOrange.com.