A slightly sweet and immensely comforting recipe for a fall soup, this Roasted Parsnip Apple Soup is sure to warm those cool fall days. 
A British Parsnip Soup
When fall comes to England, it is common to find a warming bowl of parsnip soup ringing in the season.
This root vegetable soup has a hint of sweetness and is immensely comforting.
It's a wonder we don't see more of it in the States.
While they are a widely loved fall vegetable in England, parsnips are a very under appreciated and under used vegetable in the States.
No one seems to know what they are or how to use them.
We sure didn't.
What Is A Parsnip?
A parsnip is a root vegetable that is closely related to carrots and parsley.
Now how's that for an odd combo?
They look like a fat, white carrot, and their flavor is distinctly sweet.
Parsnips can get so sweet, in fact, Europeans used them as a sweetener before sugar cane was introduced to their continent.
That's pretty sweet!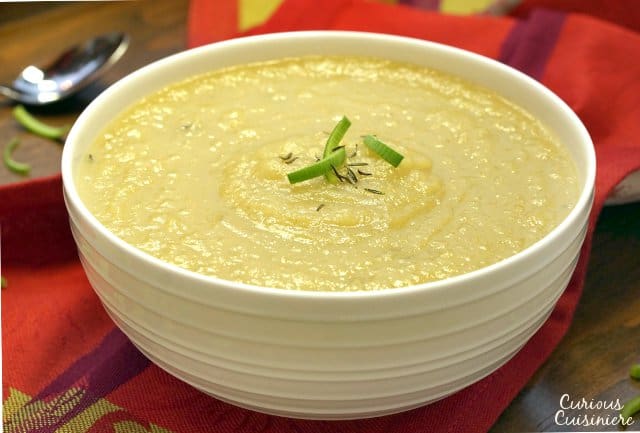 A History Of Parsnips
Parsnips have been eaten and cooked with since before the time of the Romans, but they weren't introduced to the States until the 18oos.
Initially, they were incredibly popular and were, for a while, the main starch eaten by colonist.
But, it only took a few decades for the potato to replace the parsnip as the main form of starch, pushing the poor parsnip to the place of sad disuse we find it today.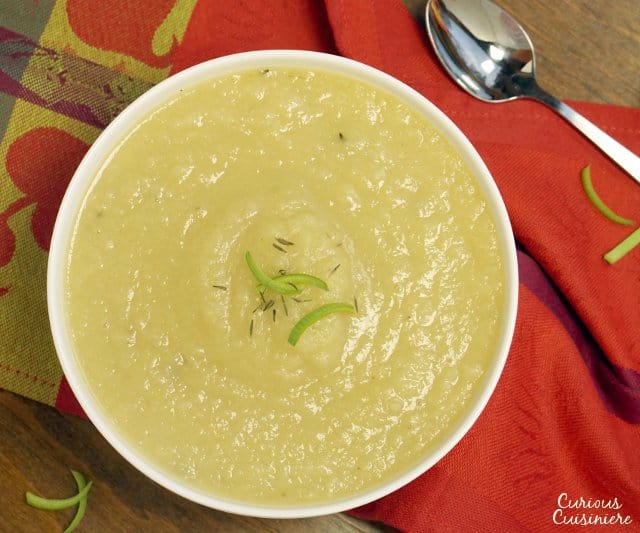 Our Roasted Parsnip Apple Soup Recipe
We're bringing back parsnips, and we're starting with this tasty British soup.
The unique sweet, but savory flavor of parsnips makes them perfect for pairing with apples. Apples bring out the natural sweetness of the parsnips, and they are a wonderfully seasonal addition for this fall soup.
Roasting is always a win when it comes to root vegetables.
It is a wonderful way to caramelize the sugars and bring a new depth to the flavor.
Roasted parsnips are no different: sweet and caramelized. They're almost like vegetable candy!
Making soup from our roasted parsnips brings a honeydew-like sweetness together with the light onion flavor of the leeks.
If you like a sweet fall soup (think butternut squash or sweet potato), then you are sure to love this one!
And, if you like parsnips, be sure to try our curried Irish parsnip soup recipe.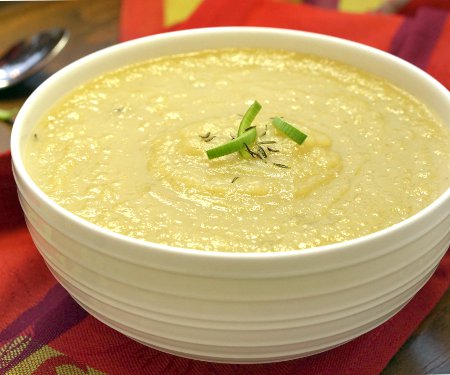 Roasted Parsnip Apple Soup
A slightly sweet and immensely comforting recipe for a fall soup.
Yield: 8 cups of soup
---
Ingredients
2

lbs

parsnips,

peeled and chopped

1

Tbsp

unsalted butter

2

small

leeks.

sliced (roughly 2 c)

4

large

sweet apples,

peeled and chopped

1 ½

tsp

salt

½

tsp

thyme

6

c

water
Instructions
Preheat oven to 350F.

Place peeled and chopped parsnips on a greased baking sheet and roast for 1 hour, turning halfway through.

Heat butter in a 3 qt soup pot. Add sliced leeks and sauté over medium heat until soft, 5 min.

Add apples, salt, thyme, water and roasted parsnips. Cover and simmer 10 minutes.

Puree using a stick blender or transfer the mixture to a traditional blender and blend until smooth.

Serve warm. *
---
Recipe Notes
*If you would like, save a few thin slices of parsnip and roast on a greased baking sheet at 400F for 20 minutes, flipping halfway through, to create parsnip chips to garnish the soup with.
---
This is one of the recipes from the early days of Curious Cuisiniere. We've updated our pictures since we first shared it, but we've left some originals here, in case you've found us in the past and are looking for that old, familiar image.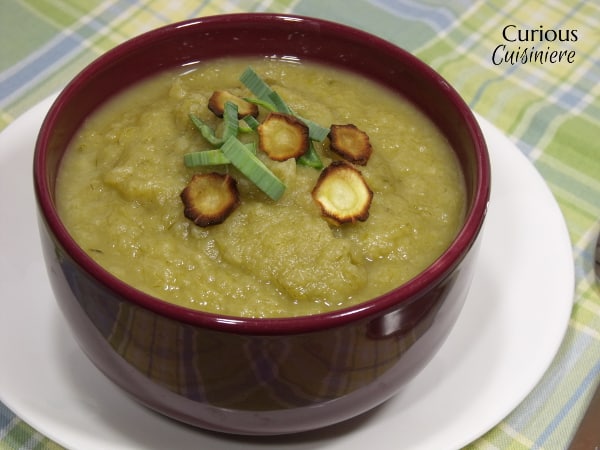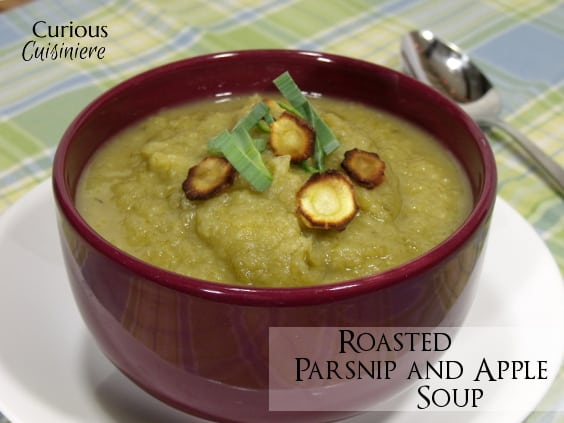 ---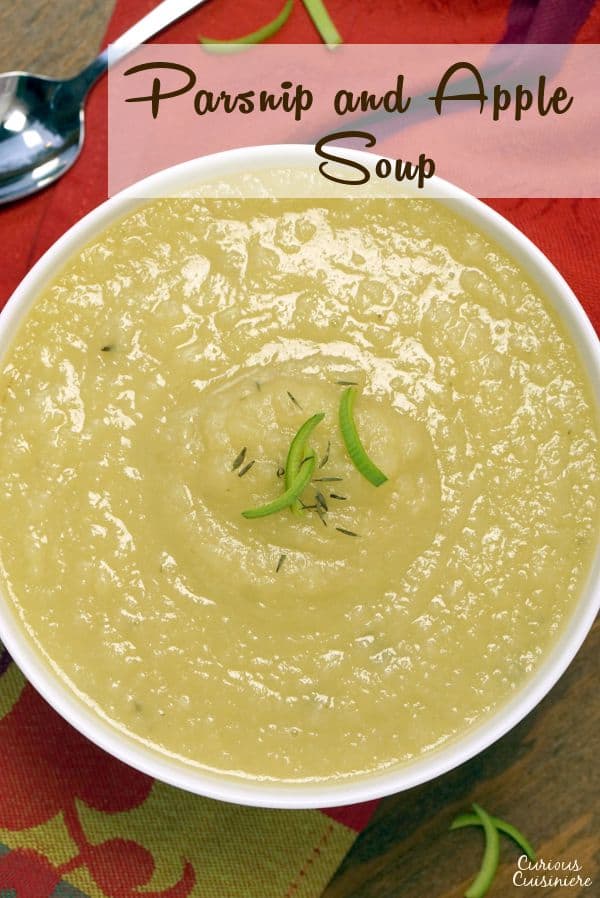 If you liked this recipe, here are some similar dishes you may enjoy!